Themed Coffee Craftsmanship, Starbucks celebrates a showcase of the craft of Starbucks Reserve Sulawesi Toraja Sapan Village and Starbucks Sumatra this autumn.
Introducing an immersive coffee experience brought to you by Starbucks Indonesia! Craft your coffee passion with Starbucks Reserve Sulawesi Toraja Sapan Village and Starbucks Sumatra.
For this chapter of the craft, Starbucks will be presenting well-crafted products and a diverse range of coffee beans from various regions from Java to Sumatra, available in Starbucks Reserve Jawa Barat, Starbucks Reserve Sumatra Blue Batak, Starbucks Reserve Lake Toba, Starbucks Reserve Aged Sumatra, Starbucks Reserve Bali Batur Volcano and the latest additions, Starbucks Reserve Sulawesi Toraja Sapan Village and Starbucks Sumatra (medium roast).
Starbucks Reserve Sulawesi Toraja Sapan Village
Experience the traditional wet-hulling process from the Toraja people in the lush, rainy and hilly area of Toraja Highland of Sulawesi. Starbucks Reserve Toraja Sapan Village offers a medium roast coffee with citrus aroma, medium acidity rich in flavour and full body with hints of fresh herbs.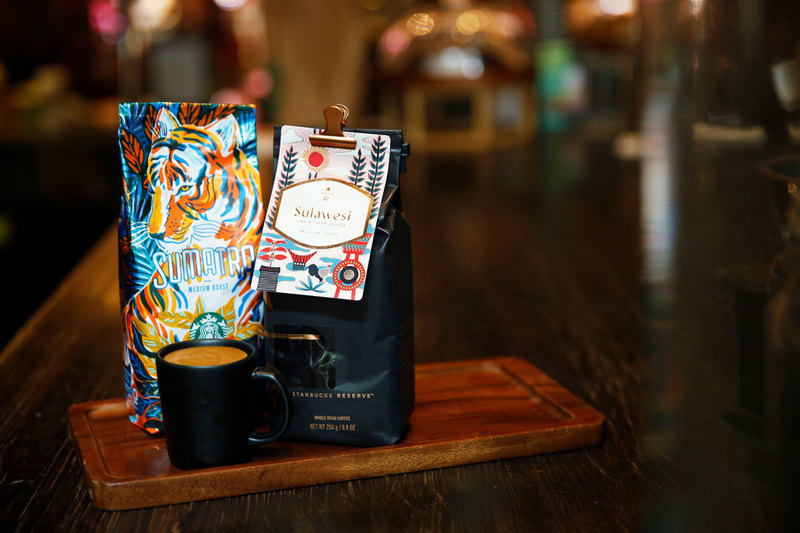 Starbucks Sumatra
Full-bodied with a smooth feel and green herbal notes, one cannot simply resist the earthy taste of Starbucks most-treasured blends; Holiday Blend, Espresso Roast and Anniversary Blend. Brew up your holiday with the most earthy and high quality of herbal coffee from Sumatra. This will definitely bring you to a whole new level of excitement on the table during your holiday!
Ninety nine per cent of Starbucks coffee is ethically sourced and responsibly accordance to the standards of Coffee and Farming Equity (C.A.F.E.) Practices which includes guidelines in four key areas; quality, economic accountability and transparency, social responsibility and environmental leadership.
The role of Starbucks in Sulawesi goes beyond the coffee industry. Starbucks also contributes to improving the lives of people in the village of Sapan by building health clinics, schools and providing hydroelectric turbines.
Through the Starbucks Farmers Support Center (FSC) in Brastagi, North Sumatra, Starbucks is committed to providing coffee farmers with a range of resources, giving them a boost in their quality of life. Taken together, the standards help farmers grow coffee in a way that is better for both people and the planet.
In celebration with Coffee Craftsmanship, Starbucks Indonesia proudly presents a 24-hour Coffee Brewing Master Class by Indonesian Coffee Masters. This event takes place in commemoration of the International Coffee Day on 1 October and will be recorded by the Indonesia World Records Museum (MURI). You don't want to miss all the fun! Stay tuned and follow Starbucks Indonesia on Instagram and Facebook