"In its role as frozen image of a common past, the Javanese culture of Yogyakarta itself had also come to be regarded as a remnant of the past," wrote scholar Heidi Dahles in her book Tourism, Heritage and National Culture in Java: Dilemmas of a Local Community. Rightly so, there's that tingling sense of how time just stops rolling whenever one sets foot in Indonesia's former capital. History buff or not, no visit to the area would be complete without a trip to its neighbouring province of Central Java, where "modern versions of Javaneseness were enacted", according to Dahles. At any rate, travelers are bound to fall in love and long to know more about these two top tourist destinations in Indonesia.
It is no secret that Yogyakarta is a rich city blessed with abundance of historical and cultural heritage. But this special region touted by many as an artistic city is also a playground for adventure seekers. We've rounded up some of Yogyakarta and Central Java's most famous sites as well as (sort of) new exciting destinations for holidaymakers.
Time Travelling in the Temples
Borobudur
When it comes to Yogyakarta and its surrounding areas, Borobudur Temple is perhaps their most famous landmark. Located in the Magelang Regency, around 25 km from Yogyakarta's city centre, the UNESCO World Heritage site boasts the largest Buddhist temple in the world, dating back to the ninth century during the reign of the Sailendra dynasty. It possesses more than 2,000 relief patterns and was built based on Buddhist philosophy, religion and cosmology – a pyramidal base with five concentric square terraces, the trunk of a cone with three circular platforms, and at the top, a stupa.

For a surreal experience of the beauty of Borobudur, try heading there at dawn. There are many tour providers that offer sunrise tours to Borobudur and Prambanan. As a caveat though, pick up time at the hotel is usually around three in the morning. Start your day with a stroll through the dewy grassy garden and ascend to the top of the temple to watch the sun slowly rise over misty trees and mountains – the stunning view is guaranteed to keep you coming back for more!
Prambanan
Situated around 17 kilometers to the northeast of Yogyakarta, Prambanan is an ancient Hindu temple complex that dates back to the ninth century. Here, visitors can wander around hundreds of tall and pointed temple structures scattered across a large grassy expanse. The largest Hindu temple site in Indonesia, Prambanan is a UNESCO World Heritage site and a highly popular tourist destination. The focal point at the temple compound is the majestic Rara Jonggrang Temple, which according to ancient Javanese folktales, is the final resting place of a princess.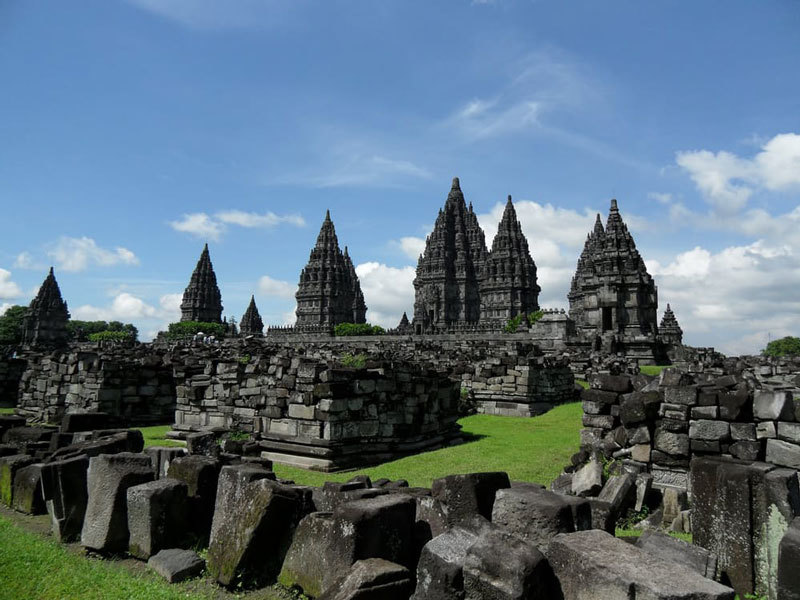 Legend has it that in an attempt to shun the marriage proposal of Prince Joko Bandung, Princess Rara Jonggrang set him the impossible task of building her one thousand temples in one night. But just as dawn was approaching, the prince had already managed to build 999 temples. Panicking, Rara Jonggrang ordered her maids to begin pounding rice and set fire, attempting to fool the prince and his supernatural helpers into believing that the sun was about to rise. When the prince realized he had been tricked, he cursed Rara Jonggrang to stone. She became the last and the most beautiful of the thousand statues.
Ratu Boko
Perched on a hillside plateau overlooking Prambanan, located only three kilometers away, Ratu Boko is an ancient archaeological site believed to be the ruins of a palace, most probably the residence of Mataram kings from the Sailendra dynasty. Ratu Boko stands almost 200 meters above the sea level and covers an area of 250,000 square meters. It is divided into four parts and includes a crematorium temple, a pool, a stone pedestal, paseban (audience hall), pendopo (pavilion), balai-balai (public hall) and a walled compound known as the kaputren (women's quarter).
While Borobudur is known for its scenic sunrise, Ratu Boko is equally famous for its gorgeous sunset scenery. It's also a favourite spot for pre-wedding photo shoots. Keep in mind though, entrance fees to the site is a lot higher if you come after 3 PM.
Admiring the Natural Beauty
Breksi Cliff Park
Breksi Cliff is formed of limestone hills that are made of volcanic dust from the ancient Mount Nglanggeran. It's the latest, most happening travel destination in the province, having been inaugurated in 2015 by Sri Sultan Hamengkubuwono X as an official cultural heritage. Given its strategic location near Ratu Boko and Prambanan temple, it's only right to make it part of your itinerary.
After all, with its white-brownish limestone the cliff does offer an enchanting view of the massive ruins. Local artists have taken to do their part to increase the site's appeal by adorning it with decorative sculptures. Professional photographers and selfie addicts alike have been flocking there, having discovered stunning scenery of Prambanan and Ratu Boko with a background of Merapi and Merbabu mountains in distance.
Camping in Imogiri Pine Forest
This hidden gem offers you an exotic landscape of hundreds pine trees that line up neatly, creating such a tranquil hiding place with magnificent view. Situated in Mangunan, Bantul, approximately 25 kilometers away from Yogyakarta, the forest is a perfect place for those seeking some peaceful escape away from the crowd. The best time to come here is from 3 to 6 PM where you can capture gorgeous photos with natural lighting.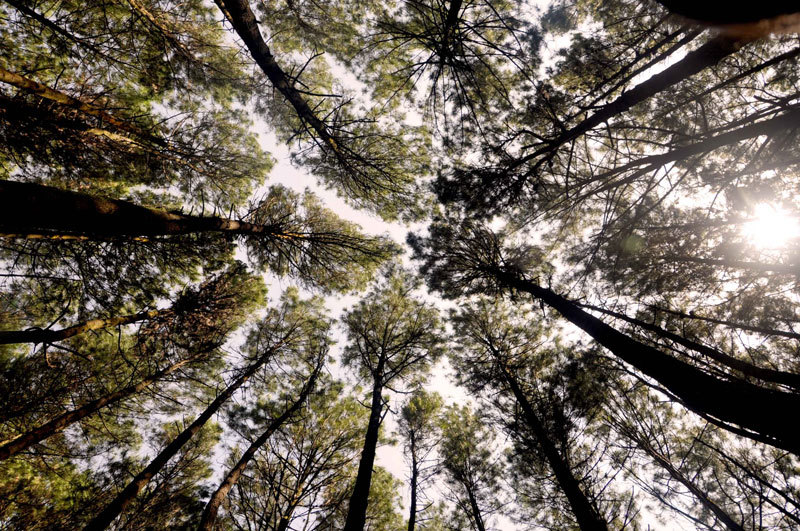 There is a wooden stage in circular amphitheatre shape designated for art performances and traditional dances by local artists. Visitors are also allowed to camp inside the forest with their own equipment. The camping facilities here are quite limited with only several toilets and modest prayer rooms. However, the idea of waking up to fresh breeze in a beautiful natural setting may just well be priceless.
Sand boarding in Gumuk Pasir Parangkusumo
Imagine a vast desert where you can bury your toes beneath the soft sand while watching them turn yellow as the sun sets. Welcome to the Sahara of Indonesia, namely Gumuk Pasir Parangkusumo. Located on the Parangtritis coastline, the Gumuk Pasir (sand dunes) is another reason why Yogyakarta holds a very special place on our minds.
As the only desert in Indonesia, Gumuk Pasir Parangkusumo has gained ever more popularity in recent years. Here, you can simply relax on the sand or ride the swing as the calm wind touches your face. For a different experience, rent a sand board and play until you drop!
Hike the Mount Merapi
Merely 30 kilometers north of Yogyakarta city, the mystical Mount Merapi (literally translated as 'fire mountain') is the most active volcano in Indonesia. In fact, its last eruption in 2010 claimed hundreds of lives.
One of the best ways to explore Merapi is by taking a bumpy but exhilarating Jeep ride. Half way up the dark, rocky road, you can take a pit stop at an 'open-air museum' – basically a ruined building that houses various personal items gathered from the aftermath of the 2010 eruption, such as melted cutlery, clothes covered in ashes and a wall clock that supposedly stopped working at the exact time of the eruption (spookily, midnight!) You can also view a photo of the eruption in which a face can be made out in the smoke – believed to be an angry spirit who lives inside Merapi.
At Kaliadem, the highest point that Jeeps can reach, you can stop for a walk. Here too lies a bunker where some residents had fled to during the eruption, only to be killed by the intense heat.
Tips: Wear a dust mask to protect yourself against lung irritation from small particles. Usually your Jeep operator will provide these. Off road tours are popular here and choosing an operator shouldn't be a problem. For starters, check out Merapi Jeep.
Cave Tubing in Goa Pindul
If you have enough time, spend a night or two in Gunungkidul Regency, around four hours of drive away from Yogyakarta, where you can find plenty of beautiful beaches and exotic caves. Gunungkidul is a popular place for adventure junkies given its various natural attractions.
Try, for example, cave tubing in Pindul. Explore the mystical cave on simple tubes and peruse its dark valleys that are full of stalactites and stalagmites – it doesn't get any more exciting than that. You can rent the tubes and other equipment from local organisers that will also provide you with experienced guides so you don't need to worry about your safety. Visit Goa Pindul's official website www.goapindul.com to book your tubing session.
Rock Climbing in Seropan Cave
Prepare to be stunned by the magnificent stalactites and stalagmites, cliffs, as well as the enchanting rivers and waterfalls that lie underground at Seropan Cave. Rock climbers can choose from 13 lanes with varying challenge levels. As for cave exploring, keep in mind that the cave's length is 888 meters with a depth of up to 60 meters. For first timers, it is very important to build up your fitness level before getting into the earth bowels.
Tips: It is not recommended to go caving during the rainy season as rivers can rise quickly and cause floods. If you do want to go caving, be sure you contact local tour providers to ease your trip.
www.wisatagunduljogja.wordpress.com
www.yogyakarta.panduanwisata.id
Exploring Javanese Highland in Dieng Plateau, Wonosobo, Central Java
Dieng Plateau, the volcanic complex formed by the eruption of Mountain Prau, is a sacred place for Javanese Hindus, built between the eighth and 13th century. The name Dieng itself is derived from Sanskrit, meaning 'Abode of the Gods'. Out of the hundreds of temples originally built in the complex, only eight remain today. Dedicate at least one full day to explore the entire highland as Dieng Plateau has lots of picturesque sceneries to offer.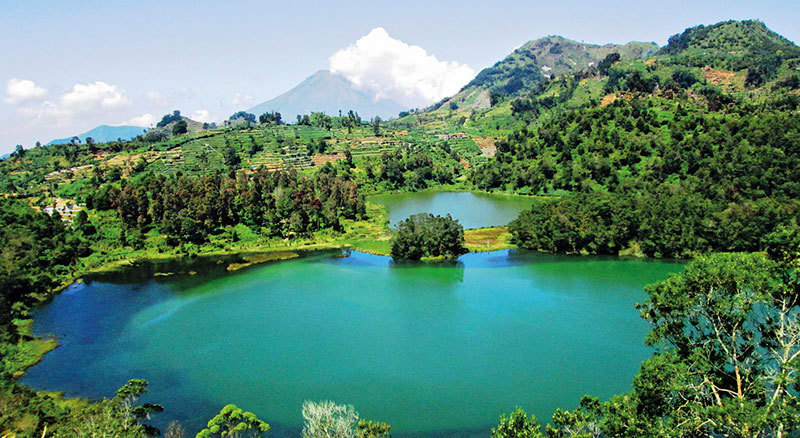 Trace the footsteps of the ancient Javanese Hindus in Arjuna temple complex, Gatotkaca temple cluster, Dwarawati cluster and Bima temple. That said, the multi-colored Lake (Telaga Warna), Pengilon Lake, Seroja Valley, Tambi Tea Plantation and Dieng Savannah are also equally enchanting and shouldn't be missed. Visitors commonly drive or take a bus from Semarang or Yogyakarta to Wonosobo, and then rent a minibus or taxi to get to the temples. Minibus rides cost around IDR 10,000 per person, while taxi costs around IDR 150,000