The popularity and beauty of Bandung as a city and its nature has been known for over a century. Surrounded by pristine tea plantations, Bandung has a cooler temperature thanks to its great location on a river basin surrounded by volcanic mountains. History notes that Bandung was also a favourite city for most Dutch people during the colonial era, to a point that they like to call this city as 'Parijs van Java' in the '20s. What is particularly interesting are the number of great colonial buildings from the Dutch era that are still maintained today.
Though it is not so far from Jakarta, going to Bandung can be quite challenging due to its traffic issues during the weekend. This is one of the reasons why I hardly visited this neighbouring city. However, a couple of weeks ago, I decided to try a different way to go there by train and what a journey it was. The natural view as we are about to enter the city is simply mesmerising. With my new walking regime habit, I decided to explore the central Bandung area on foot and gosh! Not only did I find many great places, but I also found things that I didn't know existed in this city.
Just during that one weekend, I found out that Bandung is filled with many great colonial buildings from the Dutch era that are still well maintained. Many of them are actually being renovated and still in use for offices, museums, cafes and restaurants. Back then, the Dutch developed tropical Art Deco architecture for Indonesia that was later known as the New Indies Style, during the late 19th-century through just before World War II. Perceived to be similar to Dutch Rationalism, the New Indies Style was the result of the attempt to develop new solutions to integrate traditional classics with technological possibilities.
As I walked around the city, I found many buildings that are done in this style with the famous Gedung Sate as one of the best highlights. The building that is now used as the head office of the West Java provincial government and House of Representatives is named after the distinguished small satay-shaped structure on the roof. Designed by Dutch architect J. Gerber, it was done in a mixed style of neoclassical with native Indonesian elements. The building that was completed in 1920 is also open for the public as they have an interesting museum about Bandung.
Aside from the grande Gedung Sate, I also found that several other museums in Bandung are also located in the beautiful New Indies Style colonial buildings. The Museum of Geology, for example, is another great art deco inspired that is designed by Dutch architect Menalda Van Schowenburg in 1929. It was built as a geologist laboratory before it is finally becoming a geology museum. In this museum, one can find various rock samples and minerals, to prehistoric fossils, and even story of the mining in Indonesia. It is a very unique museum.
Just across the geology museum also lies another museum that also has stunning architectural design from the colonial era. Located in the east wing area of Gedung Sate, the Museum Pos Indonesia was built by the same architect who built Gedung Sate, J. Berger and Leutdsgebouwdienst in 1920 with the Italian Renaissance architectural style. It has become a museum since 1933. This is one of the biggest philately museums that I have seen in Indonesia with impressive collection from around 50 thousand sheets of stamps from around 178 countries in the world. The museum also features many unique and historical postal items.
In between the geology museum and the post museum, lies an interesting park is known as 'Taman Lansia' (elderly park) that is not only has an organic landscape design but also filled with features such as reflexology path. The landscape that is initiated by the city major Ridwan Kamil, also has two artificial lakes and accentuated with a gigantic T-rex statue as a homage to the geology museum. Another great open space that is located right across Gedung Sate is knowns as Gasibu. Built by the Dutch colonial as open space, the area was first known as Wilhelmina Plain in 1920. It became known as Gasibu in 1955 and this public space is dedicated to the people of Bandung to exercise. The last renovation in 2015 has made Gasibu really look contemporary and sophisticated.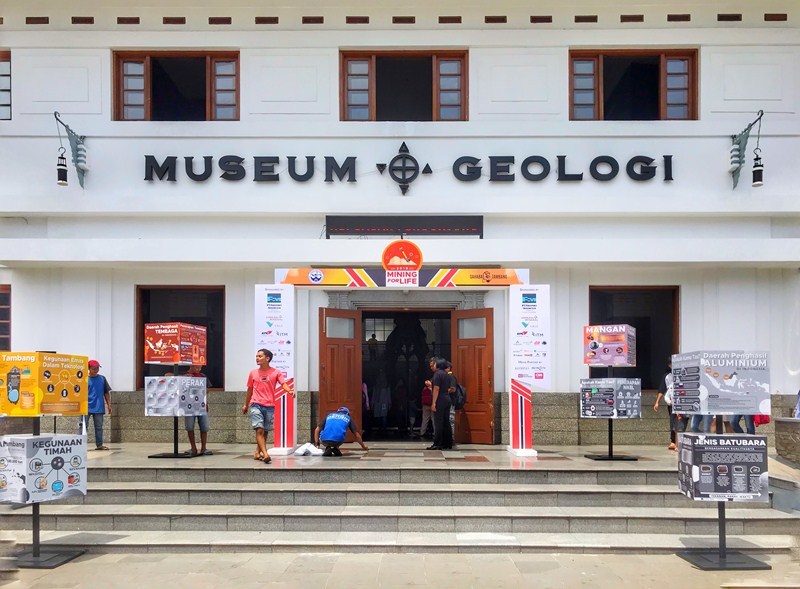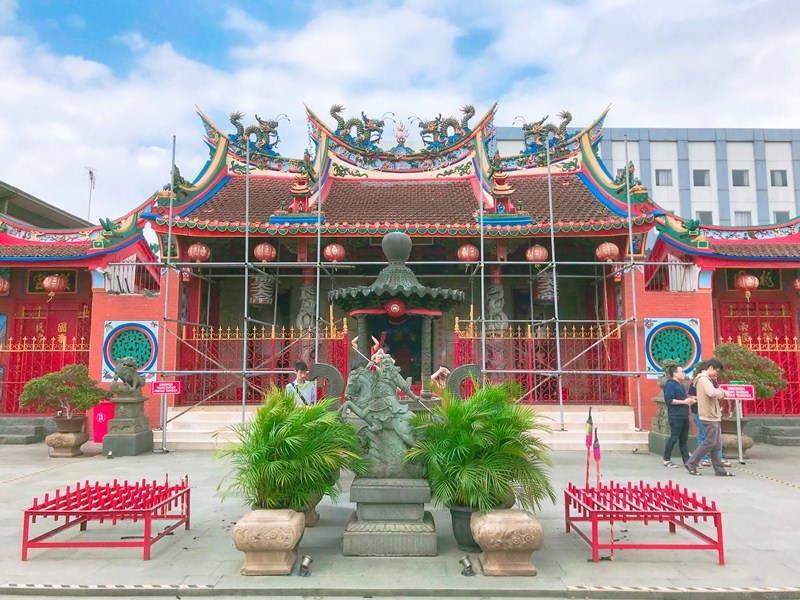 Aside from all the colonial architectural gems, Bandung also has an interesting Chinatown area where we can find the oldest Buddhist temple there. Known as Hiap Thian Kong temple ( or Satya Budhi Temple), it was established in 1885 and has a southern Chinese architecture style where its oriental ornaments have sacred philosophical and religious meaning. This temple is located among two other temples and dedicated to Buddhism and Confucianism.
In the Chinatown area and on the same street where this temple is located, we can also find Chinatown Bandung - an open-air museum dedicated to showcasing the olden day's era of Indonesian Chinese people's way of life. It is an interesting venue where you can find all the vintage displays of the era, delicious Chinese food, and many other activities that will surely earn your Instagram account many likes. The building façade itself was an old cinema that was built by the Dutch architect Ir Max Van Slooten.
As a city, Bandung is also known for its culinary landscape. During my last visit there, I was so impressed to see the great design of some of the restaurants. Gormetaria, for example, is a very popular restaurant with a remarkably sophisticated interior design with many great design products and artworks including the mural by the famous artist Sinta Tantra. For a rather retro vintage feel, one can also visit the Dakken Coffee & Steak located on Riau street. Situated in a Dutch colonial house in the New Indies Style, this restaurant has one of the best designs in the city on representing the modern version of a retro vintage ambience with its mid century furniture. They also have a spacious back garden with a great landscape design for the semi-alfresco dining area.
Without a doubt, Bandung is really a city that has many great architectural gems and I can go on and on talking about it. Several noteworthy mentions including the office building of Bank Indonesia and the Braga street vicinity. If you want to find a rather unusual travelling experience that focuses on architectue and design, then just go to Bandung. You are definitely in for a treat!