Batam has a rich history of being a major economic player in the region. Strategically located, close to Singapore and Johor, it has attracted investments in a number of key industries from a number of countries. With new leadership and vision, Batam is now ready to move to the next level of economic growth. Lukita Tuwo, Chairman of BP Batam talks to the Indonesia Economic Forum about his plans to make Batam the blue diamond of the Riau Islands province.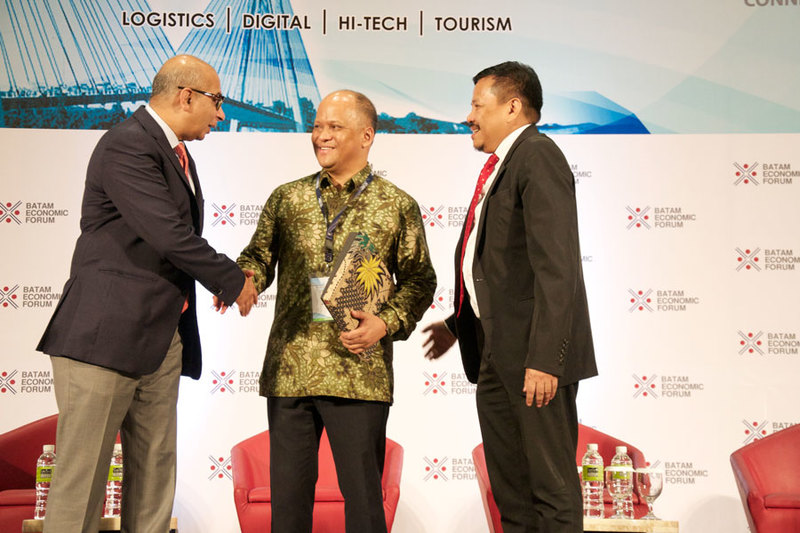 Batam has become key growth engine for Indonesia over the past 30 years. And looking forward, it is also going to be major factor in Indonesia growth story. In your view, how does Batam go from where it was to where you want it to go. What are the key opportunities for businesses and investors in Batam today?
Batam with its location in the Melaka Straits is very strategically placed. As you know, almost 70,000 ships cross the Straits of Melaka daily. This is almost three times that of the Panama Canal and also two times of the Suez Canal . It is located in a very dynamic area, close to Singapore and Johor. With this strategic location, I believe Batam still has high potential to grow in the future as in the past when the economy grew higher than the national economy.

So, with the potential, location and infrastructure that we have plus the industrial zones, shipyards and electronics industry that are already operating in Batam, I believe if we continue by giving good service and incentive as a free trade zone and also promoting some other potential that we haven't done it in the past, we can regain our economic footing.
Beyond what Batam already offers, we are talking about creating a logistics centre, we are talking about boosting the tourism industry which we have not really promoted in the past. And MRO (maintenance, repair and operating) facilities with strategic location between our airport and maritime port which are close to each other. And as for MRO, I think still this industry has great potential to attract investors.
Batam is often referred to as a free trade zone and recently it was made into a special economic zone. What is the difference between a free tax zone and a special economic zone?
A free tax zone has two most important facilities: free of import duty, and also free of value added tax. And with the special economic zone we will get more facilities. Yes, free import duty and free value and tax incentives will still be available but we add more incentives such as a tax holiday, tax allowance, and this is also important. In a free tax zone, the negative investment list is still valid. But in the special economic zone, the ownership that is limited by negative investment list no longer applies, so we can have 100 per cent of foreign direct investment. The other benefit is easier for foreign experts to work in a special economic zone. So, in total basically, there are 12 incentives in a special economic zone compared with just two in free tax zone.
Are these incentives important for attracting new industries to Batam such as the digital economy, hi-tech industry and the logistics sector. Do you see more interest now in Batam for these specific industries?
Yes, but certainly this process is still ongoing. The special economic zone will be implemented maybe in two years' time. Even with the current facility that we have in the free tax zone, I still believe there are many opportunities that we have in Batam due to its location and free tax zone status that I mentioned.
In the past you had a very dynamic manufacturing sector in Batam. Some of those manufacturing facilities have relocated because of cost issues. But that's the way of the world, because everybody moves. But how would Batam look at the cost issue, how you manage in terms of limiting cost?
I think if we are talking about costs we are still cheaper compared to Singapore, the country that is very close to us. Costs in Johor are also now starting to increase. So in terms of costs, we are still competitive. The issue that was publicly exposed was more related to industrial relations and we have already addressed it. That happened three years ago but now Batam is more conducive in terms of relations between employees and employers. But we still would like to improve our costs that we know are quite high, especially our logistics costs in the port. So, we have to make some improvements in terms of the facility in the seaport and costs related to regulations. So we will work on that issue to make us more competitive because our labour costs are still cheaper compared to the neighbouring countries. Our land cost is also cheaper, and the facility of the airport and seaport are also competitive.
As you look over the next decade or 10 years from now, where can Batam be? In your vision or hope, what would you like for Batam 10 years from now?
For me Batam is a blue diamond for the Kepri Islands and will certainly contribute to the Indonesian economy. We want to see Batam greener and becoming a smart city in terms of using digital technology in our public services. And why I say that is because if we have a better city, we will serve our public very well. We can follow the Singapore example in how they provide public services to the people.
So, Basically, Batam is a blue diamond in this region and can attract more Indonesians to work in Batam , to live here, to set up business here in the future?
Yes, certainly. But we have to also see that Batam is an island, it has limited capacity in terms of the size, so when people come because of a growing economy, we have to see other islands that are closer to Batam like Bintan, Rempang and Lalang. So, the growth of Batam has also to bring growth to other areas so as to have greater integration. So, that's why we tell people when they come to Batam that they can live in Bintan, which is larger than Batam with a smaller population. By having better integration between the two islands, we can grow the economies of both.
What is your message to investors? Why should they invest in Batam?
As I mentioned, Batam has a very strategic location in a dynamic economic area. We have all the necessary facilities and we are committed as BP Batam, to welcome you, to serve you well, in order to make your business and investment a success and to continue to grow in the future.
_______
Text by Shoeb Kagda. This article is originally from paper. Read NOW!Jakarta Magazine March 2018 issue "Design for Living". Available at selected bookstore or SUBSCRIBE here.