Bandung, at its heart, is at the intersection of history and culture— its Dutch heritage contributing to its eclectic atmosphere. The Paris van Java, with its aesthetically designed architecture, is based here, and there is the esplanade flanking its European-style neighbourhoods and, of course, the cultural draw of Braga Street, which was also the location of the first Asia-Africa Conference in 1995.
Dutch humanist and theologian Martinus Antonius Weselinus Brouwer famously said "Bumi Pasundan lahir ketika Tuhan sedang tersenyum" (Land of Pasundan is born when God is Smiling) in reference to Bandung. First time visitors often note that they will be back, and it's easy to see why. Braga Street itself is proof. Formerly known as Bragaweg is reminiscent of Bandung's rich history. At the intersection of Asia-Afrika Street, the oldest economic road which formerly known as The 1811 Great Post Road during the Dutch occupation.
Komunitas Aleut, a community organisation, arranges heritage tours on foot where visitors can learn about the history of the city. Strategically located near the Bandung Train Station, Braga is a 15 minute walk and is popular with both local and foreign tourists.
Classic designs from architects Albert Aalbers and Wolff Schoemaker gave Braga a unique landscape with its ocean wave and art-deco style architecture compared to other cities Semarang or even Jakarta. The 1936 De Eerste Nederlandsch-Indische Spaarkas 'Denis Bank' - currently known as Bank Jabar - and the 19th century Savoy Homann Hotel are among the examples of their masterpieces.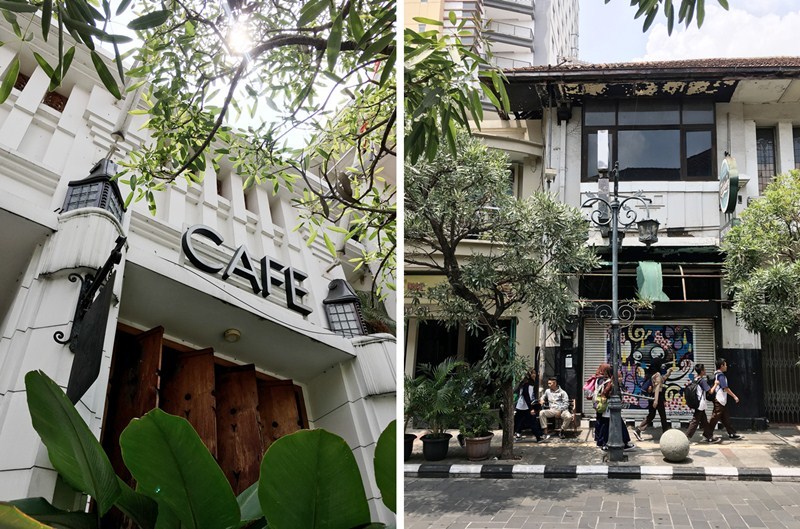 Back in the day, Bandung was the capital of Preanger and home of the Concordia community and coffee plantation owners. Residents travelled to the coffee and tea plantations and sell their products in the area. Bandung City Hall was once a coffee warehouse during the days of the Dutch. Former Governor-General of the Dutch East Indies, Herman Willem Daendels led the groundbreaking project to develop Preanger area which later known as Parahyangan in Bahasa Indonesia or Priangan in Sundanese.
From the Concordia Era to Emerging Creative District
In the Past, Braga was a city for socialites, where wealthy coffee and tea plantation owners, Dutch Preanger formed the Concordia Community that hosted entertainment and cultural events at the heart of Braga. Sociëteit Concordia building was host to a number of performances including theatre, dance, opera and film. In 1955 the building was renamed Building of Independence (Gedung Merdeka).
Paris Van Java is not just a name. Braga was, for a long time, associated with luxury. The city was a shopper's paradise among Dutch socialites, and Parisian influence was also seen, especially as products from the French capital were seen as superior to their Dutch counterparts. Since then, stores along Braga Street started using Paris Van Java to market their products to the Concordia community.
"Bumi Pasundan lahir ketika Tuhan sedang tersenyum" (Land of Pasundan is born when God is Smiling)

-Martinus Antonius Weselinus Brouwer, Dutch humanist and theologian
According to Komunitas Aleut, Parisian style had a major influence. As Paris Van Java's slogan resonated among all merchants, the shop and building was given a French name. Parisian fashion store Au Bon Marche Modemagazin and jewellery shop De Concurrent sold products that had French influences.
Onderling Belang was Dutch-owned supermarket which later became known as Sarinah, the first Indonesian supermarket at de Braga by ARTOTEL. Van Dorp is a Braga landmark which once sold painting auctions and book exhibits. Vogelpeol, which was founded by Sociëteit Ons Genoegen was a movie and opera theatre that has now become Yayasan Pusat Kebudayaan (Cultural Center Foundation).

Braga is indeed is the centre of the cultural community which is a continuation of the the fashion community in Preanger area. Bandung's residents are focused on fashion, art, and culture.
Braga Today
These days, Braga has become one of the popular creative hubs where a number of events are held along the street. Braga Culinary Festival, Asia-Africa Carnival, art exhibition and performance, Bandung Broadway, movie screening, are just among the many events here.
During the weekend, many communities gather at Braga such as Paguyuban Sepeda Onthel Baheula Bandung, a group of people who ride vintage bicycles dressed in 19th century-style Dutch uniform. Braga has never lost sight of its past. Indeed, so much of its atmosphere is very rooted in its past.
Much of the events in Braga are associated with the creative communities there, including local art markets and performances. Braga still hosts book exhibitions where one could may find rare books. Local artists, independent musicians, fashion and graphic designers usually gather here. During the day, Braga is full of tourists, including couples taking pre-wedding photographs, sketch walking artists of tourists looking for authentic tastes of the city. At night, Braga takes on a different pulse as its bars open up to those looking for an evening of entertainment.
Dining
As the regular venue for Culinary Nights that are organised once every two weeks, Braga offers a range of opportunities for "culinary tourism." Stroll along the city and you'll come across bakeries, restaurants with various offerings. One should not not miss out on Sumber Hidangan and Braga Permai, legendary dining destinations that serve up delicacies inspired by classic Dutch recipes.
At Sumber Hidangan, there is an assort of ice cream shops and bakeries. One could either take way a few treats or enjoy some time in the classic buildings. One's sense of smell is heightened; these places are a visual treat too and are sure to take one back in time. Marasquino, a combination of vanilla ice cream and rum is a recommended dish. If you prefer pure ice-cream with flavour and texture, Nesselrode, Moorkus, and Plombiere are on the must-try list. Using conventional kitchen tools, Sumber Hidangan truly preserves its authenticity.
Next to Sumber Hidangan, there is the most visited restaurant, Braga Permai which is formerly known as Maison Bogerijen. Beside Bitterballen, Braga Permai is also depiction of adoration to French Culture where the restaurant serve menu in French language. Koningin Emma Tart and Wilhelmina Taart are delicious and only sold here. Braga Permai in the past was a fine dining restaurant frequented by wealthy residents including the Governor General.
The Braga Art Cafe is the perfect place to enjoy a drink with its casual atmosphere and generally young vibe. This space with its combination of Javanese and Dutch architecture is the perfect space to enjoy the camaraderie with friends late into the evening.
Where to Stay
While you visit Braga there are number of historic hotels such as Prama Grand Preanger and Savoy Homan that used to welcome renowned and prominent people. For those who want to stay close to Barga and Asia-Afrika, there are number of hotels such as recently opened de Braga by ARTOTEL at Braga Street no.10, Crowne Plaza Bandung or Ibis Style Braga.
If you want to stay in the downtown area, The Papandayan and Four Points by Sheraton Bandung are great options. For those wanting to imagine life in the Paris of yesteryear, it's best to stay near the district.
For a walking tour of Bandung, join in Komunitas Aleut, which has an updated schedule each week. Visit www.komunitasaleut.com or follow them on Instagram @komunitasaleut
---
This article is originally from paper. Read NOW!Jakarta Magazine February 2019 issue"Love and Romance". Available at selected bookstore or SUBSCRIBE here.