Riau Archipelago is a relatively new province that was inaugurated in 2004 when the islands were separated from neighboring Riau province of Sumatra. Comprising of more than 3000 islands, including Karimun, Batam, Bintan, Singkep-Lingga, the Anambas and Natuna, the archipelago is considered as one of the most important historical regions in the country due to its strategic location sprawling the sea routes between the Indian Ocean and the South China Sea.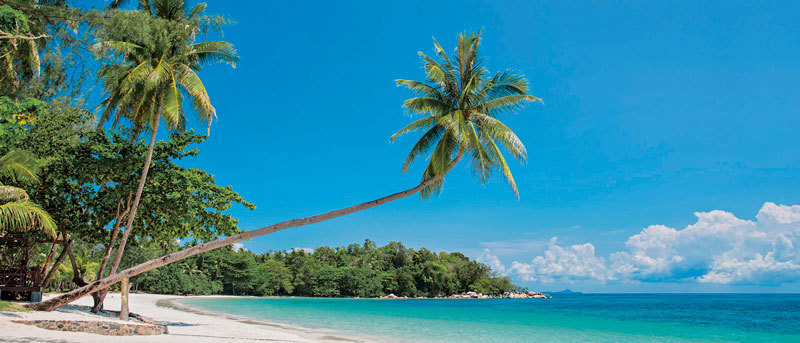 When travelling to Riau Archipelago, expect to find plenty of gorgeous beaches where you can relax on the padded sand while witnessing the golden rays of sunset. As the beaches here are known for their serene and undisturbed surroundings, Riau Archipelago is a perfect escape for those who wish to relax and lose track of time in unspoiled beautiful nature.
Bintan Island
It is most astonishing that the majority of tourists – mainly from abroad, but also locals - resort to Bali when looking for the perfect beach holiday in Indonesia as there are so many other islands in the archipelago waiting to be discovered. Bintan Island, part of Indonesia's Riau Archipelago and located in the heart of the South China Sea, is one of them.
Also known as Negeri Segantang Lada thanks to the numerous islands that form this area, Bintan's strategic location used to lure the Portuguese, the Dutch, the Arabs and the British to its shores centuries ago. The island's population, consisting of Malay, Bugis, Chinese and Orang Laut, all contribute to Bintan's colourful culture.
The provincial capital Tanjung Pinang, located on the southwestern part of Bintan Island, signifies this diversity. Visit the centuries-old Buddhist Banyan Tree Temple, the grand mosque Masjid Raya Sultan Riau which was built in 1818, the 28-metres tall Raja Haji Fisabillah Monument, the old stilt village standing above water known as Kampung Bugis or Kampung Ayer or the first Dutch colonial graveyard Kerkhoff to get a better understanding of the island's history and its many different influences.
Blessed with miles of chalky white beaches and relatively calm waves, Bintan is of course the perfect spot for sunbathing and enjoying water activities. The island's most famous Trikora Beach, which is only 45 minutes away from Tanjung Pinang by car, is a popular place for swimming, snorkelling, fishing and diving.
You can also rent a boat from Bintan and sail for about 30 minutes to the small Nikoi Island for tropical serenity at its perfection. Gigantic granite boulders dot the landscape along with a rain forest dominated by banyan trees that give shelter and sanctuary to the native birds. Shades of blue and green paint the sea, creating picturesque views of the ocean.
If you are looking for a more thrilling experience, sign up for the Sebung River adventure, which will take you deep into the naturally green surrounding of the mangrove forests and swamps. Local "residents" such as otters, monkeys, tree snakes, kingfishers, shrimps, tiny fishes, will greet you along your river cruise. Despite its colour, the water is actually clean and safe for consumption (you still have to boil it first though) thanks to the mangrove's natural filtering ability. Its strong and sturdy physical features also help protect the area from catastrophic tsunamis and storms.
A beach holiday wouldn't be complete without indulging in the fresh-from-the-ocean seafood. In Bintan, you can try Gonggong—boiled snails served with the shells and dipping hot sauce sambal—for a light appetizer. Move on to the main course Lakse, traditional noodles smothered with coconut milk-based sauce and topped with shredded fish. Leave some room for Nasi Dagang which consists of uduk rice (rice cooked with coconut milk), tongkol fish yellow curry, hot chili paste sambal, and is served on a banana leaf. Squid lovers should not miss Sotong Masak Hitam, a dish made of squid cooked in its black ink that will make you crave for more.
Getting there: Bintan's airport only caters to a limited number of flights. A viable alternative is to fly into the neighboring island of Batam, which has a larger airport. Arriving by boat is the more common option, as Bintan is the major domestic seaport for the Riau islands.
Batam
Batam, located only 20 kilometres off Singapore's south coast, has earned a reputation as a business center and duty-free shopping haven. But there are more reasons to visit Batam. The city of Batam consists of several islands, with Batam Island as its core urban area. Galang Island and Rempang Island are connected to Batam Island through bridges.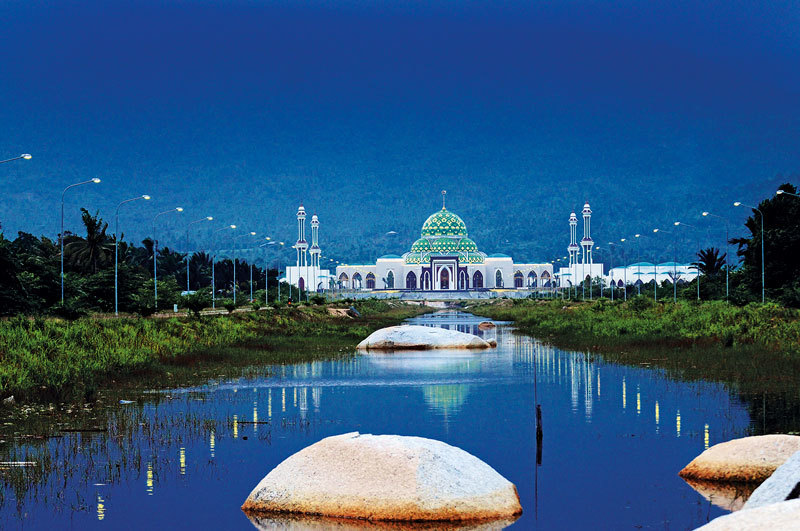 Batam is a golfer's paradise. The island is home to golf courses of international standard, such as Tering Bay International, which was designed by the legendary Greg Norman, and Radisson Golf and Convention Center, that also offers top-notch accommodation. If you are still in need of golf equipment, head to Nagoya Hill Mall where you get almost everything at a bargain. Besides affordable sports equipment, Nagoya Hill Mall is also famous for its local food products.
There are many restaurants in Batam that offer cheap and fresh seafood, the most famous ones being the Golden Prawn Seafood Restaurant and Harbour Bay Seafood Restaurant, located at the waterfront promenade.
Visitors may be surprised that Batam boasts a stunning northern coastline – perfect for mountain biking and cycling that will take you through a green jungle and a breathtaking seafront. Other water sports like parasailing, windsurfing, jet ski and kayaking are readily available throughout the island.
Another popular point of interest is the Maha Vihara Duta Maitreya Buddhist Temple that features several laughing Buddha statues. The temple complex houses an orphanage, a couple of food stalls as well as a vegetarian restaurant. It belongs to one of the biggest temples in South Asia.
The Barelang Bridge is a 45-minute drive away from the city. A stunning piece of architecture, Barelang Bridge is a chain of six separate bridges, which were built in 1992 with the aim to transform Galang and Rempang Island into industrial sites as well. Today, Barelang Bridge has become more of a tourist destination rather than a route for transportation, and many visitors merely come here to take some pretty pictures as memento of their weekend getaway in Batam.

If engaging in sports or sightseeing is not your thing, you can simply pamper yourself in one of the many spas in Batam. There is an abundance of spas and wellness centers on the island, the most recommended ones are GO! Massage, The Spa Secret Batam and Majesty Spa.
Getting there: Indonesian carriers Garuda Indonesia, Batik Air, Citilink, Lion Air and Sriwijaya Air have direct connections between major cities like Jakarta, Surabaya, Medan, Yogyakarta, Semarang and Bandung and Batam's airport Hang Nadim International Airport. Most foreign visitors, however, opt to flying into Singapore and catch a ferry to Batam from there.
Natuna Islands
A must-visit destination for beach lovers, Natuna islands comprises of approximately 272 islets that are stretching in the north of the South China Sea. Spending a holiday on the islands gives you the opportunity to explore its natural beauty. With its picturesque coastline and rich marine life, it is only right to take advantage of a Natuna getaway by engaging in adventurous water sports.
Batu Kasah should be on your top list when visiting Natuna. Situated in South Banguran district, the beach is a one and a half hour drive away from the city of Ranai, the Capital of Natuna. The Batu Kasah coastline is stretching for approximately five kilometers. Almost the entire surface is covered by powdery white sand with rows of thousands of coconut trees resembling natural fences around the beach. Perfect for a tropical getaway, Batuh Kasah's calm blue water and gentle waves make swimming and splashing fun for everyone. Thousands of granite stones which come in various shapes are scattered around the beach, adding another reason why relaxing on this beach is something you will remember.
Another highlight on Natuna Islands is Alif Stone Park, a beach with hundreds of giant andesite stones scattered along the foreshore, creating a one of a kind, beautiful natural scenery. Stroll around the island and stop by various tourist attractions like the Grand Mosque, Sri Serindit Museum, and spare some time to learn more about the culture of the local community in Sendanu regency. While you're in Natuna, do not forget to pay a visit to Ranai Beach where you can find colourful and dazzling coral reefs and a wide variety of fish, making it an ideal place for snorkeling and other water activities.
Getting there: You can take a flight to Batam to be transferred to Ranai Airport, the Capital of Natuna Regency. There is little public transportation available on the islands, so it is recommended to rent a personal car and local driver to take you around at your convenience.
Karimun Islands
Karimun is a small regency within the Riau Archipelago, located just off the east coast of Sumatra, guarding the southern entrance of the busy Straits of Malacca. Although not as popular as its neighborhood town like Bintan or Batam, Karimun has many treasures waiting to be explored. Pay a visit to Telunas Beach where you can find crystal blue clear water and see the beautiful colourful reefs from its foreshore. Walk a little further, enjoy a nice downtime at the unspoiled Palawan Beach in Tanjung Balai Karimun. Palawan Beach's charms lie on its powdery white sand and mangrove forests surrounding that will give you a feeling of pure serenity. And since it is situated in a secluded location, its natural richness is still well-maintained and clean. If you want to stay overnight, there are various proper hotels and resorts available near Karimun city centre.
Getting there: You can take a ferry from Batam or Bintan to reach Karimun Islands. To get around, rent a car and local driver to make your trip convenient.
The Anambas
Make sure you visit Anambas Islands when you are travelling to Riau Archipelago. Situated in the South China Sea, The Anambas were named Asia's Best Tropical Island by CNN.com in 2013 thanks to its dazzling view of clear blue seas and green forest. Facing the open ocean, the Anambas - consisting of a whopping 255 islands - also have plenty of diving spots that offer a panoramic scenery of colourful and delicate coral reefs as well as diverse fish habitats.
To make the most of your trip, rent a boat to explore the Anambas through island-hopping. Your eyes will be spoiled with gorgeous bays, picturesque beaches and azure-blue lagoons with crystal clear water. Don't be afraid to get wet and explore the islands' wonderful underwater gardens. Among the famous snorkeling and diving sites in the Anambas are Ayam Island, Penjalin Island, and Temawan Island.
Getting there: To reach the Anambas, you can take a flight to Tanjung Pinang, the capital of Bintan Island. Several airlines that operate daily from Jakarta to Tanjung Pinang are Garuda Indonesia, Lion Air and Sriwijaya Air. From Tanjung Pinang, you must take local commercial flights to Matak Airport, also known as Anambas Airport.