For many Jakartans, spending a weekend in Bandung is a perfect getaway - it is close by and offers a plethora of activities, from going shopping to exploring the culinary treasures the city and region are famous for. Those who are looking for something more low-key and relaxing might want to visit the forests in and around Bandung.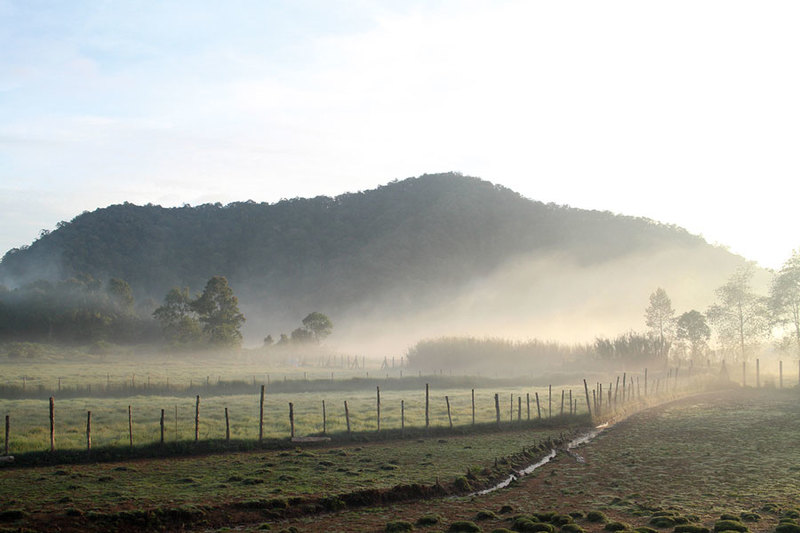 I left for Bandung on a Friday night so I had two full days to enjoy the urban jungle in town. Plenty of forests in Bandung and its neighboring district are registered under Perusahaan Hutan Republik Indonesia (Perhutani) or State Forest Company of Indonesia. The forests are protected by local regulations to ensure that tourists and travelers are aware of their preservation status and maintain the cleanliness.
Located 768 metres above sea level, Bandung has cooler year-round temperatures than most other Indonesian cities, which often cause foggy mornings and frizzy evenings. Exploring the forests includes many outdoor activities; many sites feature camping grounds and sometimes even folk music festivals. To make the best out of my weekend, I decided to visit forest tourism sites in the heart of the city as well as the forests to the north and the south.
On Saturday morning, I strolled around Babakan Siliwangi City Forest, which is located nearby The Bandung Institute of Technology (ITB) at Tamansari Street. Babakan Siliwangi is a 15378 square meters urban forest that has become part of the green belt of Bandung. In 2011, the United Nations certified Babakan Siliwangi as a world urban forest.
Like Taman Hutan Raya (Forest Park), located in Dago Atas, the Babakan Siliwangi City Forest has an interesting history. In 2013, Babakan Siliwangi was threatened to be demolished to make way for commercial buildings such as apartments, malls and restaurants. However, people from different backgrounds, led by environmental activists, managed to avoid the commercialization by launching the "Save Babakan Siliwangi" campaign. According to city government data, the city of Bandung only has 6 percent of green areas, making Babakan Siliwangi one of the city's crucial lungs.
Previously, Babakan Siliwangi was not very well maintained, thus it wasn't very attractive for tourists. Today, revitalization efforts have taken place, resulting in longer trails and tracks for visitors and moving the houses of residents, which intersected with the city forest.
Although the area is not very vast, I was happy to breathe in the refreshing clear air in Babakan Siliwangi and almost felt like I am wandering through a rainforest. During my walk, I came across some old banyan trees with hanging roots and encountered a clear stream of river water coming from Cikapundung. I then took a break at the Gazebo and enjoyed the feeling of being in the middle of nature and not amid high-rise buildings as usual.
After exploring Babakan Siliwangi, I hopped on my motorbike and drove to the north-west of Bandung. Located around 15.2 km from Babakan Siliwangi City Forest, it took me an hour to reach Lembang and the hidden beauty of Curug Cimahi, also known as Cimahi Rainbow Waterfalls. To be able to see the waterfalls, I had to go up a few flights of stairs - the higher I got, the colder I felt, but when I arrived in the middle of real highland forest surrounded by mountains, I knew that it was worth it.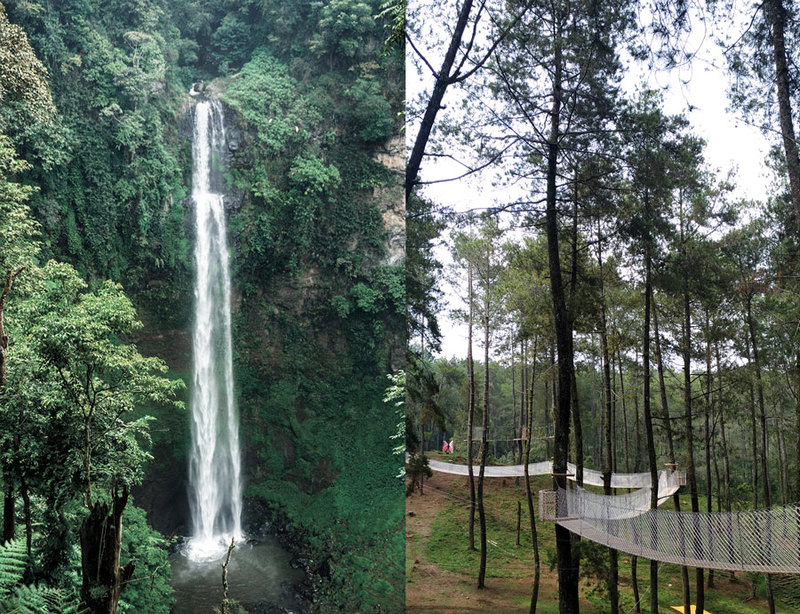 Curug Cimahi is a newly developed tourism site in Cimahi District, West Java and therefore not really crowded yet. As I could see there were only a few people visiting, I was happy to have peace and quiet to contemplate and simply enjoying the moment. And what a beautiful sight to behold: right in front of my eyes, a 72-meter-high waterfall surrounded by cliffs and trees! It looked as though the water was dancing, driven by the wind. The chilly air and green leaves relieved my fatigue - both physically and emotionally.
If you are lucky, you might see a rainbow around the waterfall - it usually appears between 1 and 3 PM in the afternoon. The refraction of sunlight by the water produces beautiful color spectrum curves. You need to find the right spot to witness the rainbow over the waterfall. LED lights that have been installed behind the waterfall allow for an even more spectacular view. It is because of this feature that Curug Cimahi has been dubbed the Rainbow Waterfall.
The waterfalls are part of the State Forest Company of Indonesia in West Bandung Regency, around 13 km from the city of Cimahi. It is not only increasingly popular among travelers and tourists but also for locals who come here to escape the noise of the city.
Dozens of long-tailed monkeys had gathered at the entrance, where each visitor has to pay IDR 15.000 for the ticket (the money is mainly used for the maintenance of the forest). The whole area is frequented by monkeys, and they surprise you on the stairs, hanging from the trees or wandering about. According to one of the guides, around 400 monkeys call this area their home.
Besides Curug Cimahi, there are two more waterfalls in the Bandung Greater Area, Curug Tilu Leuwi Opat and Curug Bugbrug.
After spending around two hours at Curug Cimahi, I continued my trip to Orchid Forest Cikole -it took me around one hour to reach the site, which lies on the way to Gunung Tangkuban Perahu (Tangkuban Perahu Volcanos).
Located in Cikole, Lembang, Orchid Forest is a unique destination that combines the concept of tourism with nature conservation, spanning across 12 hectares. It's also one of the brand new forest tourism sites, which became popular over the last year. Orchid Forest is a natural pine forest that also serves as a center of cultivation and orchid breeding as well as a recreational spot.
There are various kinds of orchids here - a total of 157 collections from around the world. The towering pine trees and hanging bridge make for picturesque surroundings, specifically during twilight when the bridge will be lit. It is also a tourist-friendly place and equipped with the necessary facilities, such as an outdoor theatre, sports facilities and a rabbit park. Armor Coffee invites visitors to take a break while having a snack and a cup of coffee. The entrance fee is IDR 30.000 per person.
I ended my day at Orchid Forest and returned to my uncle's house in the evening to have a rest before continuing my forest adventure the next day.
I woke up at sunrise at 5 AM and headed to Bukit Moko or Moko Highland to witness a foggy scenery. Located 1500 meters above sea level in Cimenyan, Bukit Moko is another pine forest where one can see an impressive panorama of Bandung from above. It is considered the highest point in the city.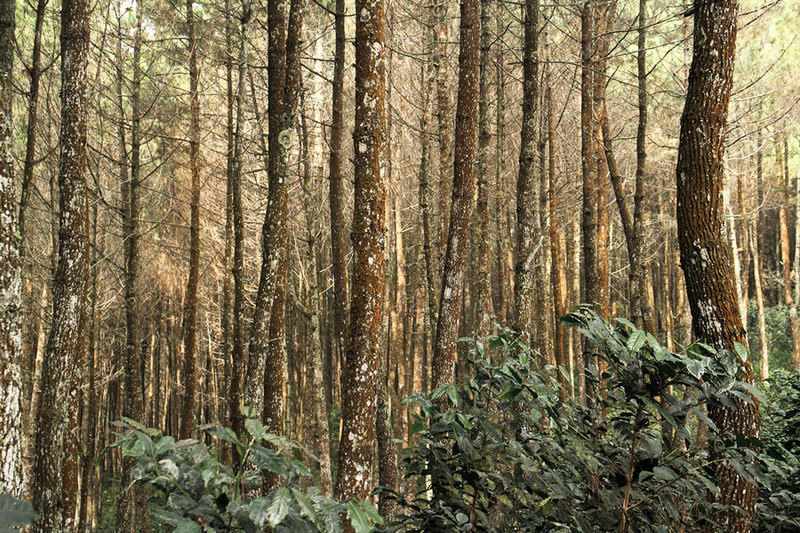 On my way to Moko Highland, I made a quick stop at Caringin Tilu where I enjoyed food and hot drinks to warm up. It is also a nice spot to hang out and chat with your friends.
Although I arrived at 6 AM, it was still very foggy and therefore I missed out on a magical sunrise. This didn't stop me, however, from exploring the surroundings. I was first welcomed by the hills and the landscape view of Bandung city. Again, the view was a little dampened but when the sky is clear, it is a stunning sight. According to some locals, it is also recommended to visit during sunset. Visitors are also welcome to bring their own tents and stay overnight. There are a couple of affordable food stalls around, so they won't go hungry.
Another place to visit in the area is Puncak Bintang or Star Peak. One has to cross pine woods to reach the best spot for stargazing at night. Allegedly, it is the perfect place to take wide panoramic photos, adore the landscape and also to capture the city lights. I truly enjoyed the pine woods - the entrance fee is IDR 5.000 - and the sounds of nature.
As it became warmer during the day, I rode my motorbike downtown to go to the southern Bandung Regency, home to the popular tourist site Kawah Putih (White Crater), situated around 50 km from the city. To manage my time efficiently, I directly went to Ciwidey and arrived at Kampung Cai Ranca Upas (Water Village of Ranca Upas) after two hours.
Adjacent to Kawah Putih and Situ Patengan (Patengan Lake), Ranca Upas is an area located inside the forest in Desa Alam Indah, Ranca Upas, Bandung. Ranca Upas is an area spanning 215 hectares, 1,700 meters above sea level. It is a lush green forest that offers both serenity and a fresh natural breeze. A number of rare trees can be found inside the forest, including Huru, Hamirug, Jamuju, Kihujan, Kitambang, Kurai, Pasang and Puspa trees.
Don't forget to bring a coat or jacket because Ranca Upas has a daily average temperature of 17-20 Celsius degrees. Sometimes, the thermometer goes up to 23 degrees, but even that is - for most Indonesians who are used to heat and humidity - still extremely cold.
Designated as a protected forest, Ranca Upas is home to monkeys and a variety of birds. It's very popular among animal enthusiasts and researchers who come here to observe tekukur birds, gagak (crows), elang (eagles), surili birds and monkeys. Facilities for outbound training and activities can be found here as well, including a bungee trampoline, a tree house, hand pedal boats and wall climbing.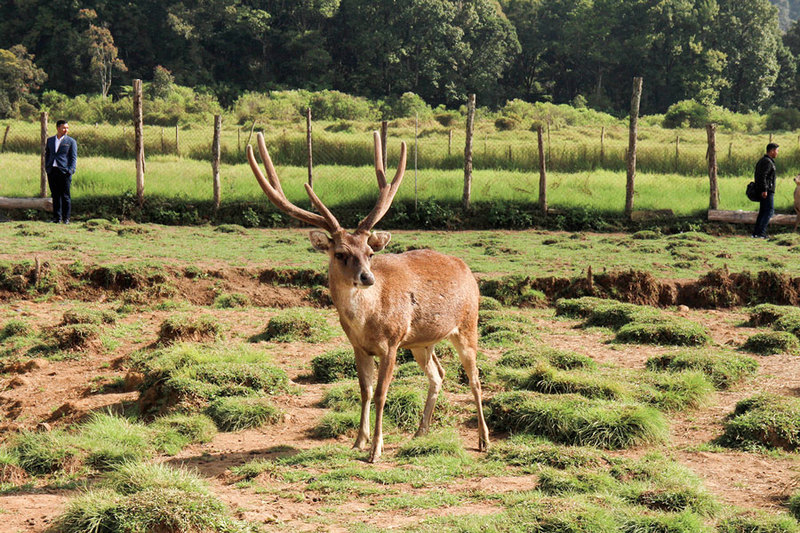 Previously, Ranca Upas was merely used as a camping ground and outdoor training center for several communities, such as the boy scouts and nature lover groups (Komunitas Pecinta Alam). Later on, Ranca Upas was transformed into a wholesome natural garden. One of the most appealing attractions nowadays is the deer conservation compound where visitors can observe and interact directly with the deer and even feed these gentle creatures with carrots and other vegetables provided by the management. I liked Ranca Upas a lot because I could engage in so many different activities, and at the same time always stay in touch with nature.
Bandung truly is a treasure trove for those who are fond of nature and need to escape the bustling city for a while. Although some of the aforementioned places are a little hard to reach, the effort always pays off.
If only I had more time, I would have camped at Ranca Upas with my friends and enjoy the feeling of wilderness and nature a while longer. But alas, I had to return to reality - at least, I came back to Jakarta refreshed.