Nature-based tourism or ecotourism is considered as a great option for travelling during the Covid-19 pandemic where travellers are able to interact with wild nature in small groups. Ecotourism encourages travellers to help protect the environment and contribute to local communities on a much deeper level than the tourists just passing through on normal tours.
NOW! Jakarta asked the very eco-minded travel practitioner and the Founder of Indonesian Ecotourism Network, Ary S. Suhandi to recommend some of the best ecotourism destinations in the country that are truly making a difference through their approach to conservation and responsible travel. Here are his suggestions:
TETEBATU VILLAGE
East Lombok, West Nusa Tenggara
Bordering the Mount Rinjani National Park, this village is considered a complete ecotourism destination because it not only presents green rice terraces with a majestic Rinjani backdrop but also has relatively good forest as well. Tourists will also be thrilled by the Benang Stokel and Benang Kelambu waterfalls and a waterfall that hosts swallows' nests.
Getting in touch with the friendly local people as they start their agricultural activities is one of the possible interesting interactions while visitors enjoy the morning atmosphere as the sun shines down on the rice fields. In addition, visitors can see first hand the communities plaiting bamboo and weaving the famous sasak cloth. This village is also known as the Aik Berik route for those who want to reach the edge of the lake in the Mount Rinjani area. Located 45 kilometres from Lombok's international airport, visitors can spend the night with a choice of accommodation ranging from homestays to bungalows or resorts.
NGADAS VILLAGE, BROMO-TENGGER-SEMERU NATIONAL PARK
Malang Regency, East Java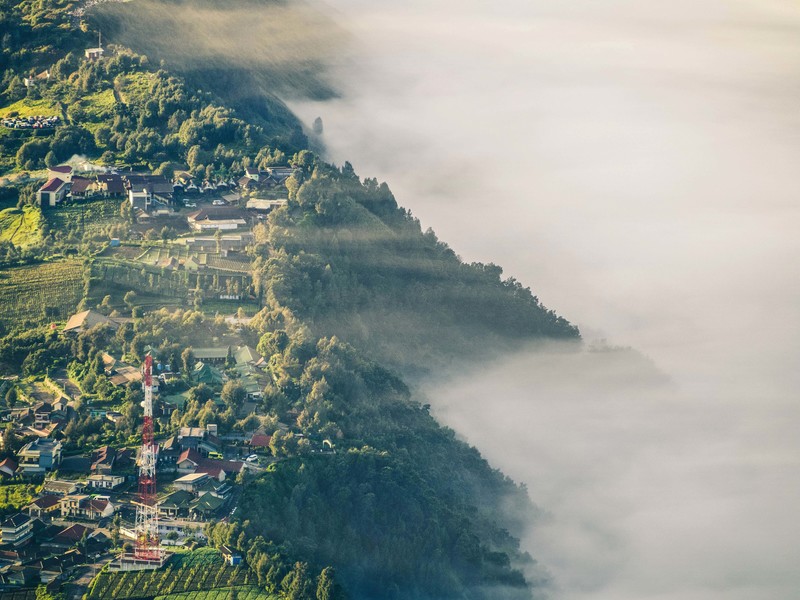 It is said that the Ngadas village community, the majority of which are of the Tengger tribe, built this village in 1774. Located at an altitude of 2,150 meters above sea level, Ngadas offers another side of tourism in the Mount Bromo area which presents a view of the activities of the people whose main livelihood is farming potatoes on the hillsides, which are very steep! During the growing season, the valley with its orderly and green potato plants displays a beauty well worth seeing.
Visitors can live in homestays with the community and enjoy their kitchens, which are the most comfortable social spaces complete with very necessary heating stoves while sharing stories and enjoying roasted potatoes with their hosts. The Ngadas tourism village manager offers a village tour in the cool morning air so that tourists can listen to the stories of how the local community conducts its daily activities, the origin of the Tengger tribe and their culture as well as the harmony of the life of five different religions. Ngadas Village can be reached in about 1,5 to 2 hours by car from Abdul Rachman Saleh Airport in Malang. If using the train, the manager can pick up visitors at the station.
KORAN AND PUNGGU ALAS RIVER, SEBANGAU NATIONAL PARK
Palangkaraya, Central Kalimantan
Kalimantan is the best place for river tracing and Sebangau National Park should be added to your list. Located in the capital Palangkaraya which is only 15 minutes from Tjilik Riwut airport. This 568,700-hectare national park is a peat swamp ecosystem that was formed millions of years ago. By using a cez, a wooden boat with an outboard engine, you can explore down the river and enjoy its blackish water and delightfully clean air which is a characteristic of ecotourism in this forest.
The Koran and Punggu Alas are two rivers that are the main attraction. At Punggu Alas there are research stations and several information facilities on biodiversity. Local youngsters can guide your journey until you meet wild orangutans in their natural habitat from the boat. You can also spend the night in an ecovillage while exploring the forest and learning about forest resource management.
ARFAK MOUNTAINS
West Papua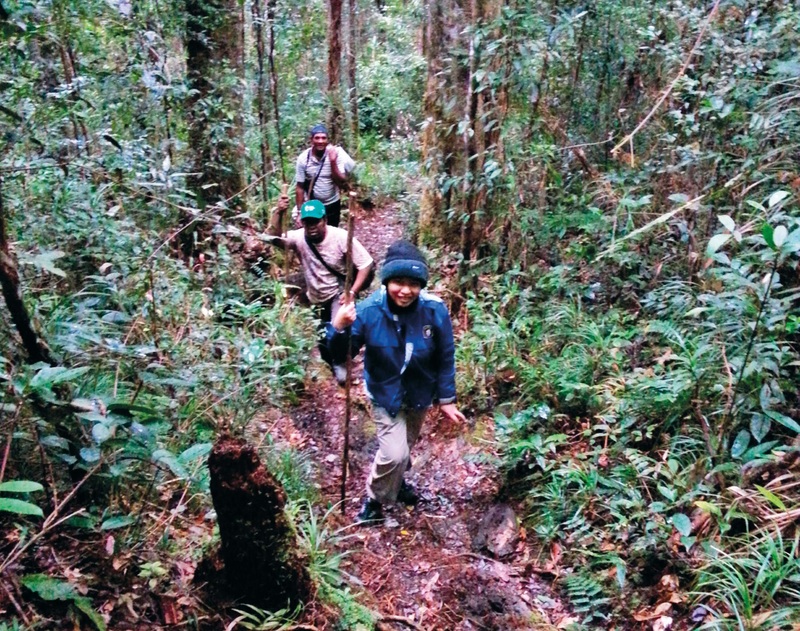 Those who like wildlife observation, photography and forest trekking, the Arfak mountains can be an outstanding option with the organisers guaranteeing the money you spend is worth the experience you receive! You can head to Manokwari, the capital city of West Papua, then with a 4WD rental vehicle to Syoubri and Siaw villages for a two-hour trip through the native forests of Papua with beautiful views of the valleys and rivers.
On the second day, you can explore the forest and watch up close the dances of several types of birds of paradise (Cendrawasih), you can take pictures with the biggest banana tree you have ever seen. Good lodging facilities are also available, managed directly by native Papuans. For the adventurous, you can dare to try "itchy leaves", these special leaves that are rubbed on your skin cause a reaction like being pricked by a fine needle. The Arfak people use them when they are tired to restore their stamina and sleep better. Only for the brave! Bird watching lovers and world-class photographers have visited Arfak, sharing their stories about their exploration of the culture of the destinations.
ANAMBAS ISLANDS
Riau Islands
If you prefer to experience the beaches, small islands and the hospitality of a coastal town in the style of the 1980s, the town of Tarempa on the island of Siantan and the small islands around the Anambas Archipelago is well worth a visit. If you are already in the islands, it means that you have arrived in one of the northernmost regions of Indonesia. Batam (Hang Nadim airport) is a transit airport before you fly to the airport in Letung. Usually, the service is every day, but during this time of the pandemic, there are only 3 flights a week. From Letung you can take a fast boat to Tarempa, an air-conditioned boat that costs IDR 150,000, quite comfortable and takes two hours.
Modest lodging is available with air conditioning facilities. Waking up in the morning, you can walk along the city streets to the fish market, with interesting views all around, wooden houses wrapped in canals and fishing boats. Stopping at a home shop to enjoy Tarempa coffee and noodles is a must-try experience. Motor vehicles are still the most effective way to travel, so we can visit the hill to see the city from above, then continue to visit the beautiful Temburun waterfall especially in the rainy season because it has 7 levels and then heads straight for the sea. From Tarempa you can visit several small islands which are about 15 to 25 minutes by speed boat, one of which is the 8-room Kusuma Resort which pampers us with clear sea, fine white sand and sloping beach, we can also do kayaking. Anambas also has several diving spots.
TOLOLELA TRADITIONAL VILLAGE
Ngada Regency, Flores, East Nusa Tenggara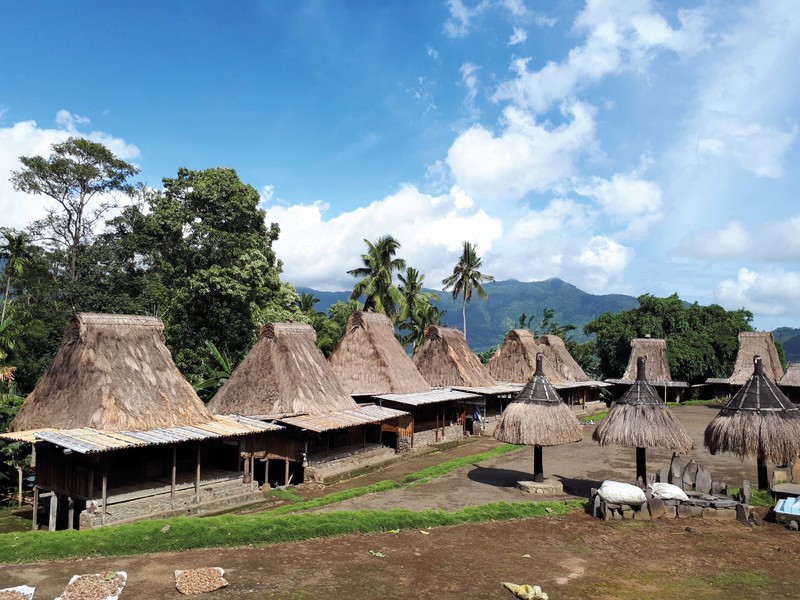 Located in the Jerebuu area, at the foot of Mount Inerie, the traditional village of Tololela offers a rich cultural and natural heritage. Sleeping in this village with the community is a valuable experience. The group of mothers who manage the homestays have deftly transformed the front rooms of their traditional houses into your comfortable, private accommodation and after you go back into their family room. This innovative effort makes tourism a bonus, so when you visit you are helping their economy.
Apart from enjoying natural hot springs and soaking in warm rivers, you can also trek on the Watunariwowo hill which faces mount Inerie and learn about the abundant cultivation of Bajawa coffee and bamboo and has a strong relationship with the community. The community is also very happy to teach visitors how to weave cloth with natural dyes, play music together and enjoy beautifully prepared local food. At the end of the trip, you can stay in Bajawa, the City of Ngada regency at an altitude of 1200 m above sea level, which is cool and indulgent with coffee and a local atmosphere that is thick with the friendliness of its residents. The Jerebuu area is only 40 minutes from Bajawa which can be reached by plane from Labuan Bajo or by driving for 8 hours with a stop in Ruteng.
But before you visit, be a responsible and smart traveller by using nature wisely for fun, knowledge, inspiration and health by:
1. Wearing a mask, keeping your distance and washing your hands to be safe from the Covid-19 virus.
2. Avoiding single-use plastics.
3. Managing your trash during your trip, throwing garbage in its place.
4. Making the tumbler part of your lifestyle, avoid drinking plastic bottled water.
5. Traveling in small groups.
6. Respecting nature, don't do destructive activities.
7. Respecting local culture, interacting and learning the wisdom of local communities in managing their resources.
8. Enjoying local food, and shopping for local services and products.
9. Avoiding buying souvenirs made from any wildlife materials.
10. When exploring the forest, walking on a predetermined path, do not take or hurt wild animals and plants.
11. If you are in the hotel, feel like at home, not changing clean towels every day, turning off the lights, TV and AC when leaving the room.
12. Choosing activities to care for the earth that can reduce the use of unavoidable carbon emissions when travelling.
13. Making sure you get a new, memorable experience, besides taking pictures.
For more information
INDONESIAN ECOTOURISM NETWORK (INDECON)
Jalan Tebet Timur Raya 22D
Jakarta 12820
W: www.indecon.or.id
IG: @indecon.id