Bangka and Belitung, often referred to collectively with the hyphenated moniker, are part of a group of islands which lie northeast of South Sumatra province. Bangka Belitung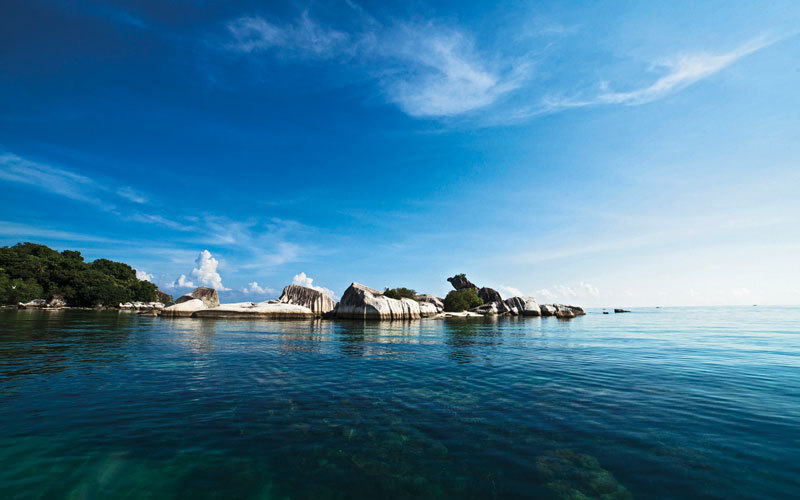 Historically, Bangka Belitung alternated into the kingdoms of Sriwijaya, Majapahit and Palembang, before being a colony of foreign countries the Dutch, the British, and the Japanese. Bangka Belitung was a residency within the Dutch East Indies. Upon the independence of Indonesia, the region was administered under the province of Sumatra and South Sumatra. Bangka Belitung officially became the 31st province of Indonesia in 2000.
Beaches here include: Parai Tenggiri beach, Matras beach, Tanjung Pesona beach, Tikus beach, Tanjung Kalian beach, Tanjung Ular beach, Pasir Kuning beach, Tanjung Labu beach, Gunung Namak beach, Tanjung Kerasak beach, Batu Ampar beach, among others.
For nature tourism objects, there is: Tanjung Kalian Lighthouse, Dendang Hotspring, Nanas Island, Batu Balai, Sumur Dewa, Sekar Biru Lake, Kurau Fisherman Village, Pelepas Isalnd, Nangka Island, Semujur Island, Panjang Island, Ketawai Island and Maras Mountain. And Still, many more destinations will wait for your explore.
The richness of Bangka Belitung Island of nature and tin mines until its maritime rich, make Bangka Belitung a magnet for tourism. A Balinese-style countryside is found in this Island named Giri Jati village. One can also find members of the Bugis tribe that adds the various cultures in Bangka Balitung Island. This Bugis tribe can be found in the fishermen village at Tanjung Binga.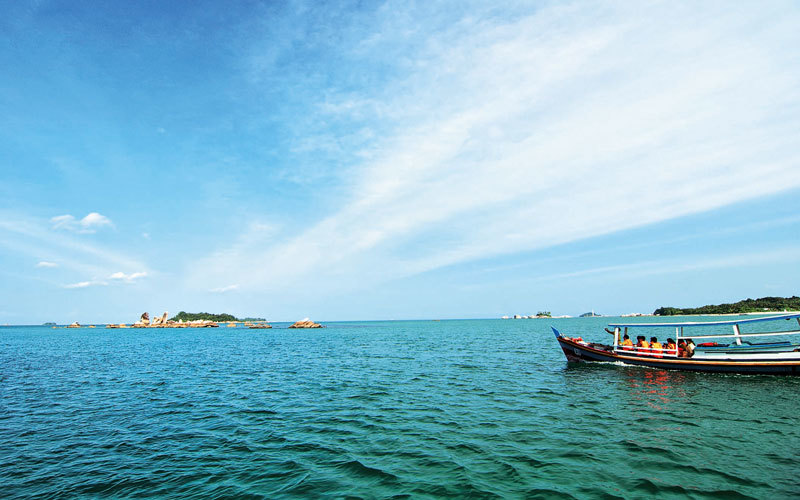 Here we share some of the highlights, must-dos and must sees of Bangka-Belitung Island:
Romodang Beach
Romodang beach is located in Belinyu area, north Bangka 77 km from Sungailiat. One can see the very dramatic sunset from this beach and those who like fishing, this is the perfect place for it.
Kelemar island is one the islands that located in Selat Nasik, Belitung regency, Bangka Belitung Province. This island is located at the outside of Gasper strait, at west side of Belitung island.
The local inhabitants that live around the island using boat or ship for daily activities. It is a 4-5 hour drive to reach Tanjung Pandan.
For those visiting Belitung and Kelemar island, there are also opportunities to visit other islands near Kelemar: Gersik island, Aur island, Kalangbau island, Bakau island, Kuil island, Massalemma island and Lima island.
With its splendid archipelagic topography and ecosystem, Bangka Belitung offers excellent marine tourism (diving, scuba, snorkeling, fishing and sailing). There are about 55 Chinese or Buddhist temples on Bangka alone that are still in use. The Chinese ethnicity make up at least 20 percent of the population of Bangka Belitung, the majority of who are direct descendants of the coolies brought in from mainland China to work the tin mines. The oldest temple is located at Batu Rusa, a village along the road from Pangkalpinang to Sungai Liat. A beautifully decorated temple is found near Tayu in the north of Bangka Island.
Tanjung Pandan is the capital of Bangka Belitung province. It consists of lowlands and areas of swampland. The central area is a range of hills some 150-200 metres high above the sea level. It is the second biggest tin producer in Indonesia.
Tanjung Tinggi Beach is one of the popular beaches in Belitung Island. This beach is known for its gorgeous white sandy beach with huge granite rocks piled at the beach.
The Giant granite stones in Babel's beach
The size of the granite rock scattering in this beach starts from only one digit cubic meters to hundreds of cubic meters which are bigger than a house construction. Tourist can climb the granites, walk and jump between the stones enjoying exceptional scenery from every angle. These huge stones are also unique in shape; some come in a cave shape that can be used as a shelter during the rains pour from sky.
To enjoy the beauty of the beach along with its huge stones, tourists can visit Tanjung Tinggi Beach using air transportation from Jakarta to Tanjung Pandan, the capital city of Belitung. From Tanjung Pandan, they can have a taxi to get them to this beach and it takes only about 45 minutes.
Manggar
Manggar is about 90 kilometers from Tanjungpandan. The main economy in Manggar is tin mining. There are many places worth visiting, such as: Serdang Beach, Burung Mandi Beach, Malang Lepau Beach, Pengepangan Beach, Tirta Surya natural swimming pool, Lake Payak, Kwan In Chinese temple.
Matras and Parai Tenggiri Beaches
Matras and Parai Tenggiri Beaches in the northeast of Bangka, 48 kilometers from Pangkal Pinang and 12 kilometers from Sungai Liat. The beach is about 3 kilometers long and almost 30 meters wide. Parai, a beach set between rocky outcrops, is an ideal location for relaxing and swimming. The local fishermen's vessels moored here after a hard day's fishing gives the beach a truly picturesque feel of a fishing village.
Mount Benumbing
Mount Benumbing is a 355 meters high hill in the neighborhood of Mentok (northwest Bangka), which is a witness to the history of the Indonesia's struggle for independence. A guesthouse, built here by the Dutch in 1932, housed the nation's first President Soekarno and VicePresident Hatta during their imprisonment from February to July 1949.
Other points of interest
Bangka Botanical Gardens
The icon of agro-tourism in Bangka, the Botanical Garden or BBG is located in Tembaran Village, Bukit Intan district. Bangka Botanical Garden is covered by green plants and refreshing atmosphere. On top of that, while you visit this garden, you can learn numerous agro activities, such as farming, fishery and animal husbandry. There are also several farms with the most famous one being the dragon fruit farm.
Munjang Mangrove
To enjoy the attraction of Munjang Mangrove, you can walk for about 300 meters or you can ride a speedboat for around 1.5 kilometers trip. Along the way, you can enjoy the greeneries of the woods. This mangrove forest is also very important to prevent the land from erosion caused by the sea and to protect the land from the high waves and strong wind from the sea to the land.
Bukit Pala
Bukit Pala, or Pala Hill, is located in Lima Dusun Bay village, West Bangka, and it is situated on the side of the beach. While you climb to the top of the hill, you can also pamper your eyes with the wonderful scenery. There are lots of good spots above the hill to enjoy your moments. There is a tree house on the top where you can see all the surroundings. It definitely is one of the most picturesque spots in Bangka.
Belitung Island has become a new favourite island-themed holiday destination among tourists located south-east off the larger island of Sumatra. With its impeccably pristine beaches, blue waters and natural granite rock structures, its hard not to linger on its beauty. Well known after the success of the box office Indonesian movie Laskar Pelangi or Rainbow Troops, this island is now determined to reach its goal to become one of world's best Geoparks. A Global Geopark is a UNESCO-designated area, that contains natural sites with particular geological importance and are intended to be conserved on account of its heritage. Tourism is expected to act as booster to spread knowledge and awareness of this unique natural wonder. Here are a few for you to start your holiday :
Tanjung Kelayang Experience Indonesia in 360
This fabulous stretch of white sandy beach decorated with large boulders as if scattered by some giant hand, is the icon of the island of Belitung, and is, for this reason, earmarked to become one of Indonesia's top destinations. Its long shoreline and calm waters are perfect for swimming. A few nearby islands are great to explore, try out your kayaking skills or do some other watersports. Enjoy the local cuisine and cooling drinks while enjoying your holiday along this scenic beach. Tanjung Kelayang is planned to become a destination for yachts and cruise ships.
Lengkuas Island
This is Belitung's number one popular destination. Here a towering 313 stairs light house built a century ago has aged gracefully. From its top floor look down on turquoise waters and pearly sand borders and a stunning panorama. Another set of amazing stone rock formation is a rhapsody of sculpture molded by mother nature.
Batu Berlayar
Batu Berlayar means the Sailing Rock Island. Its name is derived from the shape of the island's rock formation that resembles a sailing ship. This is a small island that has some secluded spots with tiny beaches and huge granite structures. Getting here needs an experienced boatsman, to navigate across the shallow and rocky seabed around the island.
Birds Island
Burung is the Indonesian word for Bird. A soaring granite structure in the form of a bird's head gives the island its name. Still framed in the peaceful nuance of crystal clear ocean water and white sands, this is just another gorgeous spot for your best photos.
Manggar Coffee
When in Belitung, do not miss this culinary highlight. Manggar is a small town that is well known for its coffee culture, marked with the 1001 Coffee Shop Monument. Manggar Kopi is aromatic and has a special taste that leaves you asking for more. You will find many side-street local shops with long wooden benches and inviting porches along the way. Simple local foods are also available to try while lounging with a perfect cup of strong scented and finest Manggar coffee.