Home to ancient villages, empty white-sand beaches, and extraordinary wildlife, the eastern islands of the Indonesian archipelago are now on the verge of becoming the next big tourism destination in the country.
There's no doubt that Bali is the most popular island destination in Indonesia, but those venturing a bit further east to the lesser known islands in the archipelago will find equally enchanting beaches, surf, and culture. And we found exactly that during our recent trip to West Sumba, the country's emerging travel destination.
Alighting from the sole plane on the dusty runway, the stark difference between Sumba and more populous islands like Java and Bali hit us the moment we emerged from the cabin; we knew that we had arrived somewhere new, exciting, and virtually unchartered. As we left the proud new terminal at Tambolaka Airport, we couldn't help but notice that Sumba's landscape and culture were, in many ways, closer to the arid African bush than her verdant tropical neighbours to the west.
This tropical jewellery box has remained a secret for years, explored only by those willing to go off the popular travel map to discover hidden gems away from the tourist masses. Here, traditional villages have barely changed over the last few centuries. You'll notice water buffalo horns displayed on the traditional wooden houses with thatched roofs as a symbol of the home owner's status and wealth.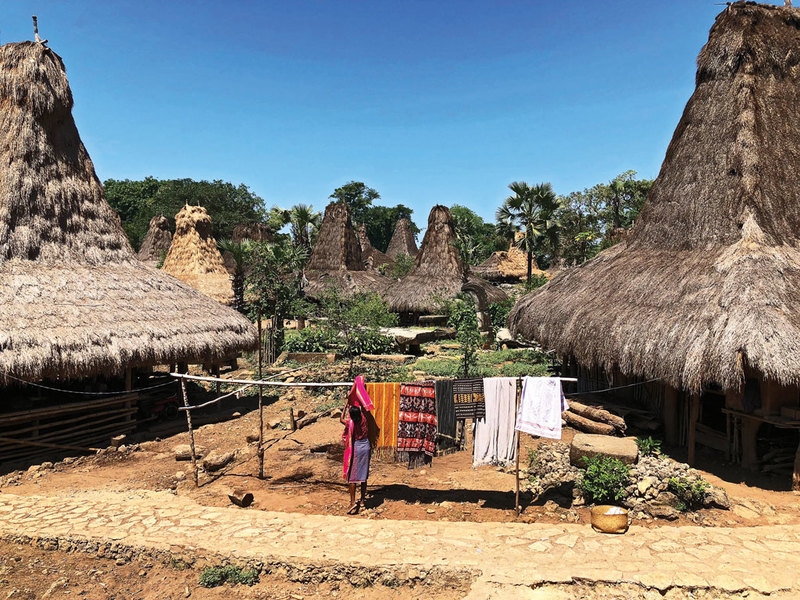 Traditional villages in Sumba are built on high ground, making it easier to defend attacks from enemy villages. In an island where headhunting and bloody wars are not such a distant memory, the position of a village was crucial to its survival. Although attacks no longer occur, the island's annual Pasola festival reveals the population's maintained skills at warfare. Here rival villages compete in frenzied horseback battles, staged to appease animist gods while sacrificing blood to ensure a fruitful harvest. Part of Sumba's ancient Marapu religion, this is just one in a series of rituals, sacrifices, and festivals that fill the Sumbanese calendar.
West Sumba's ancient villages are definitely an attraction, but more so are its unspoiled, off-the-beaten-track natural gems that have started to draw travellers from around the globe to its shores. Pristine waterfalls like Lapopu, with it crystal clear, emerald green water, invites just about everyone to dive in. Away from the inland and into the shore, West Sumba's coastal areas provide the quintessential summer getaway, the kind where afternoons are measured in strolls on pristine beaches and fishing villages.
Away from Sumba, to another island on the northeast, Manggarai was once a regency of sleepy fishing villages with long stretches of sandy beaches and bay islands. One developing area in Manggarai is Labuan Bajo, located on the northwestern tip of Flores Island in East Nusa Tenggara. The capital of West Manggarai district, Labuan Bajo is home to breathtaking sunsets, and is the launching point for trips to Komodo Island and a number of other surroundings with great opportunities for diving and snorkelling, as well as nature exploration.
The harbour town of Labuan Bajo, surrounded by a skyline of gorgeously shaped hills, has doubled in size. Convenience stores and homey guesthouses, in addition to restaurants and dive centres, now line the downtown streets, giving the sleepy area a wakeup call and inviting the young locals from the surrounding inland areas to test their luck and make a living here. Quality of life is no longer in question thanks to the recent arrival of Starbucks, located at Labuan Bajo Marina and Executive Port.
Of course, Bajo's main attraction remains offshore; and this explains the growing number of phinisi boats and yachts decorating the town's harbour. From day cruises and liveaboards to sun bathing, diving and snorkelling, the waters and islands that surround Labuan Bajo provide ample opportunities for those looking to escape the rat race that is metropolitan life.
These vessels will take you to any of the dozen islands off the Labuan Bajo coast of your choosing. One of these islands, Rinca Island, is home to the famous, mighty Komodo dragons. In fact, last year's census stated that Rinca has a bigger Komodo population than the Komodo National Park on Komodo Island. Sailing off to Rinca from Bajo will take you on a journey through the calm waters of the Flores Sea, passing small islands that glow in the distance against the blue sky. For many, this journey alone is the dream of a tropical paradise getaway coming to reality.
Mooring on the hidden dock of Rinca Island, KohKima, you will walk on foot through Low Buaya Walking Trails. Don't be surprised, for you'll be greeted by shouting monkeys behind the bushes just off the trail before the gate. But before you explore further, you'll first have to make a stop at the island's "front office", where you'll be briefed by a ranger (who will also be your guide) about the island as a protected area, and what you can expected to encounter during your trek; you can choose the short, medium, or long trek. Even on this very spot, which is around a five-minute walk from the dock, you can already spot a herd of deer lounging under the trees—when they're not munching on the grass. Baby Komodos are often spotted wandering around here, too.
After a short walk from the front office, you'll arrive at the "kitchen area". Here you can spot a number of Komodos lounging around and/or taking a nap. Visitors normally take this as an opportunity to snap some photos of and "with" the giant lizards. Your guide will help you of course.
The resting Komodos, though in their most relaxed state, can still look intimidating for some—and scary indeed these giant lizards are. A Komodo can reach a whooping length of three metres and weigh up to more than 170 kilograms. They feed on buffaloes, deer, goats, monkeys, and boars that share their island. As predators, the giant lizards do their job properly. They will patiently hide to ambush their prey, and they will wait for their prey to bleed out after injecting their bacteria-infested saliva into it. While the Komodos are dangerous 'owners' of the island, the monkeys are also the ones you need to be mindful of, for they're so cheeky that they'll try and steal your belongings. Try not to get too close to them.
Moving on with the Rinca journey, you'll be guided to the forests to see nests in which the giant lizards hatch their eggs. A Komodo buries its eggs (the number of the eggs can reach 30) inside a hole that can reach two metres deep. The holes used by the Komodos as their nests are initially dug by native birds known locally as "Burung Gosong" (megapodiusreinwardt), also residents of the island, as their own nest. Of course the Komodos, being the boss, later steal the holes when it's time to lay their eggs.
Along the trek in the forests, you'll encounter the Burung Gosong digging their holes, along with more deers, monkeys, buffalos, and green snakes. The snakes usually hide in between green leaves and are often difficult to spot due their ability to camouflage themselves. But the guides at Rinca have eagle eyes, and they will point one out if you're about to walk past one.
To conclude the journey you'll be taken to a trek through the vast Rinca savannah, and a hike to the top of the hill that offers the best 360-degree, bird's eye view of the surrounding landscape—rolling hills and the sparkling ocean with a scattering of islands. This is where we were in complete awe of the view making it a tough task for the guide to finally convince us to leave and go back to the base camp.
Our next tropical paradise getaway took us to Kelor Island. Approaching the island and fixing our eyes on the beach, we knew we were in for some fun in the sun. Kelor is made up of rolling hills, but what allured us the most were the island's pristine, white sandy beach and the calm waters. Any beach person or sun worshipper will appreciate it. Of course, it didn't take long for us to find ourselves lying down on the beach, before putting our goggles and fins on for a Kelor underwater exploration. There are trees for you to seek refuge under, when the heat of the sun finally gets to you; or you can easily jump into the water to cool off. The locals sell cold drinks and even fish to barbecue right on the beach just in case you feel like nibbling on fresh seafood and wash it down with something refreshing.
GET THERE
Daily flights from I Gusti Ngurah Rai International Airport in Bali Tambolaka Airport in Sumba and Komodo Airport in Labuan Bajo are offered by Garuda Indonesia, Nam Air, and Wings Air. For convenient travel, make sure to arrange airport transfer prior to your arrival when one is not provided by your hotel.
EXPLORE
In Labuan Bajo, you can have your island excursion arranged in style and in total comfort and luxury by Plataran Komodo Resort & Spa. Your Bajo exploration will begin with the "Romantic Sunrise Picnic", where you'll be taken to a trek to a hill nearby the resort to witness one the most breathtaking views on the island, the sun gracefully rising from behind a distant hill, and how it mirrors on the calm sea. Once the magical moment has passed, and it's the beginning of a bright new day, a sumptuous breakfast spread awaits you, ready to energise you before the adventure begins.
Your pastries, traditional Indonesian snacks, fruits, fresh juices, and coffees will be served against the ocean with docking boats and scattering islands on the background. The resort's kitchen team will be on standby in case you need your fix of morning omelette and/or pancake prepared a la minute.
Once you're well fed and freshened up, you're ready for a luxury Plataran cruise and expedition to the nearby islands. Our incredible journey crossing the Flores Sea to Rinca and Kelor was onboard Plataran Phinisi Felicia, the largest in the fleet of Plataran boats. Felicia is 27m long and 7m wide, and she houses two master cabins, two double cabins, and two bunk bed cabins, offering unsurpassed luxury and space to laze while touring the islands and bays of Flores.
Felicia can accommodate up to 12 guests, and the vessel is completed with 35 life jackets, two life-rafts, and five lifebuoys. In addition to the safety equipment, Felicia also comes with a large outdoor dining table, indoor dining and lounge area with bar, flat screen TV, home cinema system, and two large, partially shaded sundecks with spacious sunbeds and sofas for you to luxuriate and lounge on during the voyage. A massage table, too, can be arranged on the upper deck in case you need to ease your tensed up muscles from a day of exploration. Just be sure to let them know earlier, and they'll prepare it for you. From diving expeditions, island hopping, and the liveaboard combination, Plataran Private Cruises allow you to experience a private, intimate and unforgettable journey aboard a fully equipped phinisi.
Plataran will take very good care of you whether you are onboard the vessel or on dry land. Once you arrive on the shore of your desired island, the attentive Plataran boat crew will make sure that your needs on the island will be catered to; this includes water, outdoor gears such as snorkellingequipments, and entrance tickets to national parks.
Adding to the list of luxury exploration is Ayana Lakodi'a, the latest luxury offering from the renowned hospitality brand that goes hand-in-hand with their new property Ayana Komodo Resort, Waecicu Beach. The yacht blends Dutch and Indonesian boating aesthetics with Japanese technology, giving it a classic look but a modern feel. There are nine sophisticated suites available, each large enough for two people and designed to offer the same luxurious experience as staying at one of their resorts, with 5-star amenities available in each cabin. Dive into an adventure with Lakodi'a's 2 Days 1 Night Cruise package and discover the beauty of Komodo National Park and its neighbouring islands. Experience the adventure of trailing Komodo dragons, diving into the crystal clear waters, onboard a romantic cruise.
With two scheduled options, from Saturday – Sunday and from Sunday – Monday, the cruise will take you to explore Menjerite, Kelor Island, Kalong Island and Rinca Island. The trip includes airport transfer, luxury accommodation on Ayana Lakodi'a, on and off shore activities, meals including unlimited soft drinks and local beers, English speaking staff members, entrance fees and special room rate at Ayana Komodo Resort, Waecicu Beach.
Those who choose to depart on Saturdays will begin the journey by boarding Lakodi'a from Ayana Komodo's famous jetty. Catch the cool ocean breeze as you go to the first destination of the trip – Menjerite, where the crystal clear waters allow you to enjoy a mesmerisingsnorkelling session and other water activities such as kayaking or stand-up paddle. Return to the ship for some refreshments before moving on to the next destination to witness thousands of flying foxes decorating the sunset sky. Wake up the next day to the stunning blue surroundings and relish in a hearty breakfast on board before heading to Rinca Island to see the world's largest living lizard and go on a hike in search for stunning views on Kelor Island.
The Sunday trips will start by exploring Kelor Island and hike up the hill or go snorkelling in the clear waters. Kelor Island is located not far away from Menjerite and offers breathtaking underwater views through translucent waters. Spend the day doing exciting water activities or laze around and sunbathe on board before catching the sunset at Kalong Island. The following day, enjoy a healthy power breakfast before sailing to Rinca Island for the Komodo dragon tour before finishing the trip and returning to Ayana Komodo Resort.
Plataran Phinisis & Yachts
Jalan Soekarno Hatta, Labuan Bajo, Flores, East Nusa Tenggara
+62 385 41019
www.plataran.com
Ayana Lakodi'a
Labuan Bajo, Flores, East Nusa Tenggara
+62 385 244 1000
www.ayana.com