There are no walls between me and the sea, and the balcony juts out slightly over the edge of the water.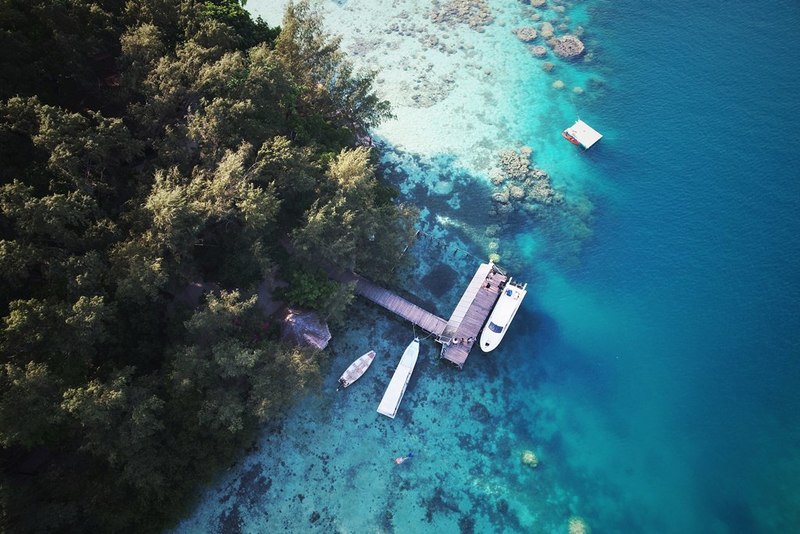 The hut is made almost entirely of beautiful, sea-worn driftwood, salvaged from the surrounding waters and shaped by local workers. There's barely a straight line to be seen. There is no air-conditioning, for which I am truly thankful. Airconditioning would mean air tight walls and windows. I'm much happier without those walls and windows. The only electric device in the room, standing there somewhat incongruously, is a fan. With the strong breeze that blows in over the water, I don't turn it on once during my stay. The light from the low energy LED lighting is soft and gentle. In the evening, the light of the waning full moon that shines in over the sea is much brighter and more beautiful, so I turn the lamps off and lie there, contemplating the sound of the lapping waves.
I spend a lot of time over the weekend in passionate discussion with my host, Roderick des Tombe. In addition to being the founder of Pulau Macan, Rod is also the co-founder of Impact Hub, a coworking space in Kemang for social enterprises, a place where a mostly young mix of Indonesians and expatriates meet to determine how to make the world a better place, not through charity work, but through committed enterprise. Rod is a passionate advocate for social enterprises, wholesome enterprises that have a positive social, environmental and economic impact while at the same time generating good wages and benefits for employees and profits for the owners. These ideas permeate every aspect of the resort I'm staying on now.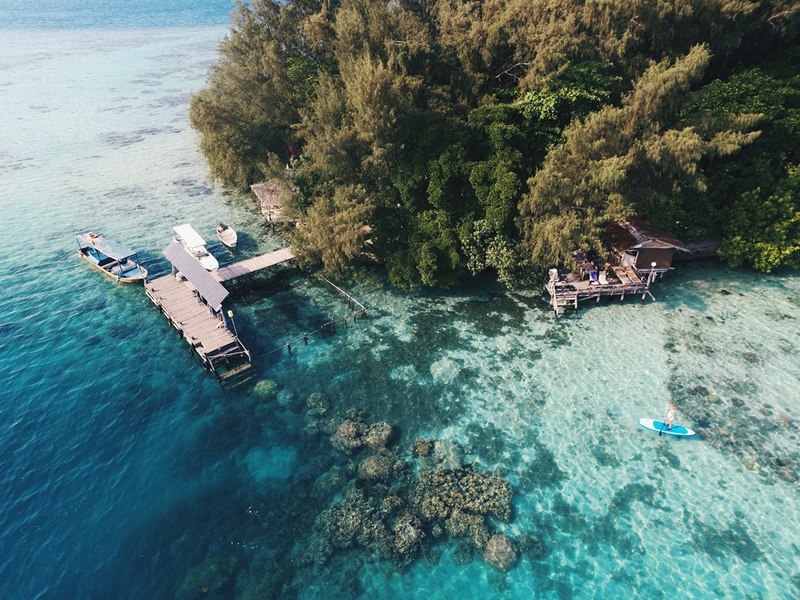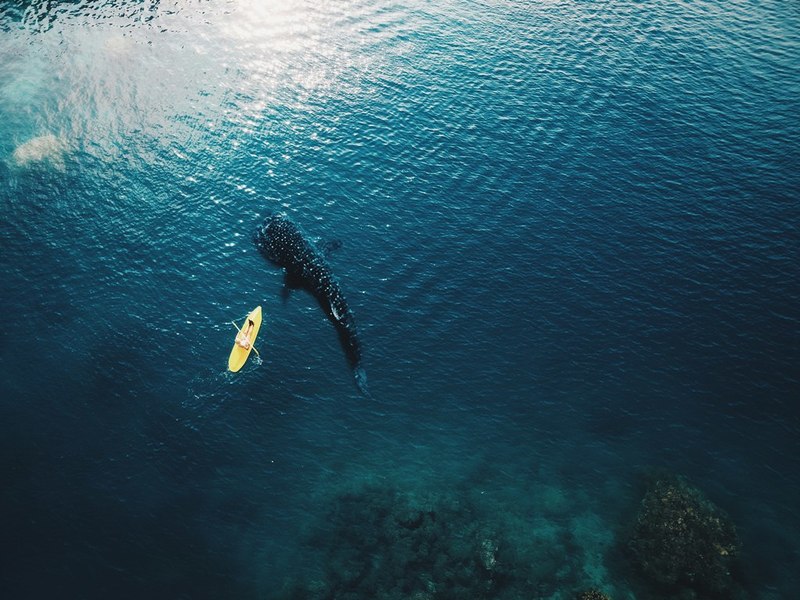 Rod and I walk around the two-hectare island so he can show me the solar panels, the water collection system, and the vegetable garden. "A major goal," he says, "would be to achieve self-sufficiency in terms of energy and water, and to grow and harvest as much food as possible." He readily admits that he hasn't achieved those goals yet, and it has proven more difficult than he anticipated. They have come quite close with energy. The two solar panel arrays have a combined peak capacity of 6000w, generating on average 24 kWh of power per day. That's only about enough to power a single airconditioning unit for 24 hours – but with the use of low-energy technologies, it meets about 80-90 percent of the resort's needs.
Rod admits that self-sufficiency in terms of food is probably wishful thinking, although the resort grows vegetables and aloe vera for guests' consumption. To increase production, it has also experimented with hydroponic gardening. But seriously, for now, self-sufficiency is a step too far. Rather than aiming for self-sufficiency, it sources food locally, including the excellent fresh fish that is served at every main meal. Going further afield, Rod emphasizes relationships with other social enterprises, particularly ethical producers of high-quality, organic food. In fact, he is quite passionate about the power of this kind of networking. It is a core principle. Not only does he showcase good food produced by farmers and artisans from Jakarta and the surrounding rural areas, he would like to provide guests with information so that they can establish a relationship of their own with these producers, to continue to purchasing their products after their return to Jakarta. If ethical enterprises establish a strong network, they can facilitate a collaborative evolution towards a new, more conscious way of living.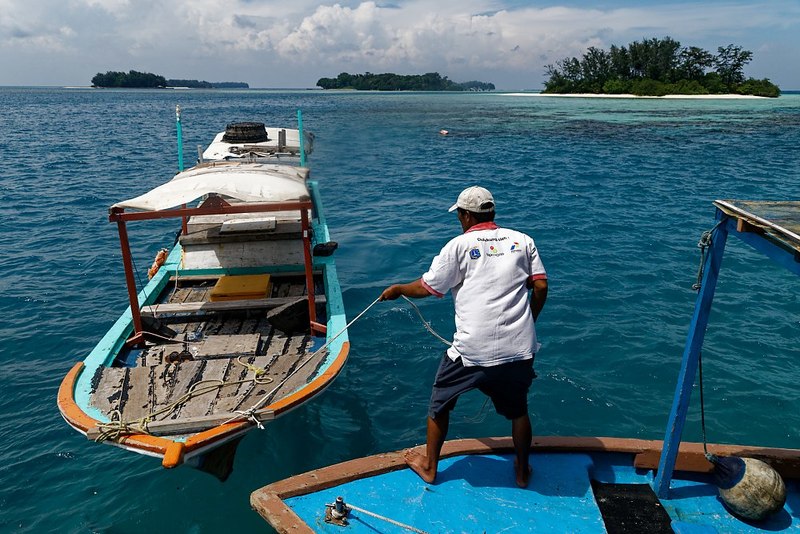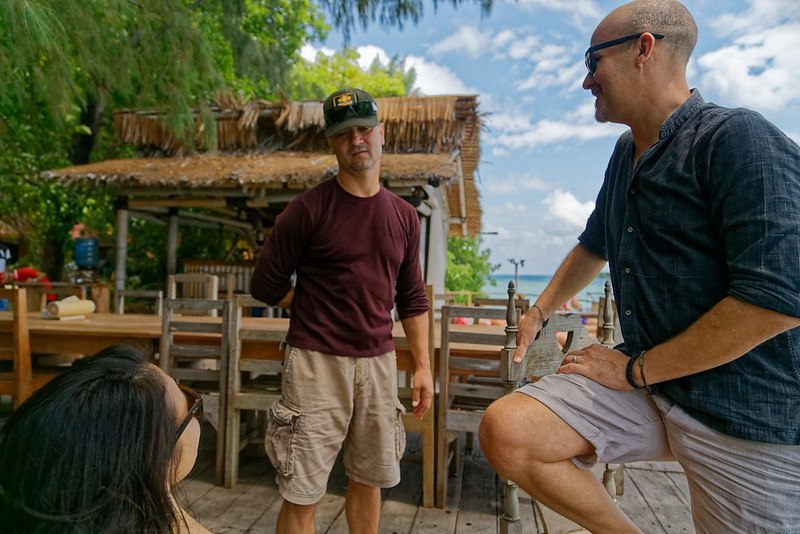 Staff have very good reasons to care about guests' happiness. They have a very real stake in the business. Not only are wages excellent, well above average for resorts in the area, and not only do staff receive a fair share of the service charge, but all workers who serve for at least six years are granted equity in the business. Even if they leave their job, they will be entitled to a small but significant share of profits for as long as the business continues to exist. It is hardly remarkable, then, that there is a very low turnover rate and that staff are passionately committed to the success of the business. They own a stake in it. In a very real way, it is their business, and that comes across through all their interactions with guests.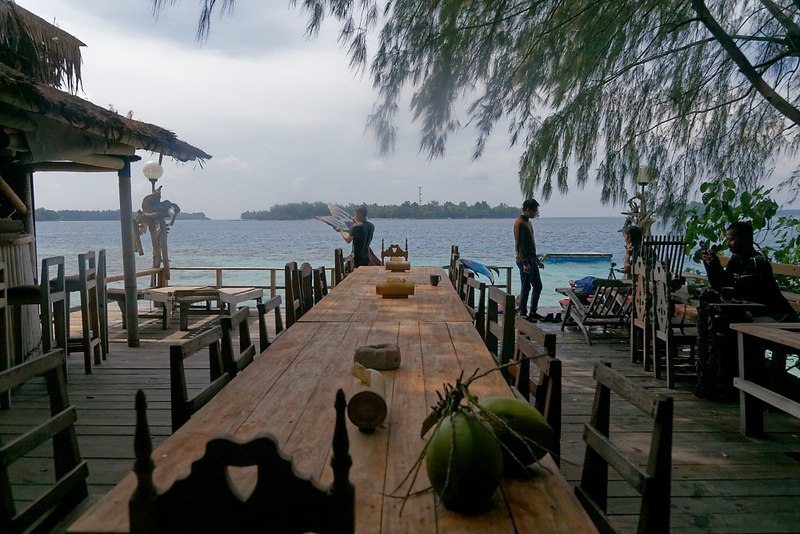 I enjoyed reading guests' reviews of the resort on TripAdvisor. While it's clear that most guests get it, a few don't. A handful complain about the lack of air-conditioning, the simple facilities, the lack of the types of entertainment they are used to. But others keep on coming back, over and over again. It's clear that the simplicity of the place is exactly what they are looking for. Like water in a desert, in a chaotic, dysfunctional city such as Jakarta, simplicity is a rare and valuable thing. The wind, the water, the moon, and not much else besides. More and more people are waking to the idea that there is a need for a new way of living. Not a return to a primitive past, but a step forward to a new future in which people actively seek the knowledge, tools, products and services to create a positive environmental, social, and spiritual impact on the world in which they live. The idea of this resort is to help you find those things.
---
For more information about Macan, please visit https://www.pulaumacan.com/