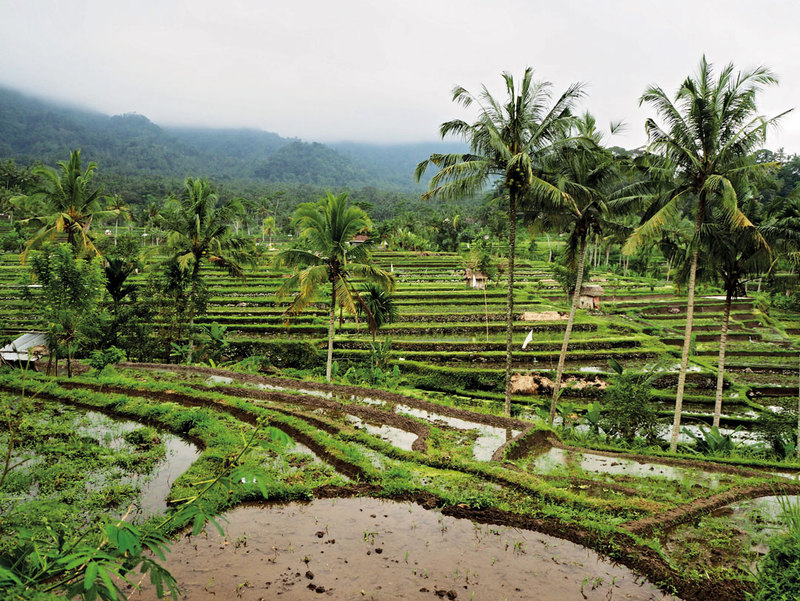 Get back to Bali's rural roots with a trip to a river valley that's inspired artists and rock 'n' roll legends alike.
Tumbling rice paddies, gurgling streams and the distant peak of a quietly rumbling volcano. The Sidemen Valley is rural Bali at its photogenic best. Mick Jagger and David Bowie are among those to have been seduced by Sidemen's charms—both are rumoured to have holidayed at Villa Sidemen in the 80s.
Years earlier, during the island's artistic revolution of the 30s, German painter Walter Spies used his mountain retreat in Sidemen as a means to escape the hedonistic parties of Ubud. Yet more than eight decades after Spies first found magic in Sidemen, the river valley still remains relatively untouched by tourism.
Those who do make the hour-plus journey northeast from Ubud are rewarded with a taste of a bygone Bali that has all but disappeared further south. Accommodation options are mostly huddled around the village of Tabola, but the valley stretches around 12 kilometres from north to south. Farming is still the No. 1 industry here, and the locals don't generally speak a whole lot of English, so the best way to get to grips with the landscape, culture and people, is with a guide.
A DAY AT BALI COUNTRYSIDE
Eco tour operator Bali Countryside hosts workshops, treks and Cub Scout camps in Sidemen. You can choose from curated half and full-day experiences, or tailor something to your own fancy if travelling as a group. For a taste of everything, their 'Discovery of Balinese Life' tour is a good place to start.
The day kicks off at BC's open-air bamboo home. It's an Edenic spot with fields of green in every direction, a lovely setting to get acquainted with your guide. The good news? Staff are all enlisted from the surrounding villages, so you can look forward to some real insider knowledge.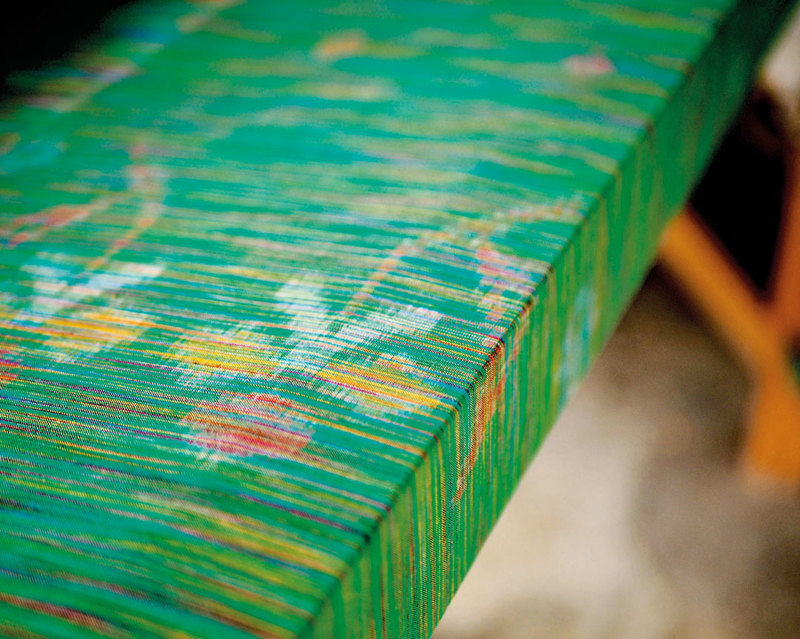 Now, to the day's itinerary. First up, a gander at Pak Gusti's nearby weaving workshop. Intricate 'songket' textiles, woven with strands of primary colour and metallic gold, are a specialty of the region, and Gusti's place is one of several cooperatives striving to keep the tradition alive.
The mechanical rhythm of the ladies' hands at the loom will have you hypnotised. The ease with which they carry out such fiddly handiwork speaks of a skill long since acquired.
Next, the highlight of the day—a scenic paddy field trail walk back to the Bali Countryside HQ. You'll pass plantations full of chillies, rows of bright orange marigolds, and rice fields the colour of a parakeet's feathers. On clear days, you might get a peek at Agung volcano. It's off-the-scale pretty.
During the trek, you'll hear all about subak, Bali's ancient irrigation system, and find out what being a rice farmer really entails, first hand. Exchanging some pigeon Indonesian with the toothy-grinned farmers will warm your heart. Their carefree cackling is infectious, and the sight of you bashing rice sheafs in the field will likely send them over the edge giggling.
Back at Bali Countryside HQ, lemongrass-infused refreshments await in a paddy-view pavilion. There's just enough time to cool down and snap (yet more) landscapes before the morning's cultural workshops begin.
Balinese cooking, jamu mixing (jamu are Indonesia's traditional herbal elixirs), and boreh (healing body mask made of rice) making are all on the agenda. There are crafts too—you'll be amazed to see what the locals can do with a few coconut palm leaves! Origami grasshoppers aside, you'll get a master class on folding canang sari (Balinese religious offerings). It's fascinating to discover the symbolism behind the coloured blooms, sweet-smelling grasses and edible treats that go inside.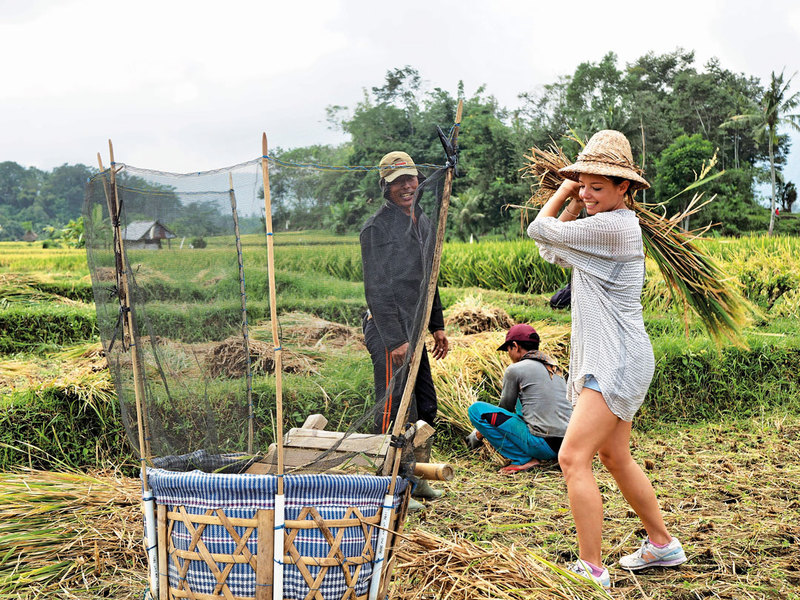 Finally, it's lunchtime. And the day's exertions call for a hearty Balinese feast in the fields. Urap (green bean, coconut, and chilli salad), sate (fish and chicken skewers) and telor balado (spicy boiled eggs) might feature in the spread, as might the tempe goreng (fried tempeh) that you whipped up in the morning's cooking demo.
So concludes a day well spent at Bali Countryside. And leaving the fields of Sidemen behind, you might be reminded of the old cliche about reconnecting with nature. You see, Walter Spies had something right—getting out of the big smoke is good for the soul. And Sidemen is one of those places where you can really tune in to the wild, connect with a simpler time, and feel the Balinese people's special bond with their environment. Give it a try, you'll leave feeling refreshed.
For more information about cultural tours in Sideman, visit www.balicountryside.com