Far to the southern coast of West Java, a distance from the common road, over a rustic bridge and a way up a cobblestone path surrounded by trees is a sanctuary you'll wish you could stay in forever. Thanks to the new toll road that cuts down the journey from what used to be six hours to what is now about three hours, my journey to Pelabuhan Ratu was a complete breeze.
Upon arrival, I was greeted by Operational Manager, Pak Saiful. With a warm smile and a neat safari outfit, he gave me a quick tour of the resort. In addition to the Mountain Lodge, which is a two-story rustic house with three individual bedrooms, a living room, a dining area and a balcony, the most popular option is the Sun & Moon Deck Suites.
For my first night, I stayed at the Sun Deck Suite, and it was an absolutely phenomenal experience. The suite is built mostly of sturdy wood with insulated main bedroom walls that repels heat during the day and keeps the room mild in the evening. If that fails, an air conditioner is in place to finish the job. The bathroom is a different experience altogether. I was pleasantly surprised at how breezy it was, courtesy of the open wall on one side. I stood there for several minutes just taking in the smell of the woods and cool mountain dew wet upon the leaves. Talk about air freshening for your bathroom! But that's not all. Stepping out to the back of the suite, I found myself on an open deck overlooking the woods into the green valley below, then the port town of Pelabuhan Ratu, and all the way down to the coastline. "This," I thought, "is the ultimate spot to relax and unwind."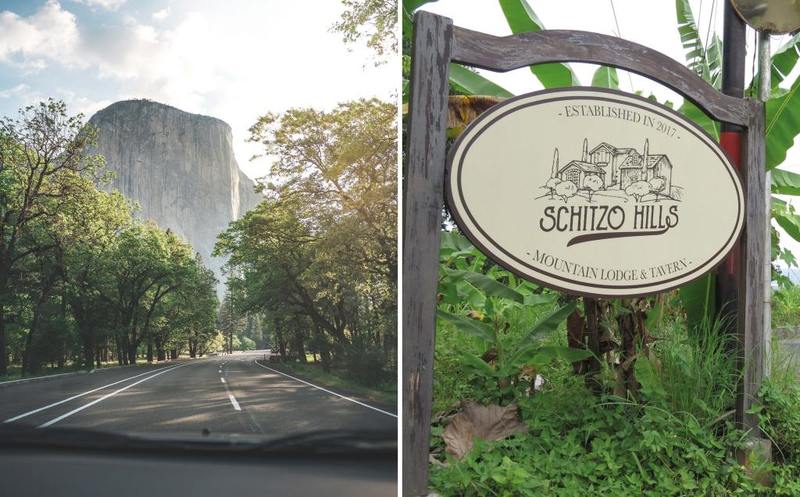 The resort had other options, such as the Travellers Cabin with bunk beds, hot shower, air conditioning, mini living room, and a dining area; perfect for solo travellers or backpackers. Of course, the latest addition is the glamping tent set on a deck about 100 metres from the main grounds. Perfect for those looking to blend even closer to nature, I promised myself to take the tent on my next visit.
Enchanting as our lodging are, the party couldn't wait to start exploring the surroundings. It was late afternoon, so we didn't go far. Around a 15-minute drive from there was a cave, but not just any cave. It was home to a throng of small cave bats, and we got there just in time for their exodus. Seeing thousands upon thousands of the winged nightcrawlers exiting the cave at once gave us the chills—a scene that each of us will not soon forget.
Dinner was served back at Schitzo Hills Forest Resort. Resident chef Elis has prepared a multi-cuisine feast of mostly Indonesian fare. The grilled fish and fried calamari were stars of the evening for me, although the other entrées, taken with perfectly cooked steamed rice, were equally scrumptious. Everything was delicious, made more so thanks to being tired from the day's journey and our little bat adventure.
We had our meal in the centre area just adjacent to the swimming pool along with other guests. Pak Saiful was there as well to regale us with tales of adventure and the many wonders to discover around Pelabuhan Ratu. It was a very interesting place to gather. There was a modern electronic fireplace with antiquated picture frames, paintings, and an antler décor on top. To the sides are floor-to-ceiling bookshelves, filled with an endless variety of quality reading materials. Being a first-class nerd, I immediately examined the rows of National Geographic journals dating as far back as 1983 edition, if not older. I could spend many moons just going through all of them over at the comfortable armchairs, the cosy cough, the sun loungers by the pool or anywhere within the inviting area, accompanied by coffee, tea, fresh fruits or hot ginger tea, all of which are available free-flow and complimentary.
After the hearty dinner, we step out to the roof of the suites, which was built as an upper deck with wooden armchairs and a table, overlooking the scenery, with warmer clothing and a bottle red wine in tow. It wasn't a particularly clear night, but the experience was beyond memorable. We talked for hours under the moonlight before retiring.
And that pretty much describes each day of our stay at Schitzo Hills Forest Resort, except with excitingly different adventures in the day. Located strategically up on the hills just before the bay, I am convinced that the resort makes for the perfect base for those visiting to explore the surrounding area as well as a serene sanctuary for those looking to whisk the hours away in tranquillity, with a familiar mountain cabin comfort very rarely found elsewhere.
Schitzo Hills Forest Resort manages their own plantation in and around the grounds, with many more fruit trees being planted and a mini organic farm planned for the near future. You can use one of the available mountain bikes or hike to explore the 10-hectare grounds. There are plenty of activities to do within the resort, available as part of the all-inclusive rate per person per night. We're talking—in addition to what I've already mentioned—accommodations, three meals, an afternoon snack, access to the scenic swimming pool, tennis, badminton and basketball courts.
If you're looking to explore Pelabuhan Ratu, the staff can recommend a number of beach destinations to play in, decent restaurants to visit, and other places of interest, such as Goa Lalay, the bat cave and Curug Semar waterfall.
Further still is Ciletuh Geopark, a newly opened (2018) nature reserve that harbours a long stretch of white sandy beach at the foot of a secluded, lush valley. Here you'll see caves, waterfalls, camping grounds, quaint home stays run by locals, and many other unexpected tropical charms that are sure to impress.
Schitzo Hills Forest Resort employs every necessary health protocols to ensure the safety of its guests. The entire staff is medically tested every month and all rooms are disinfected before check in, including surfaces, which is sanitized regularly.

Schitzo Hills Forest Resort
Jalan Kiaralawang, No. 68
Pelabuhan Ratu, West Java
T: +62 81 3169 42544
IG: @schitzohills
FB: @Schitzohills
schitzohills.com