Apart from the natural wonders, Bali also attracts people with fascinating and irresistible buys. As a resort island destination, shopping in Bali will take you to a treasure trove of fine art and handicrafts, antique and semi-antique furniture, paintings, delicately carved jewellery, wood and stone carvings, masks, woven and dyed fabrics. Street shopping is enormous fun where a lot of bargaining takes place. For the high-end buyers who prefer comfortable shopping within the air-conditioned walls of shopping malls, this island may be lacking in high-rising buildings. However, some of the malls are large complexes with plenty in the way of dining and entertainments. Whether you are a tourist looking for a one-spot destination to exquisite souvenirs or a local trying to spend quality time with family, these shopping malls are the therapy for shopaholics. After all, shopping is cheaper than therapy.
Bali Collection
Set over eight hectares in the neighbourhood of international five-star hotels, Bali collection interior features numerous tenants while the exterior boasts of Balinese architecture. Offering various eating spots and lounges to chill out, you can also hunt for international and national luxury fashion brands, exotic traditional handicraft and souvenir.
From children's to adults' clothing, from active sportswear to surf apparels, all are laid out through navigable sections and spaces. You will also find some exquisite jewellery shops, a number of supermarkets, departmental stores, spas and salons. Rejuvenate yourself with shopping and dining, or simply spend some leisure time strolling around the spacious complex and engage in some window shopping for a change. This is definitely one-stop shopping for anyone.
ITDC area, Nusa Dua, South Kuta, Badung
+62 361 771662
www.bali-collection.com
Beachwalk
Occupying 3.7 hectares of land and a 250-meter street side near the end of Kuta Beach, the Beachwalk Mall is a striking complex with its attractive shopping and dining destinations which draws many visitors. This mall is an easy wander from the beach with its interiors full of ponds and running waters, making it a ideal retreat from the coastal heat.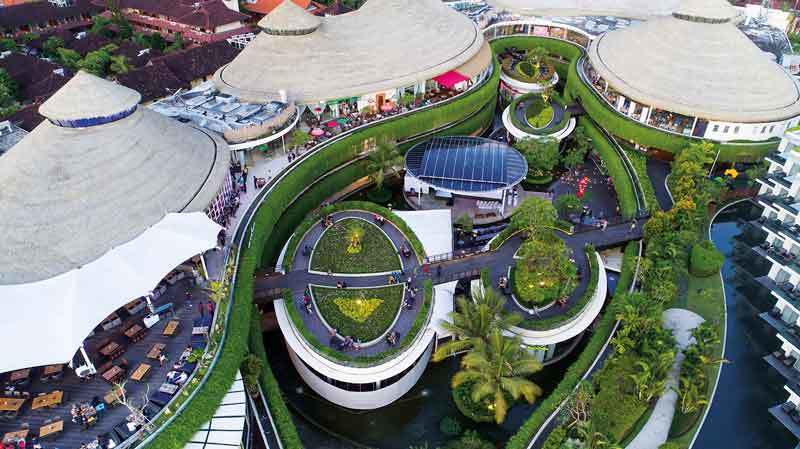 It represents a complete boutique shopping experience with the price range on the luxurious side of all popular brands. The dining options are numerous and satiate all types of cuisine. Envisioned as a family and weekend destination, Beachwalk boasts a dedicated kids' play centre, the Miniapolis Bali, where the kids can have a ball. But if you want to keep your wallet safe in your pocket, you can admire the nice tropical gardens, ponds and fountains in the complex's airy spaces with high views over Kuta's beach and sunsets.
Jalan Pantai Kuta, Kuta, Badung
+62 361 8464888
www.beachwalkbali.com
Level 21
This one of Denpasar's latest modern shopping malls, located on the easternmost end of Jalan Teuku Umar. Open for public in December last year, Level 21 is a total revamp and expansion of the former Denpasar Junction mall. It has four spacious levels with the eateries clustered up on the ground floor where you can enjoy your food with a nice street view.
The escalators will take you up to the gym centre and rows of sports and fashion outlets. With substantial anchor tenants and a carefully selected retail mix, Level 21 promises a fresh shopping experience. For hair and beauty treatments, you can choose from a variety of fine salons to pamper yourself. But, one of the main draws of Level 21 is the movie theatre, Cineplex XXI, which screens the latest blockbusters in its five studios. The mall is designed around new urbanism principles of walkable, mixed-use environments to create a truly cutting-edge hangout experience. Please be advised that parking can be quite an issue, and the mall can get quite busy on weekends.
Jalan Teuku Umar #1, Pemecutan Klod, West Denpasar
+62 361 257576
www.level21mall.com
Samasta Lifestyle Village
Located no more than 100 metres from Jimbaran Bay, Samasta Lifestyle Village is the next-level mall offering sleepy and calm vibes of Jimbaran. With hundreds of trees sitting on the 3.3 hectares plot, Samasta has a unique concept with open air and tropical vibes. Whether you are in the mood for fusion, Asian or Western, you can have it all here.
Catering of about 15 restaurants to choose form, Samasta is trying to set itself apart as a foodie haven. You also have rooftop bars with a lovely view of the bay and enough cafes brewing a rich variety of premium Indonesian single origin coffees. In case you need to buy souvenirs, you can squeeze a little time to swing by the biggest souvenir shopping spot in Bali, Oleh Oleh Krisna. Their little shop in Samasta is so much nicer and less stressful. If you are into culture and entertainment, regular Balinese Dances are performed every weekend, while live acoustic performance is every Friday and Salsa Dances is every Saturday night.
Jalan Wanagiri, Jimbaran, South Kuta
+62 361 4468600
www.samastabali.com
Seminyak Village
A modern-glass and light-infused structure, Seminyak Village is a fashionable shopping, dining and nightlife enclave in the Seminyak district that attracts hordes of visitors. More than 60,000 square feet spread over two levels with a glass skylight flooding the place in natural sunlight, this is a fashionista-on-vacation dream come true.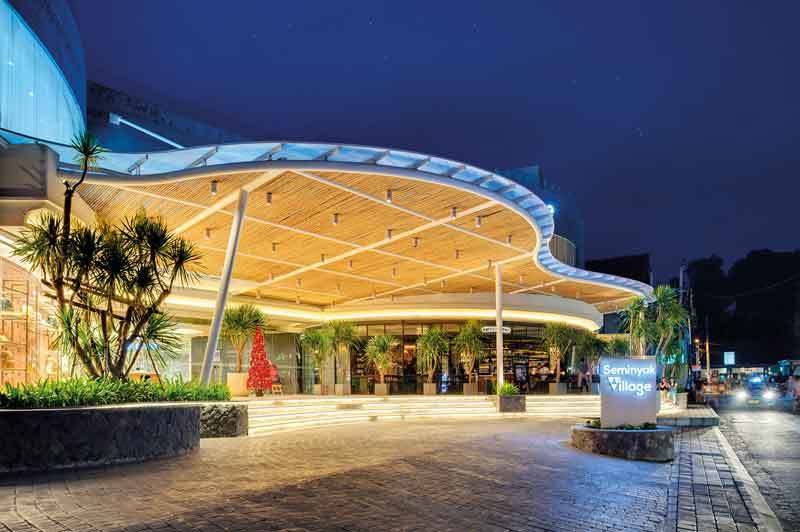 The underlying theme is one of a resort chic with over 30 shops and an access of 100 brands on offer. When it comes to wining and dining, there are plenty of cafes and restaurants in the mall offering organic cuisine to hand-made ice-cream. The highlight of the mall is the Indonesian Emporium, delivering visitors an exquisite collection of local Balinese handicrafts all under one roof. Just a stone throws away to other Seminyak's entertainments, this mall seamlessly blends into the culture, history, traditions of Bali while offering the best of modern-day items.
Jalan Kayu Jati #8, Seminyak, Kuta, Badung
+62 361 738097
www.seminyakvillage.com