As the end of the year is approaching, I could not help but think about a holiday destination that would summarize 2017 perfectly. I have been traveling all around the world from Europe to China and Australia, and therefore I was not really keen on traveling too far for this coming holiday season. Bali is a classic favourite among local holiday destinations and this time, I would like to enjoy the quiet side of Bali in Benoa.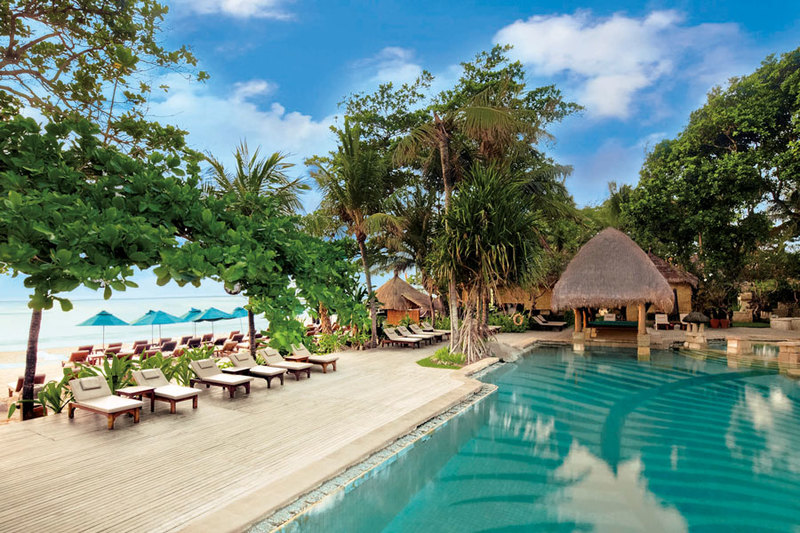 The seaside of Tanjung Benoa, better known as just Benoa, is not as popular as Seminyak, Kuta or even Sanur. Benoa was once a quaint fishing village dating back to 1546. There was a small harbour that existed in this area and was mainly used by traders from China to dock and sell their wares like ceramics. In return, the Chinese traders bought native products of Bali. Therefore, it is not surprising that some of the Chinese traders' descendants are still settling in this area and have brought with them their own culture that over the years melted with the existing one.
It is only in Benoa where you can find such interfaith harmony between Hindus, Buddhists and Muslims all in one area. The Pura Dalem Ning Lan Taman Beji Temple that belongs to the Balinese royal family is one of the most important temples in Benoa and is located within walking distance to the Caow Eng Bio Chinese Temple. Juxtaposing the sea, this Hindunese temple is a good example of Balinese architectural grandeur featuring three majestic temple gates made up of white sandstone called 'kori', each framing ornately carved wooden doors painted in gold.
The Buddhist temple nearby the Pura is known as Bali's oldest Chinese temple built by Chinese merchants and early immigrants of a bygone era. Its bright red walls with roof tiles and intricate Chinese-Buddhist ornaments and figures make this temple stand out from its surroundings. After entering through a heavily ornate wooden door, one encounters a central pavilion filled with statues of Chinese deities, which is connected to a cooking area that has a small room for the 'god of kitchen'.
Located on the same route towards Nusa Dua area, Benoa is also home to a white sandy beach that stretches as far as the eye can see. It is the type of beach that is not only perfect for sunbathing, swimming or snorkeling, but also for water sports! From high-speed jet-ski, speedboat-towed parachute, flying fish to banana boat, Benoa definitely ranks among the best water sports playgrounds in Bali. The newest adrenalin rush known as water jetpacks will let you soar like Iron Man, and it is definitely a must for water sports enthusiasts. You can also enjoy the underwater side of Benoa from scuba diving and sea-walking adventures to the latest underwater scooters to enjoy lush coral gardens.
As response to the steady increase of tourism, Benoa has also seen the addition of new resorts on its shores, including the Novotel Bali Benoa. Located on the northern tip of the Nusa Dua peninsula and overlooking Tanjung Benoa beach, this hotel is only a 30-minute drive from the airport. Contrary to the prevalent trend these days, Novotel Bali Benoa is honouring traditional Balinese architecture that brings back the old days of Bali - something that is now quite difficult to find. Set within a lush tropical garden, the hotel features 187 rooms including family suites, beach cabanas and private villas overlooking the stunning sea, garden or the pools.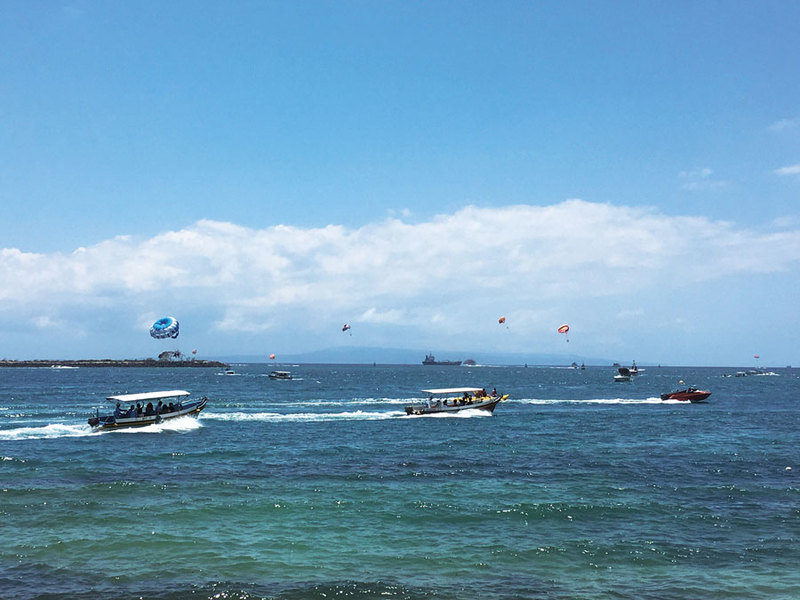 When I visited, my tropical terrace room almost felt like a private studio with its own garden - perfect for honeymooners. As a family-friendly resort, Novotel Benoa Bali also features three swimming pools, a kids club with themed activities, a great spa and a fitness center. However, the resort also has a secluded wing that is dedicated to couples and free from children. In a nutshell, this resort is perfect for a truly relaxing getaway.
During my three-day stay at Novotel Benoa Bali, I was also impressed with the food selection available in the main restaurant Uluwatu and Cocos Bar by the beach. Like every hotel or resort offering a breakfast buffet experience, Uluwatu has an egg station - this one, however, is quite unique, as it is taken care of by Mrs. Sukaseni, the happiest egg maker that I have ever met. Her hospitable manner always feels natural and comes with a warm smile. She remembers how you like your eggs and knows how to deliver them perfectly. She has been working at the hotel since it first opened its doors and is someone who has the ability to brighten up your morning even when it is raining outside.
With all of these hidden charms, I think Benoa in Bali is the perfect destination to spend your holiday season at the end of this year.