Garut, a town located in West Java with a population of around 2.5 million, is like a younger sibling of Bogor and Bandung: tourists who come here enjoy the refreshing atmosphere, outdoor activities, hot spas, lakes and villages. Also often referred to as Switzerland of Java, Garut presents many ways to explore the region in a quiet and peaceful way.
Located about 75km southeast of Bandung, there is a number of hotels and resorts in Garut with unique characteristics, many of which make perfect use of the natural scenery. With lower daily temperatures on average and a refreshing breeze, Garut could be the right place to enjoy private moments, honeymoon or quick getaways.
As part of our Archipelago Diaries this January, NOW! Jakarta highlights the beauty and appeal of West Java. If you decide to explore Garut, here are some suggestions on where to stay during your visit.
Kampung Sampireun Resort & Spa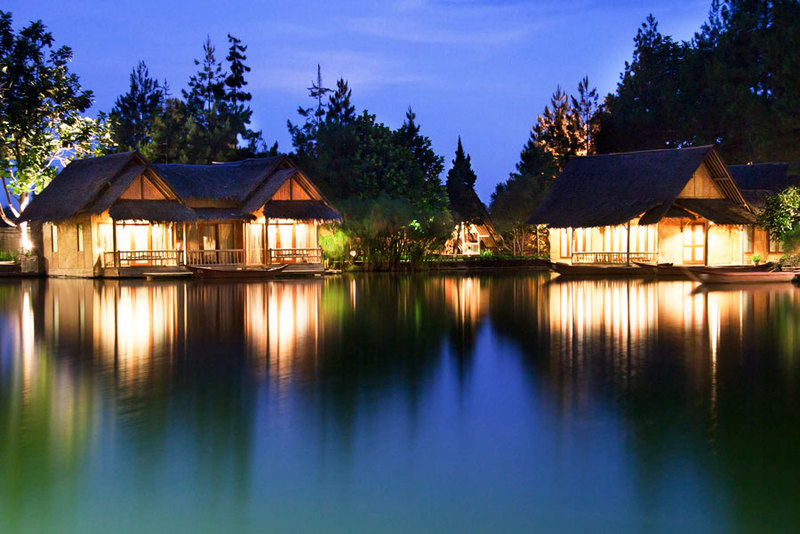 Showcasing Sundanese culture at its finest, Kampung Sampireun in Ciparay Village presents a back-to-nature concept with environmentally friendly accommodation. Located among lush green mountains, the resort provides a natural sanctuary where guests can relax and enjoy a peaceful atmosphere.
Situated at 3300 ft above sea level, the design of the luxurious bungalows reflects the culture, blends in seamlessly with the surroundings and savours the soothing effect of the beautiful region in the comfort of the traditional lodging.
Kampung Sampireun has ten different types of rooms and suites that are built with natural material and the uniqueness of local bamboo, nearby a lake. Seruling Bambu Restaurant serves elevated local cuisine, while a massage at Sampireun Spa is a treat for both body and soul.
http://www.kampungsampireun.com/
Kamojang Green Hotel & Resort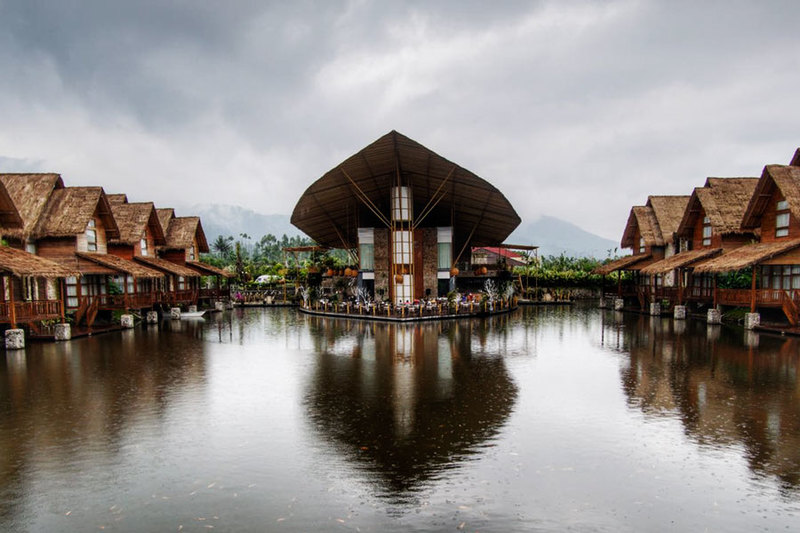 Kamojang Green Hotel and Resort is a popular choice among travelers in Garut, mostly due to its floating village design. The hotel & resort offers guests a range of services and amenities designed to provide comfort and convenience, including different types of rooms, bungalows and a camping ground.
Kamojang Green Hotel and Resort is an excellent starting base to explore Garut, but it can also be seen as a welcome opportunity to simply stay on site and relax. Take a break from a long day by swimming or fishing. In addition to the outdoor pool, there is also a kids pool and the possibility to engage in water sports.
Enjoying a leisurely afternoon at the coffee shop and restaurant may clear the mind from stress. As the sun sets, the warm light from the bungalows spontaneously creates romantic vibes around the resort. Besides Garut, Kamojang Green Hotel and Resort is also present in Jimbaran, Bali.
https://www.kamojanggreenhotel.com/
Danau Dariza Resort & Hotel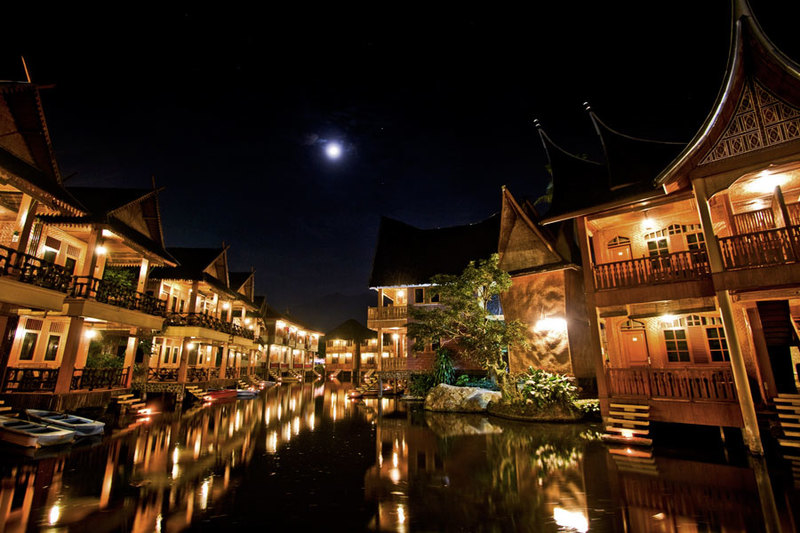 Located in Cipanas, Danau Dariza Resort & Hotel is a popular choice for those looking to visit the Cipanas Hot Springs, located close by. The design of the resort was inspired by traditional floating houses above the lake. It offers different types of accommodation, including the East Nusa Tenggara Suite, Batak Deluxe and Sunda Gadang. Featuring 50 beautifully appointed guest rooms in total, Danau Dariza is complete with top-class recreational facilities such as boats, hiking trails, hot tub, hot spring baths and an outdoor pool. At Malulo Restaurant, guests can experience a floating sensation while dining on the boat, while Kalegoa Ballroom caters to bigger events and gatherings.