As 2018 starts, I have decided to take on a new objective, which is to travel more around ASEAN and enjoy the perks of visa-free travel. It's a nice break from having to apply for a visa, as commonly required for Indonesian passport holders traveling elsewhere outside the region. Thanks to the ASEAN connection, Indonesians are free to visit other member countries – Singapore, Malaysia, The Philippines, Thailand, Cambodia, Laos, Vietnam, Myanmar, and Brunei - without an entry visa.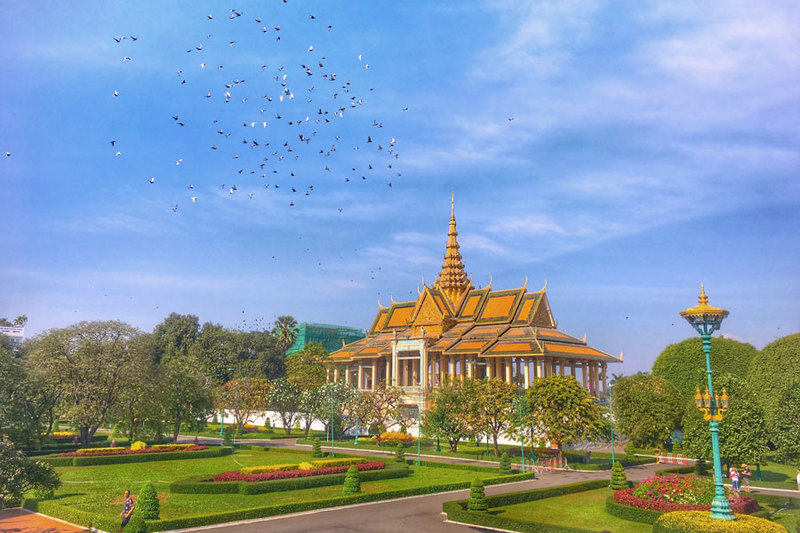 Driven by the urge to try something new, I decided to visit the capital of Cambodia called Phnom Penh. Guess what? I love this city!
Though Cambodia is part of ASEAN, we have such limited information about the country nor do we have any direct flight to Phnom Penh from Jakarta. The path to Phnom Penh would require us to go through hubs such as Kuala Lumpur, Singapore or Bangkok.
Little did I know that the country is actually a kingdom and has a very handsome king!
Indonesia and Cambodia have a long, shared history. Former President Soekarno visited Cambodia in the 1960s and in turn hosted King Norodom Sihanouk during his trip to Indonesia. Following a military coup in 1970, followed by persecutions under the Khmer Rouge rule, Cambodia descended into chaos. It took years of peace efforts before the country returned to stability. Today, Cambodia's constitutional monarchy runs alongside multiparty democracy.
As I sat in the car that took me from Phnom Penh International Airport to downtown, I felt I was being transported to Jakarta in the 1980s. It's a typical quaint urban Southeast Asian city with many shops lining the street, side-by-side with houses of the city's inhabitants.
Few skyscrapers started to appear as we approached downtown, surrounded by beautiful parks and promenades as well as national monuments. My excitement level increased as we entered the vicinity of Hotel Le Royal that is located right in the heart of the city.
First opened in 1929 as Le Royal, this hotel was a regular staying place of famous celebrities such as Charlie Chaplin, Jacqueline Kennedy, Andre Malraux and W. Somerset Maugham. This was also the hotel that witnessed the rise of Khmer Rouge in the Cambodian civil war in 1975 and was part of the set of The Killing Fields movie.
Built in Art Deco style mixed with Cambodian objet d'art, Le Royal with its 175 rooms, apartments and suites became part of Raffles Hotel in 1997. As one of the city's architectural gems, this hotel is also known as the place where all the high society events of Phnom Penh happen.
I stayed in the 'Landmark Room' that is located on the original wing of the hotel and boasts the reminiscence of the golden age of travel, featuring a private balcony to the pool, polished wooden floors, historic bathtub with shower room, and a private butler that is ready to assist you with your every travel need.
There are many great highlights in this hotel from its architecture, interior and furniture, to fantastic outlets such as the all-day dining Cafe Monivong, the handsome-looking Elephant Bar with its famous cocktail called 'Femme Fatale' – created especially for Jacqueline Kennedy during her visit in 1967 – and the fine-dining Restaurant Le Royal that serves 'Khmer Royal Cuisine' tasting menu created by the chef from the royal palace.
Our private butler shared many great stories from the past on how the hotel was actually operated and showed us the cocktail glass that was used by Jacqueline Kennedy – with her lipstick stains. Raffles Le Royal is definitely a hotel with character.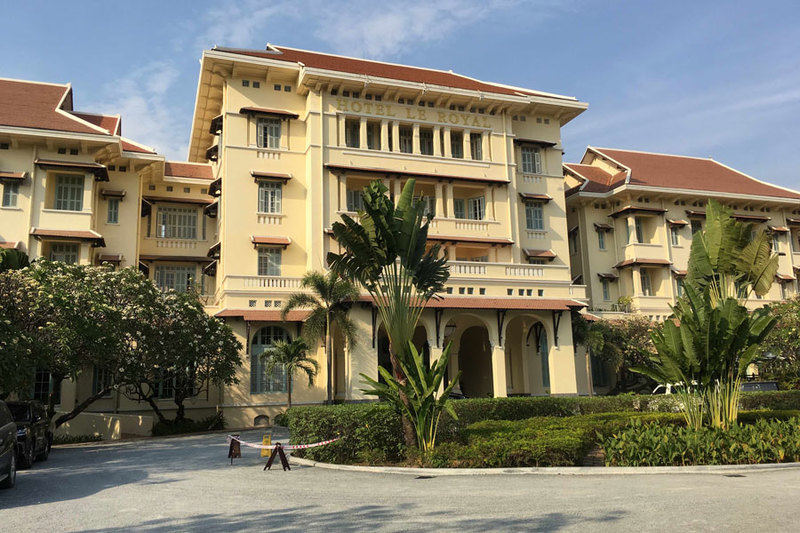 Phnom Penh is a surprisingly pedestrian-friendly city and many of the city's attractions were actually within walking distance from Raffles Le Royal (of course, only if you can tolerate the heat and humidity).
During my excursion, I found more architecture marvels around the vicinity such as Royal Railway Station that was built in 1932 in Art Deco style and the stunning Central Market with the shape of a dome with four arms branching out into vast hallways designed by Louis Chauchon and built by Jean Desbois and Wladimir Kandaouroff in 1937. To be honest, it was really a pleasant surprise to see all these landmarks, especially since we had no idea on what to expect in this city.
Following my usual instinct, I arrived at the National Museum of Cambodia and found myself awed not only by its collection but also architecture. Known as the museum that owns the largest collection of Khmer art and ceramics in the world, it was inspired by Khmer temple architecture and constructed between 1917 to 1924. It is really a great way to start your morning in Phnom Penh. Fascinated by the museum's traditional architectural design, I continued my exploration in the city by visiting the famous Royal Palace, where the current King Norodom Sihamoni lives.
The palace complex, designed by architect Neak Okhna Tepnimith Mak and constructed by the French Protectorate, also serves as the royal residence. Built in 1866 by King Norodom after moving the capital from Oudong to Phnom Penh, it features a series of lavish buildings that were constructed using a combination of traditional Khmer architectural and Thai architecture with significant European features and design. Highlights such as the Moonlight Pavilion and in particular the Throne Hall were really breathtaking to see! From the grand royal thrones to all the busts of Cambodians kings and queens - they are all made of gold.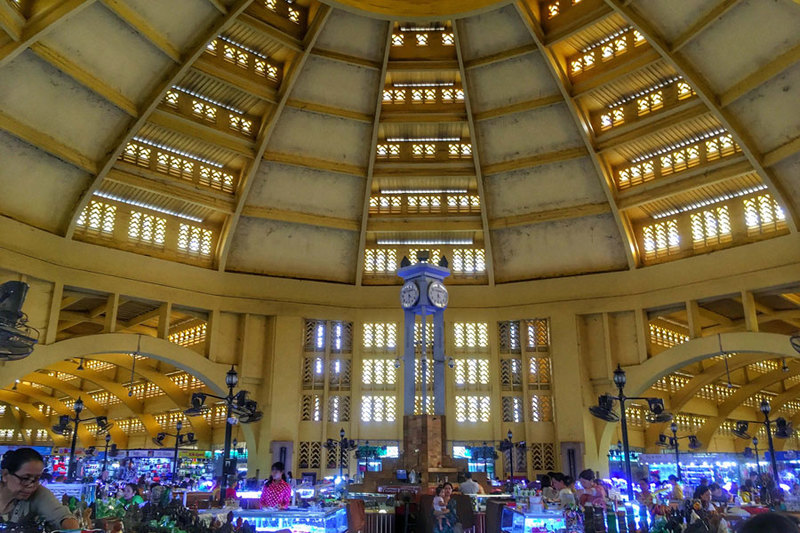 Another fascinating site to visit in this palace is the Silver Pagoda, which houses many national treasures such as gold and jeweled Buddha statues. You'll find there the 'Emerald Buddha' of Cambodia, made of Baccarat Crystal in the 19th century, and a life-size Maitreya Buddha encrusted with 9,584 diamonds dressed in royal regalia commissioned by King Sisowath. At this amazing pagoda also inlaid more than 5,000 silver tiles and some of its outer facades were remodeled with Italian marble. I have been to many palaces, but this one really took my breath away for its beauty, lavishness and originality.
The charm of Phnom Penh is appealing and unique. In reflection of its long history, the city too showcases its dark past through an unusual museum that shares stories from the Khmer Rouge era under the leadership of Pol Pot. The Tuol Sleng Genocide Museum used to be a high school before being turned into the notorious Security Prison 21 (S-21) in 1975, housing around 20,000 prisoners. In this museum, we can see how classrooms were converted into tiny prisons and torture chambers, and how all windows were covered with iron bars and barbed wire to prevent escapes and suicides. This is truly one-of-a-kind travel experience that will make you think about human cruelty in this world.
It's definitely not enough to visit Phnom Penh in just three days and two nights!
I would like to give a special mention to Mr. Bounnareth at the Russian Market, where you can find the best iced coffee in the city. Mr. Bounnareth has been featured in magazines around the world including Lonely Planet of Cambodia for his delicious iced coffee that only costs you USD 1.50.
The Russian Market is also a great place to find souvenirs and local delicacies. We ended the journey in Phnom Penh by dining at Kravanh Restaurant on #112, Boulevard Sothearos. It is without a doubt one of the best restaurants in town that serves delicious local cuisine!
I really can hardly wait for another trip to Cambodia to explore all the other cities.
_______
This article is originally from paper. Read NOW!Jakarta Magazine March 2018 issue "Design for Living". Available at selected bookstore or SUBSCRIBE here.