Whenever I think of South Korea, images of beautiful mountains and charming beaches come to mind instantly. Well, that and of course K-Pop, which has hypnotised millions of people around the world over the past decade. From vibrant culture to fascinating beauty industry, South Korea is unquestionably an appealing travel destination. What makes it even more interesting is that the country is also blessed with natural beauty and serenity, which granted it the nickname "the land of the morning calm".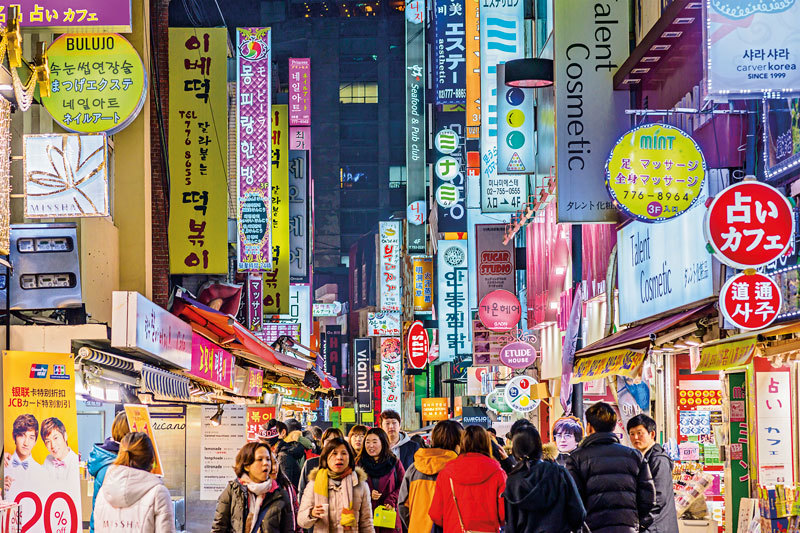 Following its success as host of the 1988 Summer Olympics and the 2002 FIFA World Cup, South Korea has garnered a stellar reputation as a world-class sports events destination. Next year, Pyeongchang will be hosting the 2018 Winter Olympics. Located in the Gangwon Province, approximately three hours of driving from Seoul, Pyeongchang's popularity is often overshadowed by other well-known destinations such as Jeju or Nami Island. But now that the Winter Olympics is approaching, more eyes have been set on Pyeongchang, and for a good reason.
The Dazzling Seoul
This past spring, I had the opportunity to explore South Korea as part of Korean Tourism Organisation's Winter Olympics familiarisation trip programme.
We started our journey in Seoul, the big metropolis where modern skyscrapers and high-end technology blend with traditional culture and old Buddhist temples. As a beacon of economic growth and Korean pride, Seoul is a fast-paced metropolitan that somehow still manages to beam with warmth.
I've been told that the must-visit attractions in the city for first-timers are the five grand palaces: Gyeongbokgung Palace, Deoksugung Palace, Gyeonghuigung Palace, Changdeokgung Palace and Changgyeonggung Palace. Rich in history, these palaces showcase unique architecture, art and cultural history of the Joseon Dynasty, the last kingdom of Korea that was in power from 1392 to 1910.
But due to bad weather, we didn't get to visit all five palaces. Instead, our group went on to learn about the enchanting culture of Korea indoor at the K-Style Hub.
Situated at the Korean Tourism Organisation's office, K-Style Hub is a one-stop shop where tourists can find out everything about South Korea – from its history to the phenomenal K-Pop industry. At this four-level hub, information is available either in print brochures or interactive augmented reality. Don't miss out on the chance to dress up in Korean national dress hanbok that's available for rent at the Cultural Product Hall. K-Style Hub also has Food Exhibition Hall, where visitors can try authentic local dishes.
Before going back to the hotel, I managed to pay a visit to the famous Myeong-dong Market, a paradise for shopaholics. The market is a home to hundreds of international and local fashion outlets and skincare shops offering a wide range of selections in (slightly) modest price compared to regular shopping malls. It's so easy to lose track time when you're perusing the market. What makes it even better is that most of the shops here are open until midnight. In fact, some beauty outlets were still open when we left at around 1 AM.
Retail therapy turned out to be quite draining. I was thankful to discover that there were plenty of restaurants and hawkers at the market.
Falling Under Gangwon and Gyeonggi's Spell
The next morning, we left Seoul for Gangwon. Because of its rugged mountainous terrain that boasts the highest pile of snow in the country, Gangwon is known as one of the best spots in Korea to enjoy winter. That said, winter isn't the only time Gangwon is most attractive. Thanks to its clean, very fresh air and green environment, the province promises timeless beauty that you can relish at any time of the year.
By next year, travellers will be able to ride on the new high-speed railroad (KTX) line that connects Incheon International Airport and Gangneung City, located on the east coast of Gangwon Province, within less than two hours. The line is under development at the moment but is expected to finish before the Winter Olympics starts. However, for the first-timers, I would recommend you to spend a night (or more) in Seoul and explore the busy capital before venturing to other cities.
After two and a half hours, our bus finally reached Gangwon, where we made a stop at Jeong Gang Won, the Institute of Traditional Korean Cuisine, for lunch. As I got off the bus, fresh air blew on my face and hair, giving me a cooling sensation. With fewer buildings and cars than in Seoul, there's certainly less pollution in Gangwon.
Spanning across 33,000 square metres, Jeong Gang Won is a cultural compound that comprises a fermentation room, an organic farming complex, a culinary gallery museum, education and training centre, as well as a restaurant. The place was built in 2005 to preserve, celebrate and introduce Korean food culture to local and international visitors through a number of programmes.
After strolling around the compound, we were seated at a long dining table with several small stoves. Apparently we had to cook our own meal! We made Tteokbokki, a dish that consisted of rice cakes and fish cakes with sweet, spicy thick sauce. This particular dish is quite popular among the locals, especially during chilly weather, as it can warm up the body.
After we were done with our Tteokbokki, the staff at the restaurant then prepared Bibimbap – a rice bowl with assorted vegetables, sesame oil and gochujang (red chilli paste) – while explaining each element of the dish before mixing and serving it.
We continued our journey to Bokwang Phoenix Snow Park, one of South Korea's most popular ski resorts set to be the venue of freestyle skiing and snowboard sporting events during the 2018 Winter Olympics. Even in April, there was still snow in the area.
Overlooking Taegisan Mountain, the snow resort comprises 22 ski slopes and an Extreme Park with 2.2 kilometres of panoramic slope and gondola lifts to access the slopes. The snow park also makes an attractive vacation destination for families, thanks to its amazing facilities that include an entertainment centre with plenty of dining options and not to mention a ski school for beginners.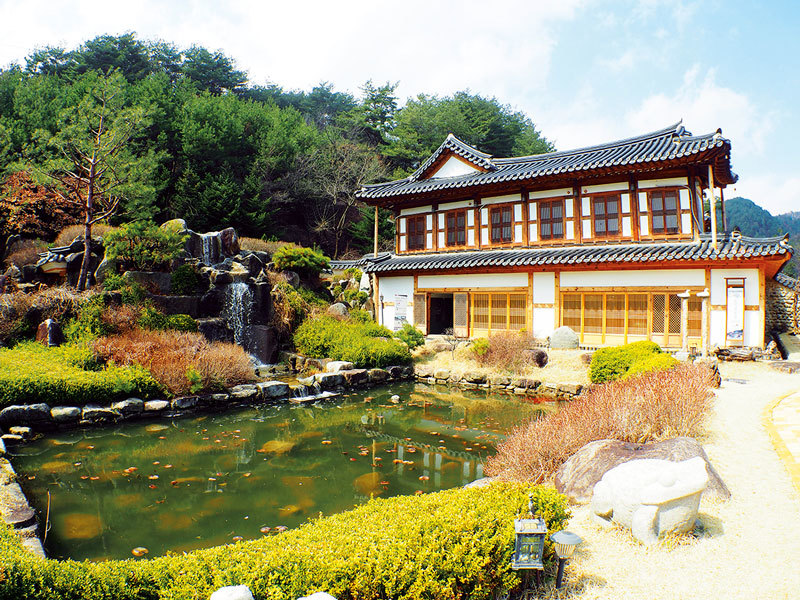 On the third day, we had a blissful experience at Woljeongsa Temple Stay, located in a forested valley east of Odaesan Mountain. Surrounded by hundreds of splendid pine trees, the temple radiates some kind of mystical feeling. Here, visitors can experience the daily lives of monks far away from the hustle and bustle of the city. Thousands of visitors visit this temple every year to meditate and in the search of inner peace.
We tried our hands on making prayer beads by piercing together 108 beads into a string – a process that turned out to be quite elaborate. After securing each bead, we were required to bow and kneel. With 108 beads to be secured, one can only imagine how physically challenging that could be. Despite being a meditative practice that encourages reflection and concentration, I must admit I found it rather arduous. I gave up after 20 beads.
Woljeongsa Temple is also the site of Seongbo Museum, which displays artifacts and treasures from the Goryeo Dynasty (918-1392), including a nine-story octagonal pagoda and a Stone Seated Buddha figure.
The trip continued to Gyeonggi-do, where we visited Korean Folk Village. Upon entering the area, I felt as if I was being transported back to twelfth-century Korea during the reign of Jaseon dynasty. The artificial village resembles Korea's actual suburbs in the past, complete with traditional houses (hanok), farming village, traditional school (seodang), Confucian academy, traditional market, noblemen's houses and so on. It also makes a very Instagrammable setting – think walking around the village in a hanbok pretending you're a Jaseon prince or princess.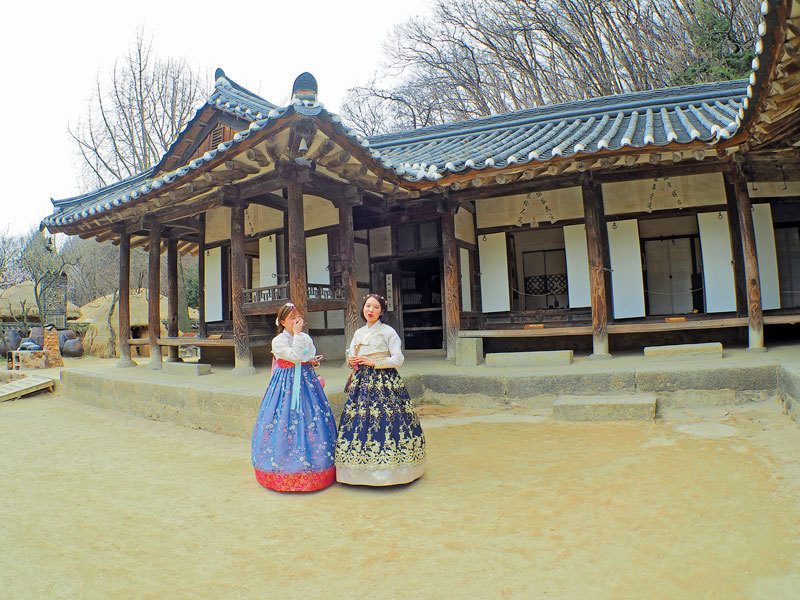 To get the best of Korea's traditional experience, take part in the many interesting activities on offer – ferry boat riding, horseback riding, Korean archery experience, bamboo ware workshop, hand fan workshop and many more. The village also hosts regular art performances to promote Korean folk culture and enrich the visitors' experience, so get your camera ready as you would want to capture every unique moment in here. KFV opens every day from 9:30 AM to 6 PM. The best time to visit is during spring when you can find gorgeous cherry blossoms everywhere.
The last attraction we visited was Gwangmyeong Cave, the only cave in the metropolitan area. Open for public since 2011, the cave used to be a gold mine and a witness of Korea's tragic history under Japanese colonisation when forced labour was a common practice. Gwangmyeong Cave has now been turned into a museum that exhibits exotic and mysterious geological materials.
We managed to explore every part of the cave, despite having to climb hundreds of stairs. Some of the most notable attractions inside the cave were the music art hall and the golden path where the sophisticated lighting and music show graced the exotic geological materials – something I found awe-inspiring.
A wine tasting ended our journey in Korea, with us sampling several glasses of different varieties of the best wines from 21 vineyards in Korea.
I believe many would agree that one visit to South Korea is not enough. The country has so much to offer and I hope to come back here soon to discover more of its magical charm.
Photos by Arris Riehady