A honeymoon should be remembered as that one remarkable experience to kickstart every married couple's journey, something that will be planted forever in your memory.
One of the many ways to achieve that goal is spice it up with a little bit of adventure. Although wine, roses and couple spa will never fail to create romantic ambience, it wouldn't hurt to try a new experience every now and then. For couples with adventurous souls, we picked some of the best places on earth where you can do three things at once: celebrate your union, get your adrenaline rush and take pleasure in the beauty of the nature. Hint: some of them are only within a few hours-trip from Jakarta.
Playing with wild creatures in Komodo Island, Indonesia
Explore Indonesia in the raw, with the emphasis on enjoying the authentic local culture, landscapes and wildlife. Komodo Island is the ultimate destination for naturalist couples as the island offers endless activities to satisfy your hunger for adventure.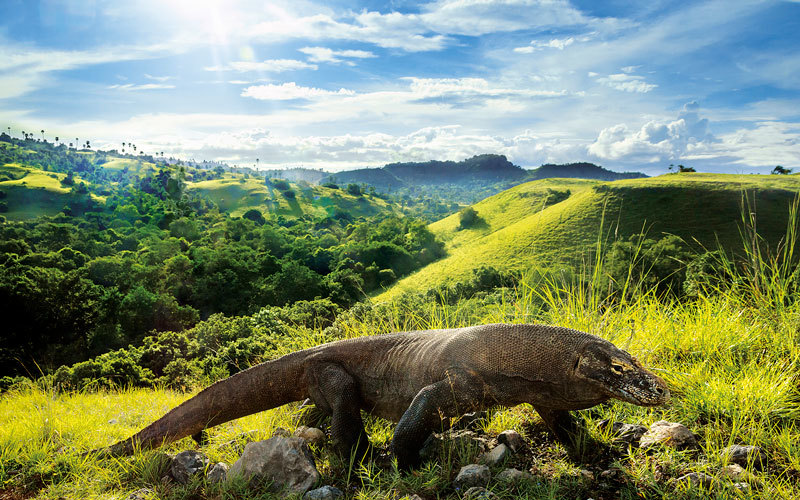 Watching the supercilious, sturdy Komodo dragons from a short distance can sort of transport you back to the Jurassic Period. It's simply an unbeatable experience. Keep in mind that it's highly recommended to enlist the help of local rangers or guides, for purposes of ensuring a smooth and safe visit to the fearsome dragons' protected habitat.
Continue your adventure by exploring Komodo National Park underwater where you will have a chance to dive with the endangered manta rays. You can also embrace the local culture by visiting the oldest traditional West Flores village, Wae Rebo. Situated on an unspoiled mountain in Manggarai, the village is known for its unique cone-shaped houses. You'll need to trek for approximately three hours to reach the village, but the view is worth all the sweat. Not only is the scenery stunning, the warmth of the local people will make it hard to say goodbye. You can also spend the night at a local house and experience the everyday life of local communities.
There are many travel and honeymoon tour providers to Komodo Island and Flores to choose from, so make sure to plan your trip well in advance and be specific about your preferred itinerary.
Hiking at Mount Bromo, East Java
Hands down, Mount Bromo is one of Indonesia's most popular tourist destinations. Surrounded by vast, empty plains known as Segara Wedi (Sea of Sands), the lunar-like panoramas are utterly breathtaking. Wake up before dawn and go for an early morning Jeep tour to snap some amazing sunrise photographs from the Mount Penanjakan viewpoint.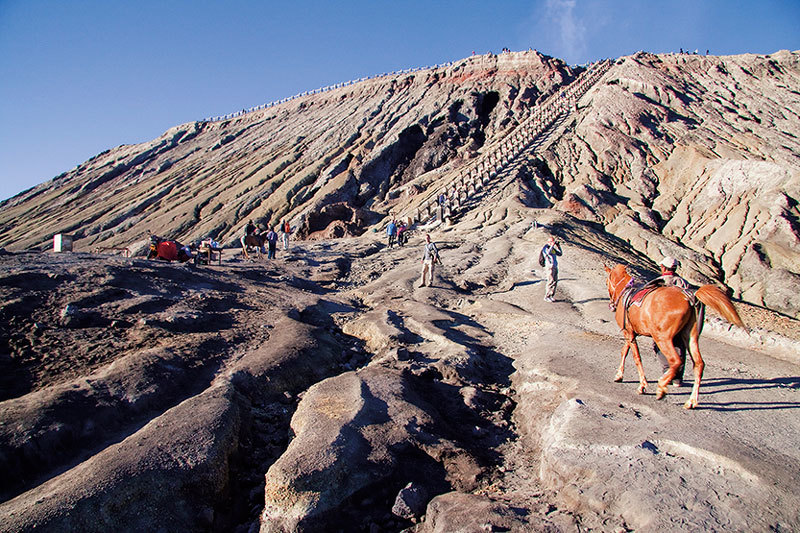 Watching the sunrise over the caldera is an extremely remarkable experience – imagine the dawn clouds falling over the crater edge and the light changing across four different peaks. After watching the sunrise from the crater rim, you can then continue into the crater itself and ride across to Small Bromo, the only active summit there. Remember to bring some warm clothing as the temperature can drop quite significantly, although it does warm up as the sun rises.
You can book the private Overnight Mount Bromo Sunrise Tour from Surabaya through tripadvisor.com for around IDR 6,000,000.
Jungle Trekking in Bali
There are many reasons why Bali is touted as the most popular honeymoon destinations in Indonesia. Be it the magnificent beaches, picturesque mountains or exotic local culture, Bali seems to never fail its loyalists. But since honeymoon is more than just a regular vacation, why not try something different?
For a change, may we suggest jungle trekking. Roam the jungles and experience amazing encounters with the wildlife through Mount Batur Sunrise Trekking or hike the famous Mount Agung volcano and witness the majestic view from Bali's highest summit. As a caveat though, the challenging hike to Mount Agung is not for beginners and guided tour groups are highly recommended. Then, of course, for the thrill of a lifetime, there's always bungee jumping. There are many spots to jump from and test your courage. The Blangsinga Waterfall in Gianyar is a popular choice for many due to its beautiful natural surroundings.
If it so happens you find the adventures a bit too much and say, you wish for something more toned down, you're already in the right place. In Bali, one will never run out of options.
Time Traveling in Peru
Visiting Peru will take you back in time as you encounter its many ancient remains. Outdoor enthusiasts can hike, bike and kayak their way through the archaic Incan culture with Austin Lehman Adventures.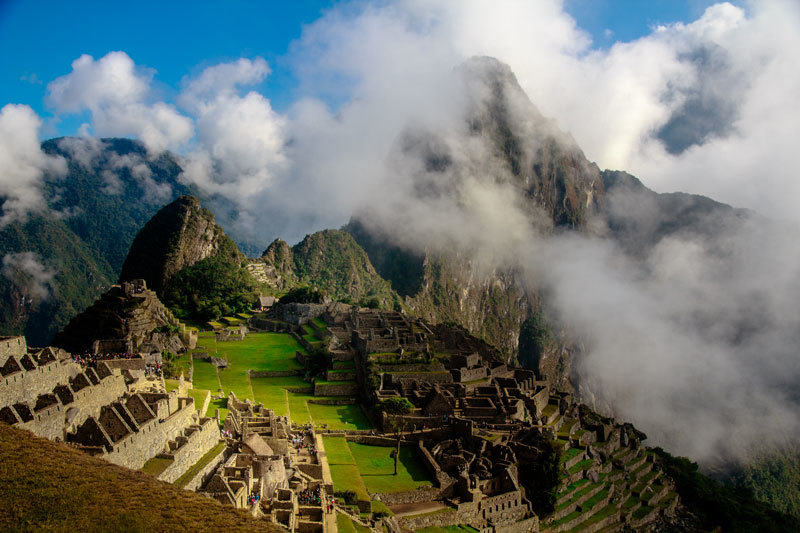 Don't forget to visit all the must-sees attractions, including the famous Machu Picchu where you can get lost in The Lost City of the Incas. Other recommended activities include biking through Tinajani Canyon and kayaking abroad Lake Titicaca. While you can choose to stay at one of the nearby hotels, we'd highly recommend for you to go camping in the canyon. The sight of the starts littering the clear night sky is definitely something that shouldn't be missed.
Diving in Fiji, South Pacific
Known as the world's coral capital, Fiji waters are blessed with an abundance of breathtaking sea creatures like hammerheads, turtles, mantas and more. With more than 390 coral species and 1200 fish species, Fiji is undoubtedly a paradise for every underwater enthusiast.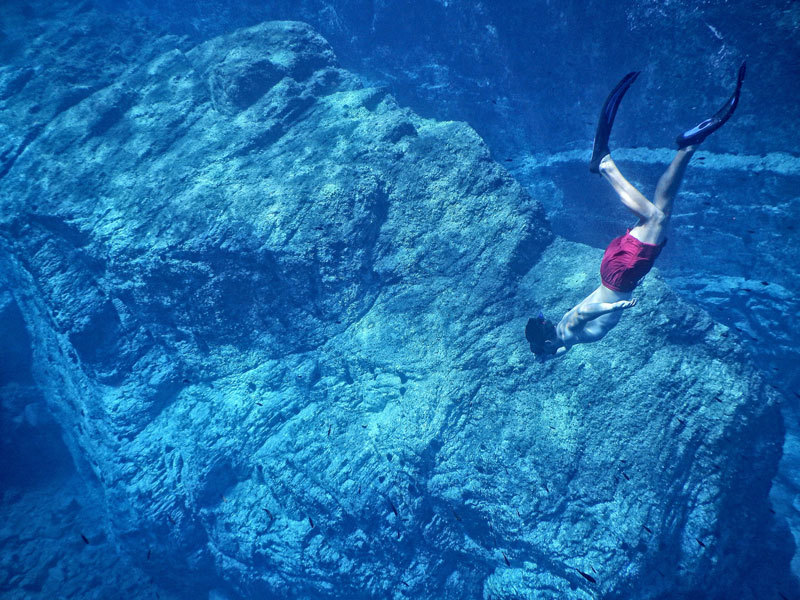 Dive in shallow areas to enjoy the enchanting underwater garden or, if you're for something more adventurous, go deeper to discover what the wild ocean has to offer. Don't forget to bring a waterproof camera to immortalize those gorgeous colourful corals. Seal the experience by staying at one of the island's luxury resorts and discover what so many couples have defined as peace, beauty and bliss.
Exploring the Marine Life in Raja Ampat, Papua, Indonesia
Literally translated as the Island of Four Kings, Raja Ampat has a startling diversity of habitats to delve into – from the striking wave-pounded slopes that fall away beneath the karst cliffs of Wayag and Uranie, to the deep, rich bays of Mayalibit, Kabui and Aljui up to the so-called 'blue water mangrove' channels of Kofiau and Gam. These are homes to a rare congregation of species – probably the most impressive list of species – in a coral reef system of this stature.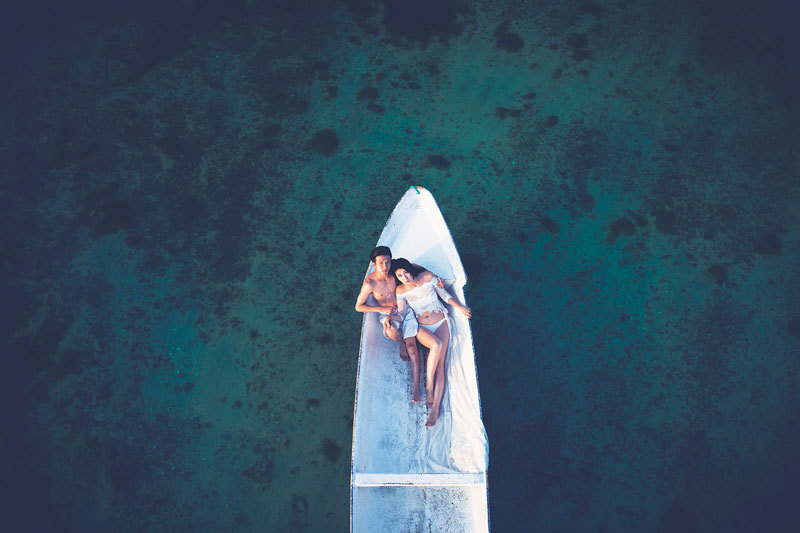 To get the best out of Raja Ampat, a long vacation is highly recommended. It does, after all, require quite an effort to get there. Why hurry to leave?