At the end of March every year, the whole city of Hong Kong is transformed into a city of arts. I always envied how much Hong Kong has invested in arts in their public spaces or offices in general. But during this period, it offers so much more, including the world-renowned Art Basel and Art Central exhibitions.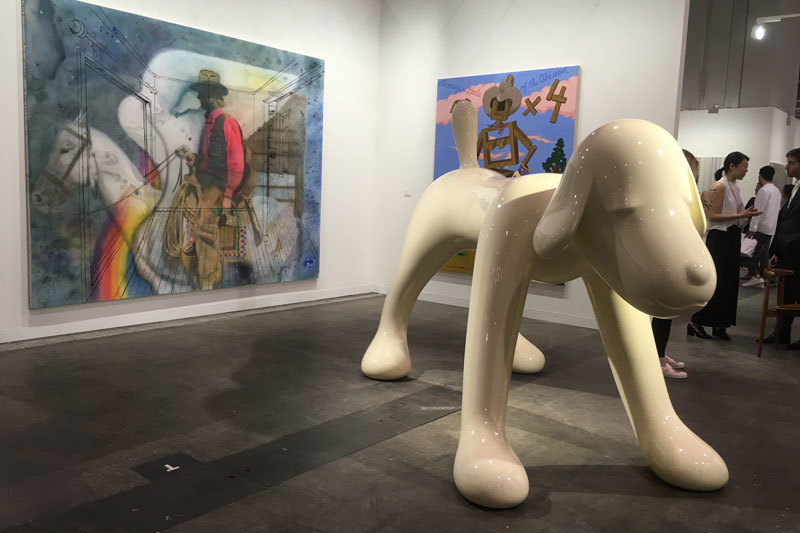 Being part of the prestigious Art Basel trio—the other two are in Miami and Basel— the Hong Kong Art Basel show brings international artworks together featuring 248 premier galleries from 32 countries and territories, including from Indonesia. Going into its sixth year, the show provides an in-depth overview of the region's diversity through both historical material and cutting-edge works by established and emerging artists. The fun of going to Art Basel is not only to see great artworks from around the world, but also to meet the artists in person. During the last Art Basel, I had the chance to talk to renowned artists such as Jeff Koons, Brian Donnelly aka KAWS, Antony Gormley, and Tracey Emin — artists of a calibre that one won't see in daily life.
Aside from the esteemed Art Basel, Hong Kong is also the home to Art Central. Entering its fifth edition, this year Art Central, which is located at Hong Kong Central Harbourfront, had over 100 leading international galleries, 75 per cent of which hailed from the Asia Pacific region. As a satellite event to Art Basel, Art Central has a bigger appeal to the larger audience. It is less elitist compared to Art Basel and features works that will resonate with the local audience. I also found that Art Central dares to be provocative.
Other satellite events include Harbour Arts Sculpture Park at Central and Wan Chai Harbourfront featuring exceptional pieces— more than 18 emerging and famous local and international contemporary artists. Juxtaposing Hong Kong's scenic waterfront are great artworks such as Yayoi Kusama's signature pumpkin and a personal favourite, a giant bear installation by Korean artist Gimhongsok. Another interesting mini art fair also took place at Marco Polo Hong Kong Hotel known as Harbour Art Fair. Featuring over 55 Korean galleries, the exhibit took over entire rooms on one floor of the hotel. The rooms were transformed into mini galleries and art lovers were taken from one room to another to see great Asian artworks. The idea was really brilliant and at quite an affordable price range as well, though I found a Dali sculpture called 'Profile of Time' with an oh la la price.
Hong Kong is indeed blossoming with arts during the last week of March. However, for those of you who miss it, you can still visit Hong Kong to see the contemporary art scene around the city. Do you know that the city is home to some of the most famous art galleries in the world? Some of my favourites include Galerie Perrotin, White Cube, Gagosian Gallery, Pearl Lam Gallery, and Ben Brown Fine Arts, which regularly brings renowned contemporary artists and organises great exhibitions.
A visit to Asia Society Hong Kong at the former British military buildings in Admiralty is also recommended as they regularly host great art exhibitions. Located in the former British military barracks this establishment, which was once used to store military ammunition, is now transformed into a cultural, artistic and intellectual hub since 2012. During my visit there, I was mesmerised by the legendary pop artist Robert Indiana exhibition that is still going on until July 15 this year.
Hong Kong's art scene seems to increase also over time and since 2013 it has developed the industrial South Island area into what is now known as South Island Cultural District (SICD). The whole district is home to 19 local and international contemporary art galleries, artist studios and non-commercial art spaces with a monthly cultural programme and groundbreaking exhibitions ranging from emerging local artists to international icons. It is a very interesting experience to visit this cultural district as most of the galleries are hidden in industrial warehouses or office buildings. I also love the fact that we can walk around Wong Chuck Hang Road to find all these galleries. In between those galleries, you can also find great cafes and cute shops that sell design products from around the world.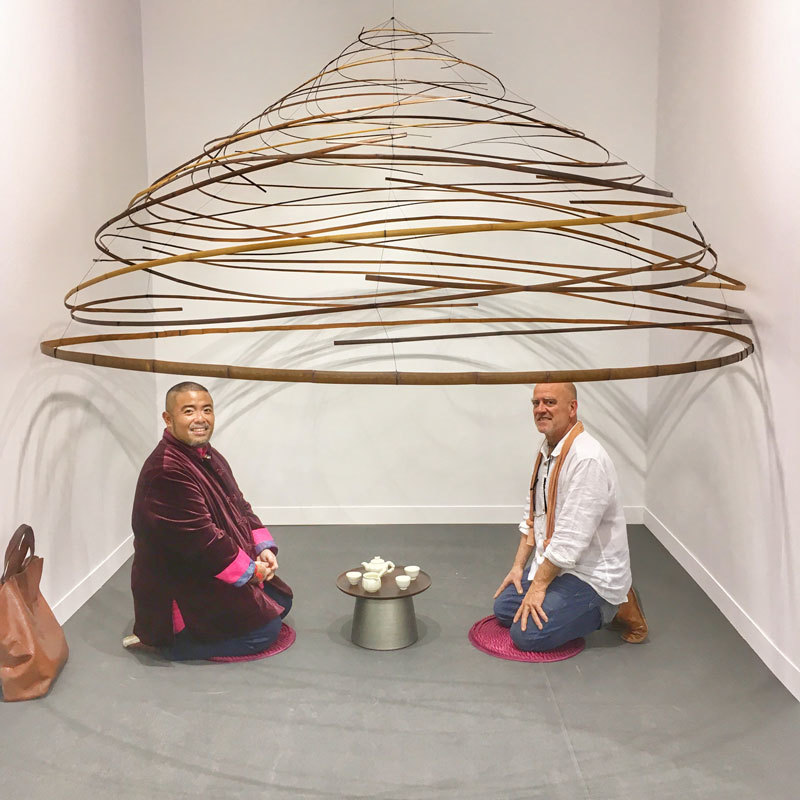 After a whole week of immersing yourself in art, you might get overwhelmed by it. One of the best remedies is by having a fine afternoon tea at the legendary lobby of the Peninsula Hotel. It is without a doubt the best classic afternoon tea tradition in the southern hemisphere, where your fine tea is served not only with an amazing tray of delicacies (oh! those raisin scones!) but is also accompanied by live music performed by The Lobby Strings who perform daily. Do come early as they don't take reservations and the queue during high season can be quite challenging. Nevertheless, I have to say that it is really worth the wait.
In the spirit of the arts, Hong Kong also has a notable new restaurant called Van Gogh Sense that is located inside 1881 Heritage complex. Completely inspired by Van Gogh's art, the restaurant serves modern cuisine through a multisensory experience of sight, hearing, taste, smell and touch. They have creative dishes that are simply delicious and visually beautiful. The whole experience makes us feels like being in a Van Gogh painting. It is very memorable!
If you missed this year's excitement of the art week in Hong Kong, you can use this guide to prepare for next year. It is important to buy the entry to Hong Kong Art Basel way in advance online. It is even better if you can get the VIP pass as the queue for a normal pass can be over two blocks long. Last but not least, do sneak into Sotheby's annual spring preview exhibition that happens at the same time and in the same place as Art Basel (but on a different floor) and entertain yourself with some of the best museum quality pieces of antiquities, jewellery, modern art, to epic modern art that you usually won't see elsewhere (as it belongs to a private collector). I have still not yet able to move on from Basquiat's monumental 'Flesh and Spirit' which was unveiled at Sotheby's Hong Kong and estimated in the region of USD 30 million.
_______
This article is originally from paper. Read NOW!Jakarta Magazine May 2018 issue "Building Future Leader". Available at selected bookstore or SUBSCRIBE here.