One of my New Year's resolutions for 2018 is to explore more ASEAN countries and I started on that promise by choosing Cambodia as my first destination this year. I have been to this country three times now and I continue to find new and exciting things about it. Phnom Penh is a great, charming city, but my heart is smitten with the exoticism of Siem Reap.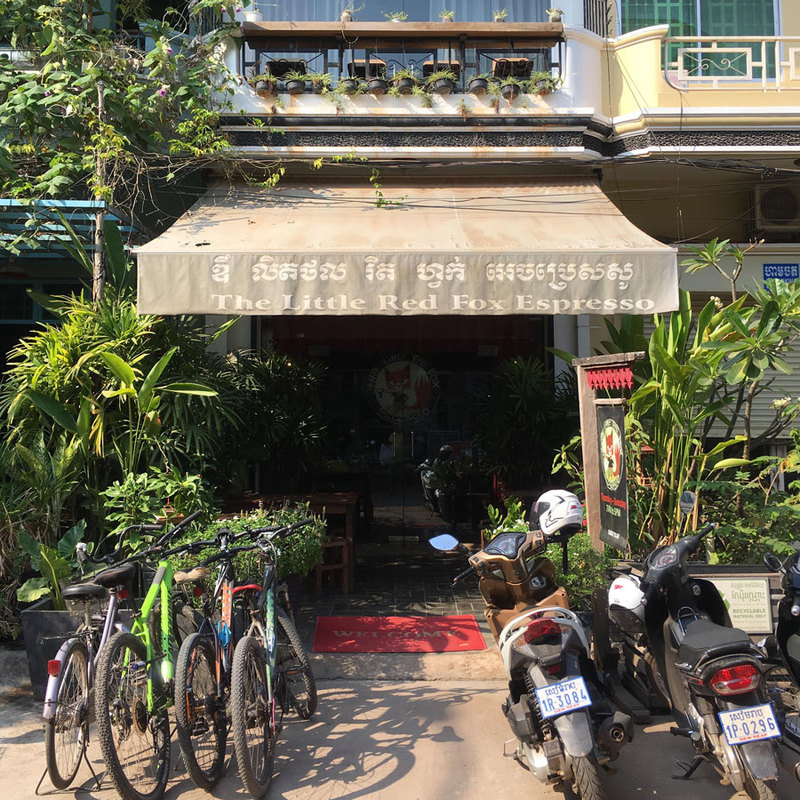 The endless, historic temples and beautiful nature, the sultry local silk production, the amazing culinary landscape and the kind local hospitality are just some highlights of Siem Reap. As always, I chose to follow my instincts and take an unorthodox journey around Siem Reap.
One of the most sought-after activities while in Siem Reap is none other than visiting the temples. As home to UNESCO Heritage sites such as Angkor Wat and numerous other temples like Bayon and Ta Phrom (which was featured in Tomb Raider), you can really spend a full week just to explore it. After doing three different temple explorations, I found out that exploring the temples on Vespa is really the most fun.
Operated by a company called Vespa Adventures, I spent the whole day going off the beaten track to see not only temples but also how the Khmer people actually live. We started early in the morning to try the local snacks in the market before continuing the visit to see Angkor Wat and Bayon temple. We had an authorised guide who also rode a Vespa and took us to the less-frequented parts including a ride on the wall of Angkor Thom that leads to a hidden tiny temple called Prasat Chrung with a stunning background view from the top. I have never done anything as adventurous as this in all my years travelling. Vespa Adventures comes highly recommended for the entire family to enjoy Siem Reap in a very fun way. Aside from the heritage trail, they also do explorations to the countryside and an after-dark foodie tour of the city. (www.vespaadventures.com).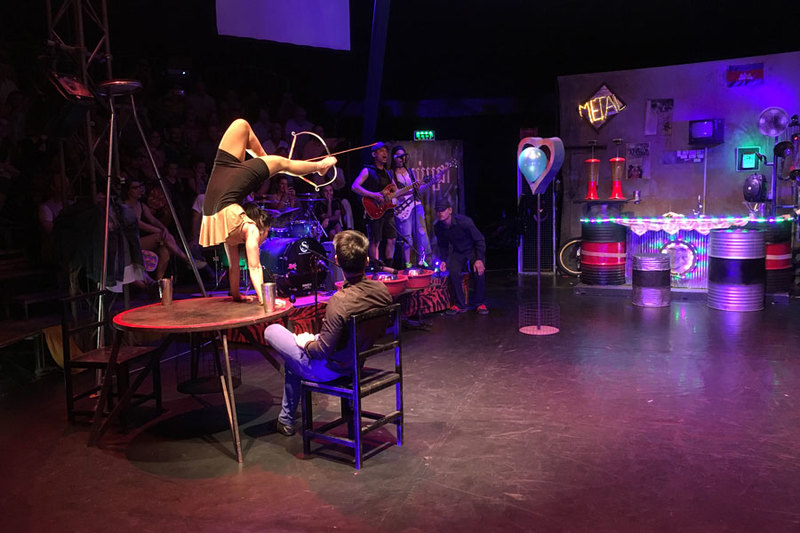 Siem Reap has many things to offer aside from its historical richness. One of it is known as Phare Circus. Originated by a non-profit organisation called Phare Pnleu Selpak in 1998, this circus has been recognised as one of the best highlights in Siem Reap. Performing every night by all local talents, Phare performances combine Cambodian folklore with modern day issues. I have been fortunate to watch two of their productions called Eclipse and Khmer Metal, both with a different cast and storyline. It is not like any other circus that you have seen before. It has raw energy, originality, with acts that will take your breath away. A very unique and world-class entertainment that is a fit for the entire family. (www.pharecircus.org)
As a city, Siem Reap also has many attractions that add to the charm of the city. Just right in the heart of the city, you can visit the area where cool was born and it is known as Kandal Village. Despite the name, Kandal Village is actually just a road called Hup Guan Street that is located between bustling Old Market and the serene French Quarter. In this street, there are many great finds. Start by having a great cup of coffee at Little Red Fox Espresso by the fabulous duo Adam Rodwell and David Stirling who originally from Australia but in love with Siem Reap and decided to stay.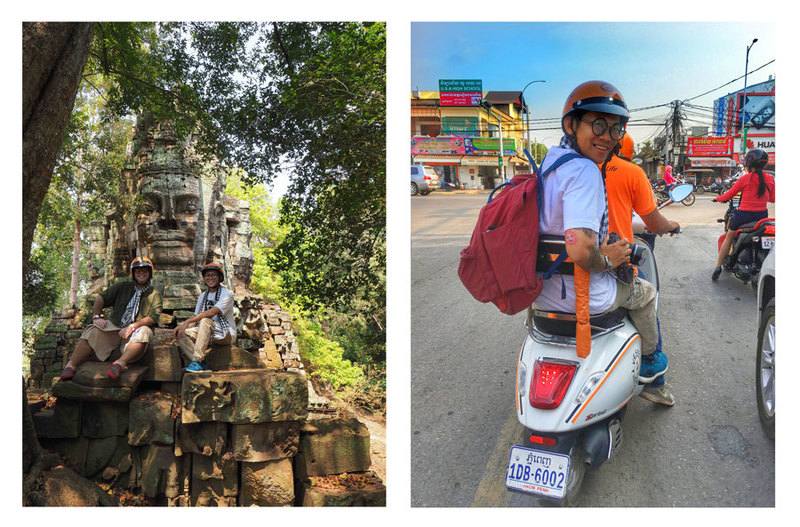 Next, to their quirky coffee shop, cum hair salon (David is a great hairdresser) is Saarti where you can find home and body product that is 100 per cent made in Cambodia founded by Beck Scougall. In this great shop, you can also find a contemporary and one-of-a-kind yukata brand Jipsekhemer that is designed by Amanda Barnes. Still, in the same 'village' we can find more great things such as Trunkh (fascinating bric-a-brac shop) and beautiful silk shop called Soieries du Mekong that has the best Cambodian silk products.
Siem Reap is also the home to Eric Raisina Couture House, one of the famous fashion designers in the Indochina region. Hailed the king of Khmer couture, the internationally acclaimed fashion designer Eric Raisina has been smitten with the Khmer artisanal silk wearing from his first trip to this city in 1996, before finally deciding to move here and open his first boutique in 2005. Under Eric's mastery, the Cambodian silks are done in such contemporary manner that fit high fashion. His fine craftsmanship in fashion is also marked with the signature crochet technique that brings the nature of couture to a new level. To visit his boutique and see the creation is definitely one activity that you just can't miss while in Siem Reap. (www.ericraisina.com)
On my first visit to Siem Reap, I was bewildered by the number of five-star hotels that are spreading around the city centre. However, there is one hotel in town that is considered as the landmark of luxury and Park Hyatt Siem Reap is the name. Created by the hotel design guru Bill Bensley, this hotel's exterior done in an art deco nuance giving a hint to the sophisticated yet contemporary interior that is guarded inside. Once you enter the hotel, the Wow effect takes over through a subtle marriage of ancient Khmer with ultra-modern aesthetics.
The two- bedroom pool suite in this hotel, in particular, caught my attention as the design is quite unique. It has a joined living room with the two bedrooms separated by a wall. Both bedrooms have their own door, making this suite perfect for a family or small group of friends. The hotel also has a beautiful cultural performance every Monday, Wednesday, Friday and Sunday night featuring the Apsaras (Cambodian Ballet) and Bokator (Cambodian martial arts) at the courtyard while we can enjoy delicious special Khmer-inspired menus prepared by Chef Pisith Theam.
In the afternoon, we can see a glimpse of Siem Reap's society having afternoon tea at the gorgeous looking Living Room. Aside from Park Hyatt Siem Reap's amazing service, the hotel is also walking distance to many great attractions around town. It is really the best address to stay in Siem Reap.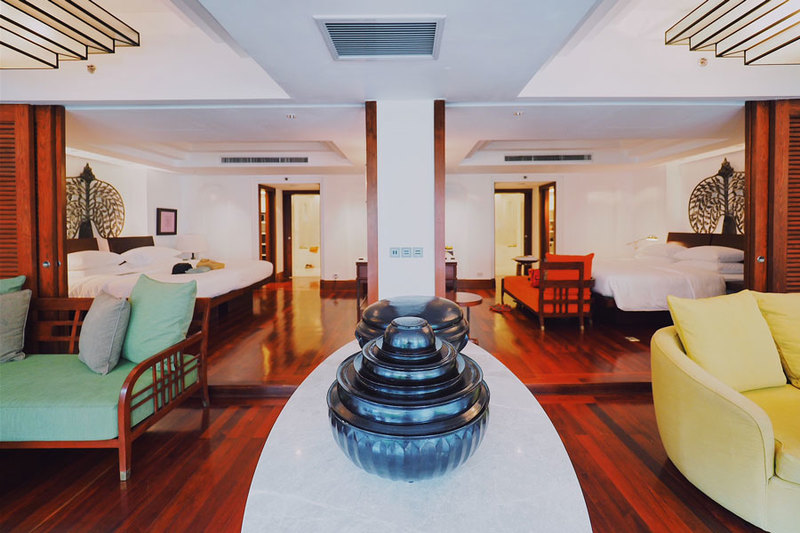 My list about this city can just go on and on. Special mention to One Eleven Gallery where you can find the best art from the surrounding region and a great cocktail bar all in one. Robina Hanley who own this gallery also creates a fascinating art tour (www.siamreaparttours.com) that will show you the other side of this city. Last but not least, a visit to Siem Reap won't be complete without having a drink at the classy looking Miss Wong. Be careful people, 'she' is a bit shy and hidden behind the hustle bustle of the famous Pub Street. But once you find her, you will surely enjoy her delicious cocktails!
_______
This article is originally from paper. Read NOW!Jakarta Magazine April 2018 issue "Money and Finance". Available at selected bookstore or SUBSCRIBE here.