Did you know that Germany not only has four, but five seasons each year? Yes, it's Germany's Carnival Season, affectionately referred to by locals as "fifth season of the year", and various events and parades throughout the country are held to celebrate this jolly season.
Each region in Germany has its own name for the carnival period -karneval, fastnacht, fasnet, fasching andfastelovend. The carnival season is nearing its big finale with Women's Day, Rose Monday and Ash Monday when millions of people join in the revelry in the run-up to Lent, many of them donning brightly coloured, unique and sometimes scary costumes.
The most popular place to experience carnival time in Germany is in the Rhineland cities of Cologne, Düsseldorf and Mainz, all located in the western part of Germany. Traditionally, the street carnivals in this region begin in the early hours of Women's Day (which falls on 23 February in 2017), with celebrations continuing well into the night both on the street and in the bars. The pinnacle of the Rhineland carnival are the decorated floats, fancy-dressed troupes, marching bands and horse riders that make up the Rose Monday carnival processions, that will be held on 27 February this year. These parades stretch back for miles and miles, and the Cologne event is the biggest in Germany, attracting some 1.5 million people every year.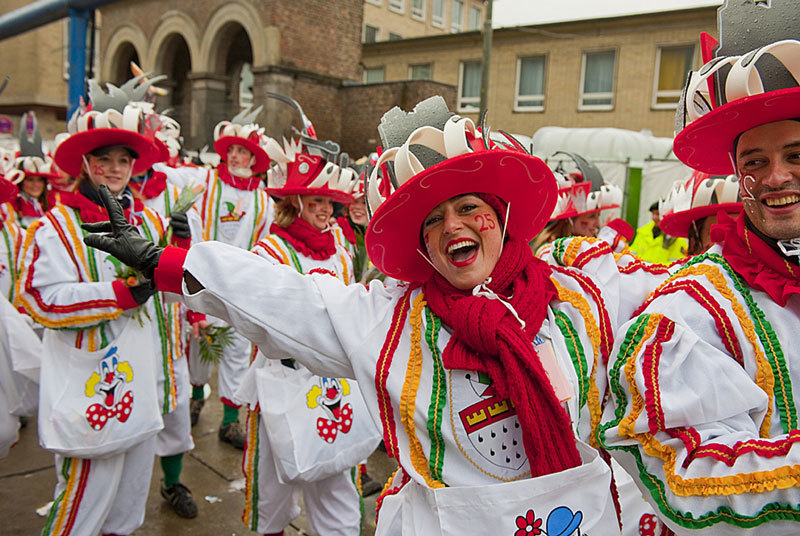 Northern Germany's capital of carnival is the city of Braunschweig, where the festivities date back to the 13th century. The procession here generally starts on the last Sunday before Lent. Further North, Bremen offers an alternative carnival experience in the shape of Europe's largest Samba carnival, which takes place on 17 and 18 February this year.
Down in south-west Germany the main events of the Swabian-Alemannic fastnacht carnival generally begin on the last Thursday before Lent (23 February 2017). In the lakeside town of Constance, however, the merriment already starts the night before with the Butzenlauf masked parade. Another Constance event not to be missed is the spectacular procession on the last Sunday before Lent (26 February). The town of Rottweil, meanwhile, is famous for its legendary Narrensprunge (Fools' Parade) that take place on Rose Monday and Shrove Tuesday (27 and 28 February).