Tourism is a vital part of Hong Kong's economy. The Hong Kong Tourism Board, first established in 1957, aims to market and promote Hong Kong as a world class tourist destination, supported by the government that puts valuable resources into the board's programmes.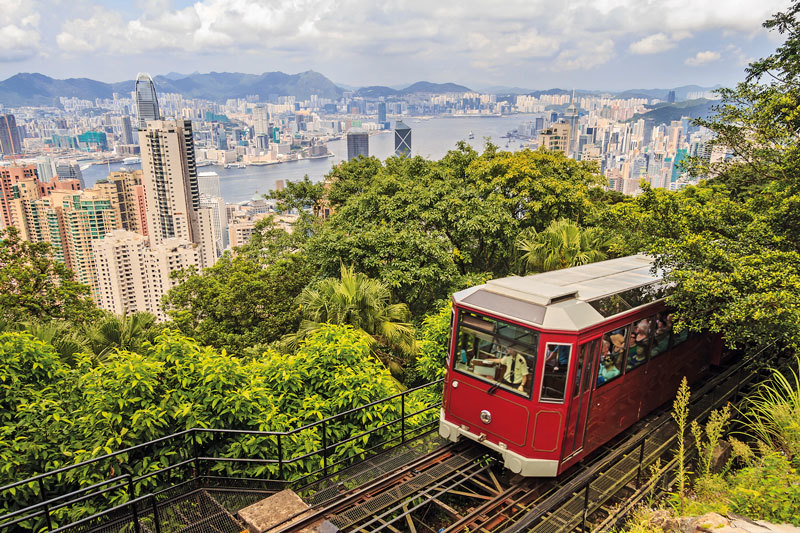 Adopting an approach that combines digital marketing, consumer promotions and and public relations activities, the Hong Kong Tourism Board's efforts are bearing fruit as more and more visitors are discovering Hong Kong's diverse and timeless appeal. A modern city built on an ancient civilization, Hong Kong is an intersection of different cultures.
The most popular tourist attraction of Hong Kong is undoubtedly The Peak, that offers breathtaking vistas, a great shopping and dining experience to visitors as well as a glimpse into the living culture of Hong Kong. Getting there by taking the Peak Tram is an adventure in itself - one of the world's oldest railways, the tram rises to 396 meters above sea level.
Hong Kong's Avenue of Stars pays tribute to some of the region's most celebrated film stars and includes sculptures of Bruce Lee and Anita Mui as well as 20 handprint plaques.
Hong Kong Disneyland, located in Penny's Bay on Lantau Island, is a magnet for families with children and only recently added "The Iron Man Experience" to its list of attractions. Ocean Park Hong Kong, is a marine-life amusement park featuring thrill rides, giant pandas and a stunning aquarium.
The Ladies Market - with over 100 stalls of bargain clothing, accessories and souvenirs - is the premier fashionista destination, whereas In the evening, both local residents and tourists flock to Temple Street Night Market, a popular street bazaar steeped in local atmosphere. Here, they haggle over trinkets, watches and antiques, enjoy live performances of opera singers and visits to fortune tellers before indulging in local food like claypot rice, seafood and noodles.
This year, a number of events and festivals will take place in Hong Kong that might well be worth a visit. Hong Kong's thriving arts scene is celebrated in every year in March during the Hong Kong Arts Month that will see a spectacular spectrum of events, from opera to ballet and exhibitions to seminars.
In early June, the Hong Kong Dragon Boat Carnival will again draw throngs of visitors to Victoria Harbour to witness and participate in one of the world's greatest parties, whereas the Cyclothon - a mixture of amateur and professional races and rides - appeals to cyclists from all over the world.
The year ends on a festive note with the Hong Kong WinterFest that allows visitors to enjoy a spectacle of lights as the buildings in the city are even more dressed up than usual, complemented by seasonal events, special shopping offers and of course, the countdown to ring in the New Year.