For those looking for a traditional Korean cultural experience, Bukchon Hanok Village (북촌한옥마을) in Seoul is an option. A visit here will, no doubt, leave you mesmerised. Be sure to participate in a number of cultural excursions that can help you delve further into the traditional Korean Culture.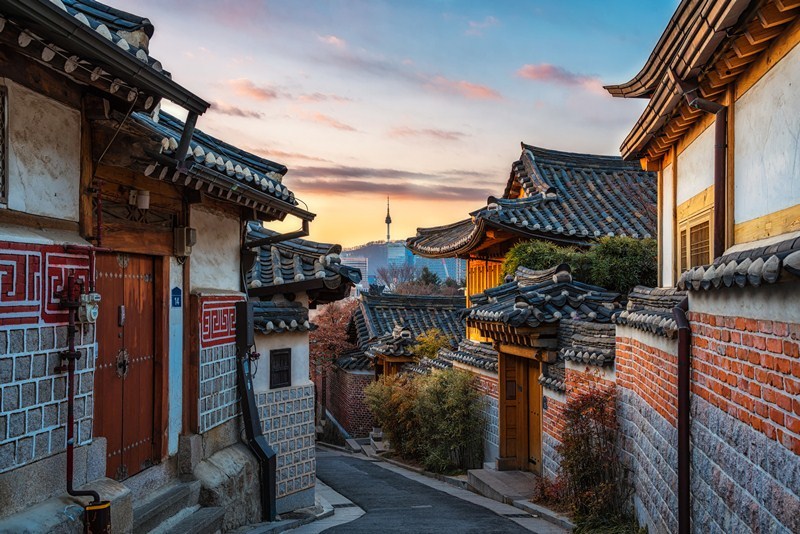 Located at the heart of Seoul, Bukchon Hanok Village is more than just a village. Rather, it is the representation of the elegance and nostalgic ambience of the traditional Korean houses. Encircled by Korea's most ancient and primary palaces—Changdeokgung Palace, Gyeongbokgung Palace and Jongmyo Shrine—Bukchon Hanok Village is a residential area of the nobility during the Joseon Dynasty. Dating back to 1392, the area was inhabited by high-ranking government officials and families.
Bukchon means 'northern village' as the district encompasses towards the north of two preeminent Seoul's landmarks - Cheonggyecheon Stream and the Jongno area. Nestled at the southern foot of the mountain connecting Baegak and Eungbongsan mountains with lush forests and beautiful sights surrounding it, the village is believed to be auspicious according to Pungsu principles and Confucian belief.
This is where you can experience the truly old-world atmosphere of the traditional Korean houses named Hanok. Deemed the most representative of Korean traditional architecture, hanok has been well-preserved for over 600 years. This tile-roofed wooden houses with underfloor heating and interior courtyards is reminiscence of the long-established Korean spirit to discern artifacts and cultural heritage that most precisely express its national identity.
Hanok looks similar to the structural design of Japanese houses. However, hanok can be seen in its unique style characterised by deep eaves forming shades in summer, as the sun's path is tilted higher in the sky, as well as allowing the sunlight to enter in winter where the sun is lower than the horizon. On the other hand, Japanese house layouts are generally linear in shape with a wider width than hanok. Hanok is mostly constructed with interior surface covered with hanji, a strong translucent paper made from the mulberry tree. The significance of hanji is to bundle up the room while the sunlight breaks in. In the contemporary era, hanok can also be seen with additional modern glass to the outer window.
Over time, hanok has been associated with economically marginalised families as the urban society began to expand to occupy the neighbouring areas. Some of Bukchon's hanok were torn down and replaced by contemporary Korean-style house. However, the government officials aim to explore the protection and renovation of the historic and cultural blocks.
Today, these well-established hanok serve a fascinating collection of residences, museums and workshop. Some have been reconstructed into guesthouses, galleries and cultural centers such as Bukchon Traditional Culture Center, Seoul Intangible Cultural Heritage Center, Dong-Lim Knot Museum, Han Sangsoo Embroidery Museum, Bukchon Asian Art Museum and Owl Museum. Not only does hanok transform into cultural houses and museum but also some have been renovated into restaurants and cafe. Among the most-visited ones is Tosokchon Samgyetang located on 5, Jahamun-ro 5-gil, Jongno-gu, Seoul. This is where you can taste the Seoul's best dishes such as Samgyetang (stewed chicken with rice, garlic, ginseng and jujube), Kimchi (Korea's most popular fermented food), Chi-maek (Korea's short for fried chicken and maekju beer), Bibimbap (Korea's most healthy steamed rice mixed with a variety of ingredients and red pepper paste) and so on.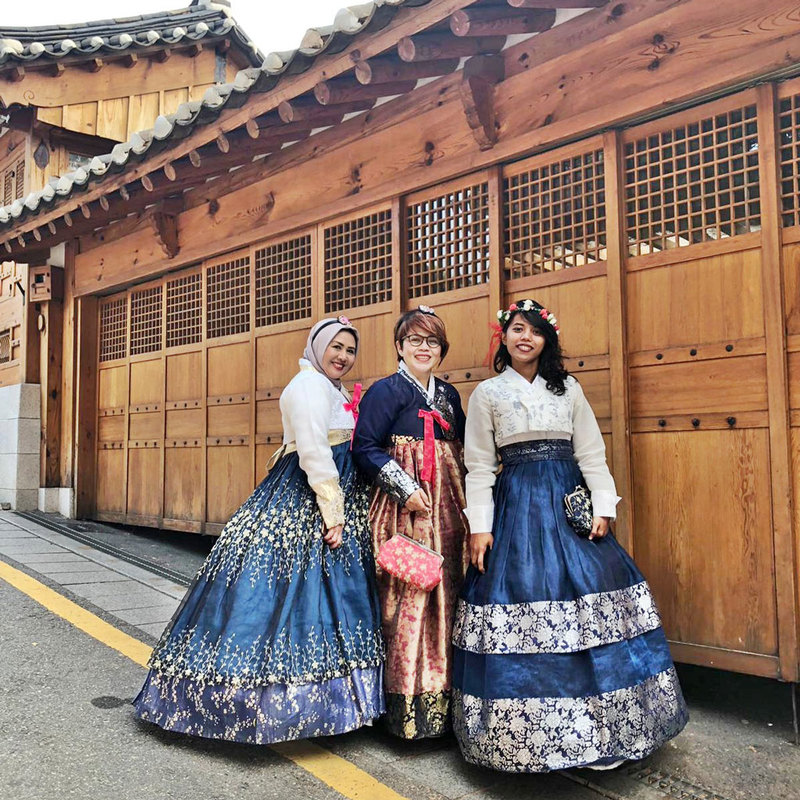 Another way to explore Bukchon Hanok Village is by participating a day full of fun of wearing Hanbok (traditional Korean dress), handcrafting with elegant hanji (traditional korean paper) or learning the Korean martial art Taekwondo. These are the top things to do in here. Another exciting entertainment that can be enjoyed include learn to sketch traditional Korean folk paintings at the Gahoe Folk Painting Museum, learn how to play traditional Korean musical instruments at Gugak Sarang or hand-craft a rice paper doll at Dakpaper Art Gallery. Staycation at hanok can also be an alternative when visiting Seoul.
Tourist Information
Bukchon Hanok Village
Gyedong-gil, Jongno-gu, Seoul, Republic of Korea
T: 02-21331371
www.hanok.seoul.go.kr
Premium Hanbok Rental - Bukchon Hanbok
49, Bukchon-ro, Jongno-gu, Seoul, Republic of Korea
T: 02-747-2005
Mobile: 010-4944-0234

Seoul Tourism Organization
04551, 9th Floor, Nara Kidumodong Building, 340 Samil Street,
Jung-gu, Seoul, Republic of Korea
Email: [email protected]
www.visitseoul.net