Singapore is a popular getaway for many Indonesians. The city state is easy to reach and offers everything a traveller's heart desires, from state-of-the-art shopping malls to a vibrant culinary scene and numerous sights and attractions.
The bustling colourful artery Serangoon Road is one of Singapore's most charismatic throroughfares. Now the pulsating centre of Little India, this road is also one of the city's oldest connectors, built in the 19th century initially to join Serangoon port with the many pepper and gambier plantations inland. Its close proximity to the Kallang and Rochor rivers encouraged the growth of commerce, leading to larger communities gravitating to the area.
At first, no single ethnic group dominated the area – Sir Stamford Raffles did not designate it as a specific enclave as he did with Chinatown and Kampung Glam – but the Indian community grew as a result of growing opportunities in the area. The British brought in Indian convicts to lay the road and this, together with the arrival of more immigrants from India, contributed to the Indian community setting up roots along Serangoon in the early 20th century.
In the early days, the area was largely agricultural swampland, with cattle rearing an important industry for the Indian community. Other livestock included the breeding and training of horses, especially after the racecourse was established in the mid 19th century. As the area grew in prominence, it became the centre of Singapore's livestock trading and the source of fresh milk for the whole island. This burgeoning trade led to the establishment of Tekka Market in 1915, which soon became the market of choice for fresh meat, seafood and vegetables for people in the immediate area and beyond.
In modern Singapore, although the landscape has changed dramatically, trade still dominates this lively enclave, providing visitors with an excellent window into Singapore's history and cultural heritage. As a result of the area's many sites of cultural and historical interest, the National Heritage Board has recently developed a Little India Heritage Trail, taking visitors on a self-led tour around some of the most prominent buildings and sights of the area. With excellent resources on hand, including a handy map with suggested routes, and a guide booklet with detailed historical insight, this Heritage Trail is a must do for those wanting to explore this vibrant neighbourhood. With over 40 heritage sites and 18 heritage markers dotted around the four-kilometre radius, the Little India Heritage Trail also offers thematic walks for those with different time restrictions or interests. These include Shot Till You Drop (30 minutes), Serangoon in the 1900s (40 minutes) and Walk of Faiths (one hour).
A great place to start your exploration of Little India is the Indian Heritage Centre on Campbell Lane. This four-storey museum and cultural centre houses five permanent galleries, with interesting displays and museum pieces chronicling the history of the area.
Here we take a look at a small selection of Little India's varied architecture, contrasting historical images with the modern day reality. Enjoy the journey!
Former House of Tan Teng Niah, off Buffalo Road.
This colourful building, built in 1900, is the last surviving Chinese villa in Little India. Tan Teng Niah was a businessman who owned several sweet factories along Serangoon road.
Featuring elaborate wall scrolls and intricate carving, the house was restored in the 1980s and is one of the most colourful structures on the Little India Heritage Trail.
---
Former Hong Wen School, 2 Dickson Road.
This impressive building used to house the Hong Wen School, which was established in 1920 on Queen Street as a school for Chinese immigrants. The school had a checkered history, including years of closure during the recession from 1923 to 1925 and Japanese occupation.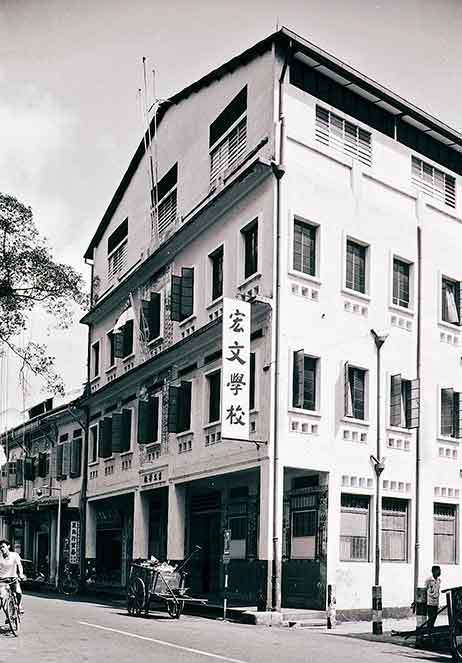 The school moved to this building on Dickson Road in 1955 where it remained until the late 1970s. The building features art nouveau tiles on its facade and is now home to the boutique Wanderlust Hotel.
---
Tekka Centre, Corner of Bukit Timah and Serangoon Road.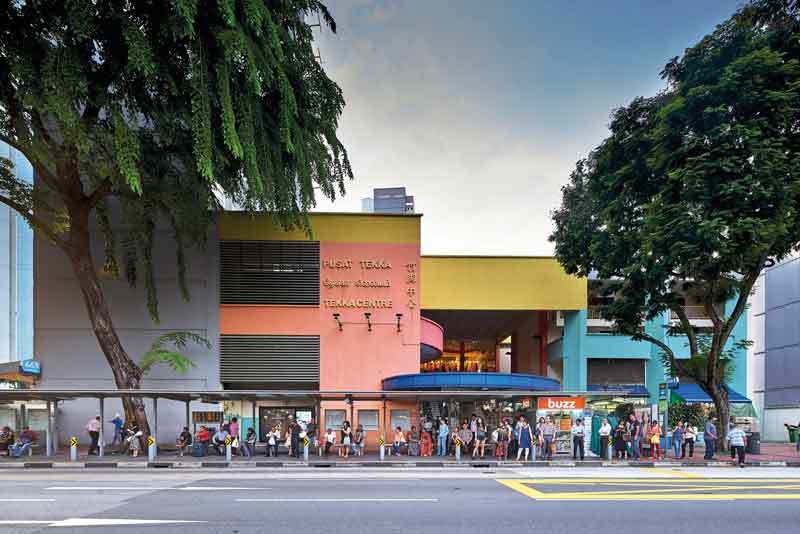 Tekka Centre is the modern replacement to the thriving Tekka Market of the early 20th century (see archive photo). Located at the top of Serangoon Road, it's still a busy wet market with a hawker centre and a selection of shops.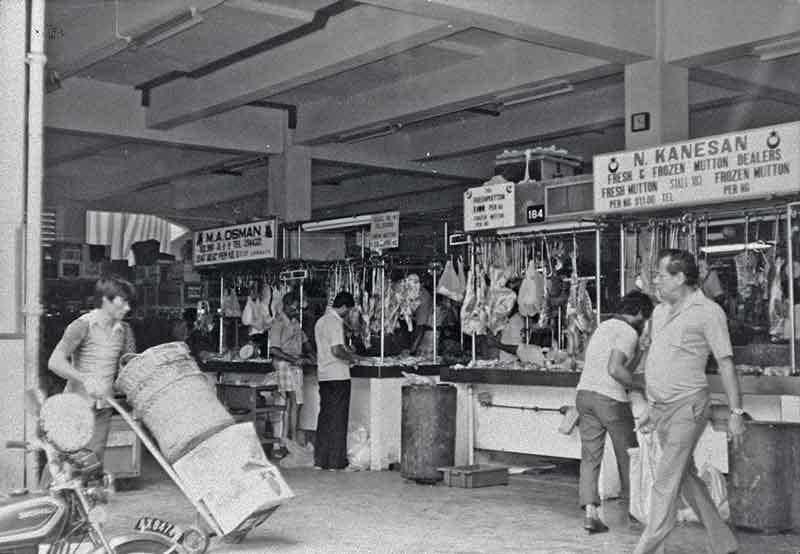 For an introduction to Little India, this is a good place to include in your walking itinerary, especially in the mornings.
---
Abdul Gafoor Mosque, 41 Dunlop Street.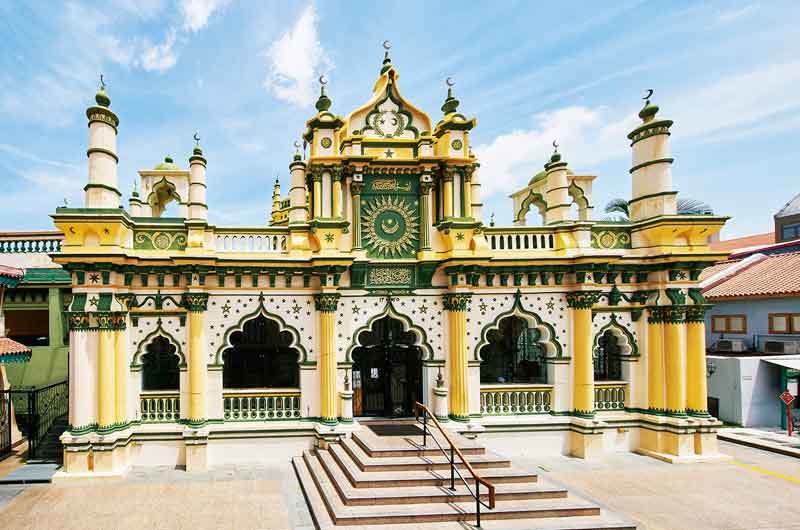 One of Singapore's oldest mosques, the Abdul Gafoor Mosque was built in 1907. It was built to serve the Kampung Kapor area which was home to many Tamil Muslim and Baweanese immigrants.
The mosque is named after Saik Abdul Gafoor bin Shaik Hyder, chief clerk in law firm Khory and Brydges, who helped raise the funds for its construction. In 1979 the mosque was gazetted as a National Monument in recognition of its historical value and unique architectural style.
---
Little India Arcade, 48 Serangoon Road.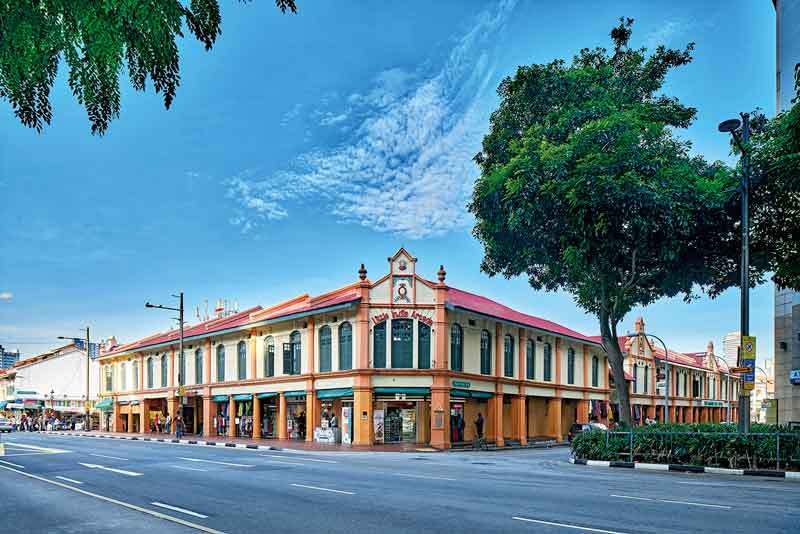 This cluster of conserved shop-houses in located opposite the Tekka Centre on Serangoon Road. Housing a selection of cultural shops and restaurants, it was opened by Minister for Law and Foreign Affairs Professor S. Jayakumar in 1995 (see archive photo, courtesy of National Archives of Singapore) to celebrate the commercial spirit of the area's history.
---
Sakya Muni Buddha Gaya Temple, 366 Race Course Road.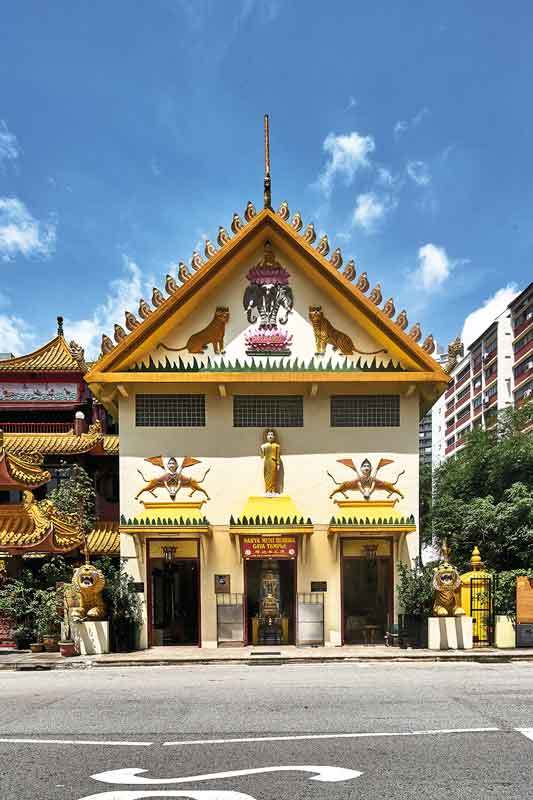 This Buddhist temple was built in 1930 by Thai monk, the Venerable Vutthisasara, with donations from the Tiger Balm brothers, Aw Boon Haw and Aw Boon Par.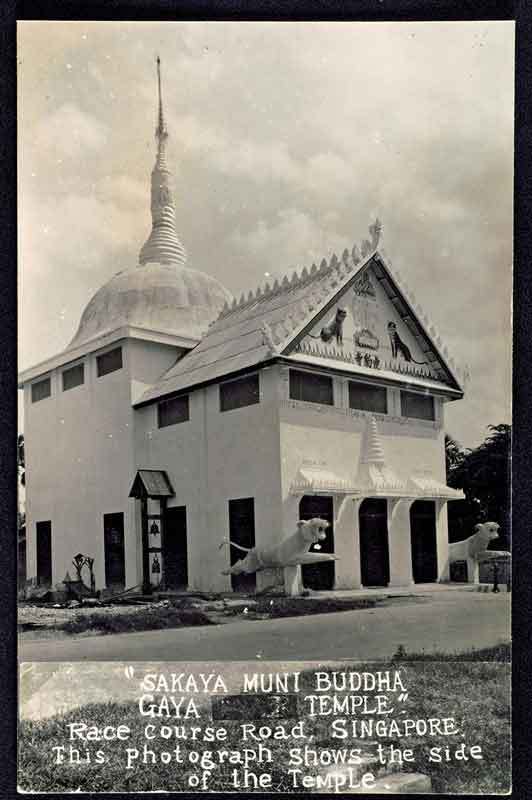 The temple houses a 300-ton statue of Buddha, surrounded by an impressive chain of lights – it's also commonly known as the 'Temple of a Thousand Lights.'
---
Foochow Methodist Church, 90 Race Course Road.
The origins of this church go back to the work of German Methodist missionary Dr. HLE Luering. In 1897, he opened a mission for manual workers from Foochow originally along Middle Road.
This congregation moved to Coleman Street and then to Short Street before relocating again to Queen Street. In 1936, under Reverend Dr. Chen Su Lan, an effort was launched to build a church on Race Course Road. Following its completion in 1938 it was damaged during the Second World War before undergoing repairs which included rebuilding its entire facade.
Photos courtesy of The National Heritage Board Singapore