There's an old saying that goes "sometimes you can't see what is right in front of you, but when you finally open your eyes, you'll wonder why you didn't see it sooner." When the ongoing global pandemic mercilessly destroyed my upcoming travel plans, I had to re-strategise.
My friend's June wedding in Oxford was cancelled, and so was my idea to visit Greece for the first time later this year – not to mention my diabolical master plan to escape the long and unpleasant winter in Berlin by spending some time in Indonesia.
After mostly being confined to the apartment I share with my sister and my dog Milo for more than four months, we decided that it was time for a change of scenery. We could have travelled abroad, but the prospect of hopping onto an airplane or train with hundreds of other people was enough reason for us to look elsewhere – closer to home.
Lueneburger Heide, or Lueneburg Heath in English, is an extensive natural reserve located in Lower Saxony, a mere 3 ½ hour-ride by car from Berlin and the largest interconnected area of heathland in Central Europe. It spans over an incredible 23,440 hectares. A quick Google search confirmed that the Lueneburg Heath seemed to offer everything the heart desires: stunning landscapes, a plethora of walking and hiking trails, and, most importantly, more than enough space to avoid throngs of travellers – although we weren't sure if there'd even be that many.
Once we found a cottage to rent and hit the "confirm" button online, we counted the days to our one-week getaway that would hopefully rejuvenate our tired minds and help us to go "back to the roots": discovering a new place in our home country that we always overlooked before because the feeling of wanderlust would always lead us to destinations far away.
In early August, we packed our things and Milo into the car and off we went: to new adventures, to peace and quiet, to a much-needed getaway. Every kilometre that brought us further away from Berlin and into rural Germany lifted the burden on my shoulder, little by little. After leaving the highway and driving on the country road, it felt like we were transported into another sphere and time: we passed by quaint villages and pine and birch forests.
I'm a true city child and would always choose to live in a metropolis with thriving arts and culture scene, public transportation and the opportunity to have my craving for all different sorts of Asian food fulfilled on any given day of the week. But once in a while, I must admit, it is extremely refreshing to be surrounded by nature and the serenity it provides.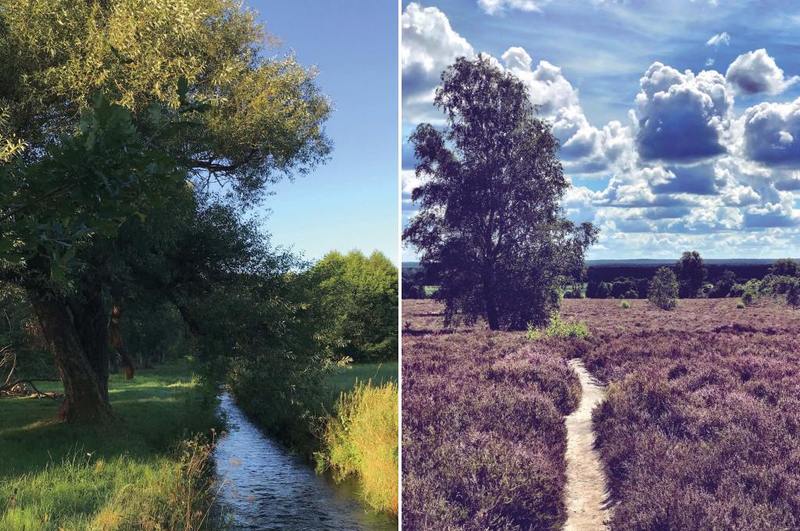 Once we arrived at the cottage that would be our home for the following week, I knew immediately that we had hit the jackpot: a small wooden house with a cosy interior, a large terrace and an almost 3,000 sqm garden that was fully fenced. Once I let Milo off the leash, I didn't see him again for hours – he was too busy exploring and chasing birds and rabbits (I must say, I'm quite glad he didn't catch any).
Located in a tranquil street on the outskirts of a small village with a population of 4,500, our holiday home was quite literally in the middle of nowhere, with the forest right on our doorstep and a handful of other cottages nearby. At night, it was deliciously quiet and also pitch dark. In the morning, we were woken up by the twittering of birds. In the village itself, a grocery store, a bakery, a drugstore, a kebab shop and a gas station provided us with the necessary essentials.
We had deliberately decided to not go overboard with our daily travel schedule but instead to remain flexible and go with the flow. So we spontaneously decided on a day-to-day basis what we were in the mood for. Besides lots of sleep and afternoon naps, this included a lot of quality time spent on the terrace, reading books, writing short stories or just drinking coffee a cup of coffee and engaging in long conversations or a game of dice.
But obviously, we also took our time to venture outside – with the cottage as our home base and starting point, we decided to go on a walking tour every day. Whether you are an experienced hiker or simply in the mood for a stroll, whether you like to cycle (if you do, good news: it's mostly flat in this area) or would like to take a ride in a horse-drawn carriage along sandy paths, no cars allowed – Lueneburg Heath offers something for everyone.
We could choose from dozens of different walking tours of various length. On some days, we opted for short ones between two and three kilometres, and on others, we felt more adventurous and followed the longer routes – none longer than 7 kilometres though, taking into account that Milo is already a senior pup by now and needs quite a few breaks in between. The longest walks available are Freudenthalweg and Hermann Billung Weg, both over 100 kilometres.
The tours lead through forests, open heathland where, if you're lucky enough, can see the grey-horned heath sheep graze, and picturesque villages. It's almost impossible to get lost here: the paths are easy to follow as there are enough signs along the way, and numerous benches provide an opportunity to have a rest in between – and if that's not relaxing enough, there are also cafes and restaurants offering refreshments and a lot of hearty German cuisine.
Generally, the months of August and September are the best to travel to Lueneburg Heath because that is when the heather is in full bloom, turning the heath into a deep and endless sea of purple, and millions of flowers turn the landscape into a vibrant and picture-perfect sight. When we were there, the bloom was at 40%, but even so, it was extremely pretty to look at; the air was brimming with the humming sound of bumblebees, and the whole area was enveloped into a fragrant scent.
The heath wasn't crowded at all – during the walking tour on our last day, we only came across one single hiker – and even on the more popular routes, encounters with other travellers are few and far between.
Lueneburg Heath is a paradise and exciting playground for dogs. Milo was in constant awe of how big and beautiful the world is, and more often than not, I joined him in his admiration as I seem to have forgotten what a fine country Germany is and how tranquil and almost romantic its rural areas can be.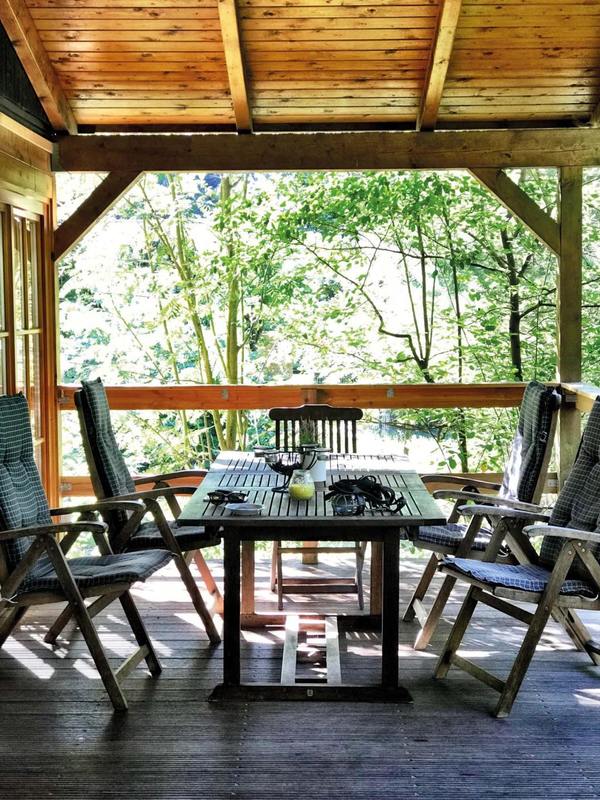 A vacation almost always feels too short, but this was especially the case for our trip to Lueneburg Heath. So many roads we hadn't taken yet! So many more walking tours waiting for us to find more natural wonders and treasures! So many more sunsets to enjoy! So much more flora and fauna for Milo to discover!
We also hadn't visited any of the nearby cities – Celle and Lueneburg being the biggest, and Bergen, home to the memorial of the former POW and concentration camp where Anne Frank died, only a few weeks before the camp was freed by British forces in 1945.
Alas! As we sat on the terrace with a glass of red wine, highly unenthusiastic about our imminent return to Berlin – and work – we made plans to come back, perhaps next year, maybe even sooner. When we discussed the possibility of another getaway in October, latest in March 2021, Milo looked up from his favourite spot under the table and began yapping excitedly. I guess he's on board again as well.