Last month saw hordes of rugby fans flock to Singapore as the Lion City hosted a leg of the HSBC Rugby sevens tournament for the first time in ten years. Singapore's state-of-the-art Sports Hub, which was opened only last year, was where all the action took place.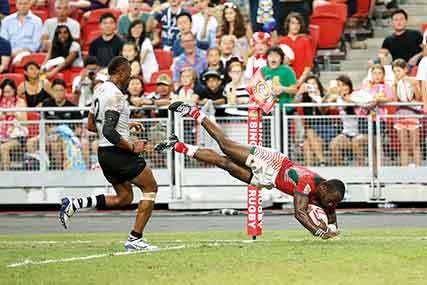 The Sevens Tradition
With fewer players on the pitch, shorter games and more scoring, a whole Rugby Sevens tournament can be played over a weekend and even the non die hard rugby fans are likely to be thoroughly enthralled by the party atmosphere and fast-paced play.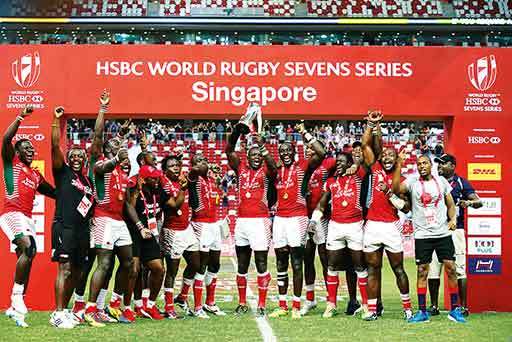 Champions Crowned
Having won the Hong Kong leg the previous week, favourites Fiji had a huge (and very animated) fan base, as did the formidable and legendary All Blacks from New Zealand. As is custom for the Sevens, people came dressed for the occasion; there were kilted men, Romans wearing togas, Red Indians with home-made headresses, Marvel comic characters, and of course, national colours.
On the second and final day of the tournament, the winners of the Bowl (3rd place). Plate (Runners Up), and Cup (champions) were decided.
After defeating rivals England, the Scottish team went on to compete against the USA in the Bowl final to be crowned bowl winners in a relatively close match with the final score of 14-10 in Scotland's favour.
Perhaps surprisingly, Kenya made it through to the Cup Finals and played a blinding match to defeat Hong Kong Champions, Fiji (30-7).
City in Celebration
Of course, a big part of the Sevens is partying and Singapore is a place that knows exactly how to throw a good one. With Clarke Quay as the official Singapore Sevens After Party Zone, in true super-functional Singapore style, free shuttle buses were laid on from the stadium to Clarke Quay for the fans.
Among a reverse bungee and a terrifyingly high mechanical swing, revellers were treated to a whole host of different bars and plenty of live music, especially put on for the after party.