Istanbul has an array of tourist spots. To help guide the first time visitor, however, here's a short list of some of the city's riches.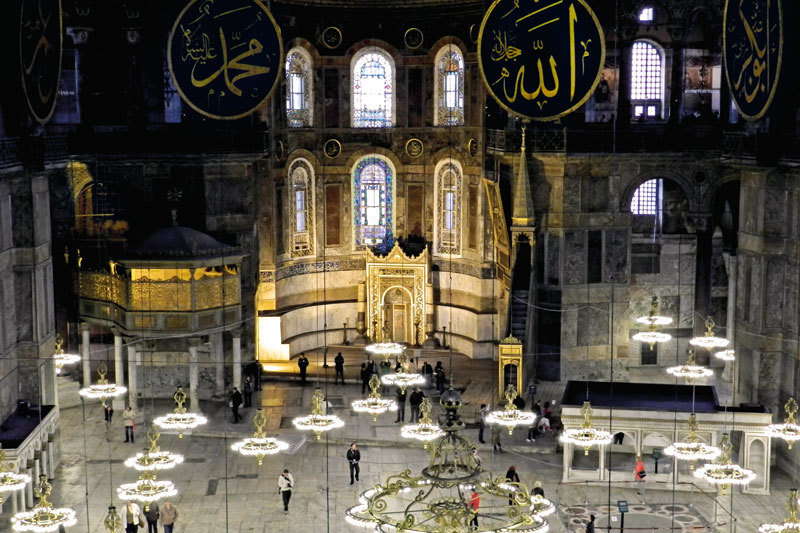 In Turkey, history is a living and breathing entity. The testaments to its past go beyond its breathtaking historical buildings: it is a way of life; which you will quickly discover when you haggle at the Spice Market, vie for rare goods in the antique shops, and when you enter the magnificent Hagia Sophia, whose magnificent domed roof soars so high you will be craning your neck to take it all in.
Hagia Sophia
Everyone has heard of the massive Church-which-became-a-mosque-which-became-a-museum; but few are aware of its amazing size, awesome architecture and aura of mystery. The entrance is well-organised, as are most attractions in Istanbul, with efficient ticketing and good security. The grounds are well kept and clean. But it's inside this enormous structure that the excitement begins. The main room's multitude of domes and roof structures is also striking in its sheer size; and is ornamented with mosaics still intact after 1,500 years.
Topkapi Palace
Near Hagia Sophia lies the sprawling complex of Topakapi. Overlooking the Bosphorus, it was the headquarters of the Ottoman Empire for four centuries. This is where the Sultans and their many courtiers lived, worked, played and died without ever leaving the grounds. There is an extensive series of rooms containing a mind-boggling array of jewelry, clothing, furniture and valuables collected by the Sultans. Most amazing are the original religious artifacts: including the cloak of the Prophet Mohammed, his sword, his teeth and his beard! Sadly, no photography is allowed in these rooms.
Sultanahmet Camii (Blue Mosque)
Sultanahmet Camii, also know as Blue Mosque because of its bluish interiors is situated next to the Byzantine Hippodrome in the heart of Istanbul. Constructed between 1609-1616 by Sedefkar Mehmet Aga, it stands tall in the old city centre. It is also the only mosque in Istanbul that has six minarets connected by spiral stairs—four of these consist of three balconies on each side, and the other two have two balconies each.
The mosque has three entrances. The floral and geometrical interior design and the beauty of more than 21,000Iznik (Nicea) tiles, 260 antique stained glass windows and Quranic calligraphy art are all splendid. Sultanahmet Camii is a perfect place to see the historic heart of Old Istanbul. Its beauty only shines when looking at one end of the leafy square. This is the ideal place to begin one's sightseeing tour of Istanbul's Byzantine and Ottoman monuments.
Basilica Cistern
The Basilica Cistern is a really amazing place to visit. An underground water storage tank with a difference! It has three hundred and thirty six Corinthian columns supporting the roof which are now beautifully lit to give a feeling of otherworldly mystery. At the far end the inverted head of Medusa lends even more intrigue! Dramatic and unique, this is a good visit!
Bosphorus Cruise
As the world's only major city spanning two continents, Istanbul is at a bit of a cultural crossroads. A journey to Istanbul is not complete without a Bosphorus cruise−a lovely ride along the shores connecting the two continents of Europe and Asia on the 32 km long strait linking the Sea of Marmara to the south with the Black Sea to the north of Istanbul. Take in the famous waterway that passes along centuries-old places and mansions. This inexpensive cruise crosses between Europe and Asia in around 30 minutes.
Many travel agencies offer a variety of intercontinental ferryboats ranging from a short Bosphorus Cruise, a Bosphorus Private Yacht Cruise to Bospohorus Cruise-Tours. Ferries board in Europe at Eminönü, Beşiktaş and cruise across the Bosphorus to Asia including Üsküdar, Harem, Haydarpaşa or Kadıköy.
Enjoy the vista of the beautiful landscape of the European and Asian shores with splendid domes and minarets of Old Istanbul, Kız Kulesi (Leander's Tower), the magnificent façade of Dolmabahçe Palace, the sprawling new districts of office towers and the sweep of the Bosphorus to the north and the Sea of Marmara to the south.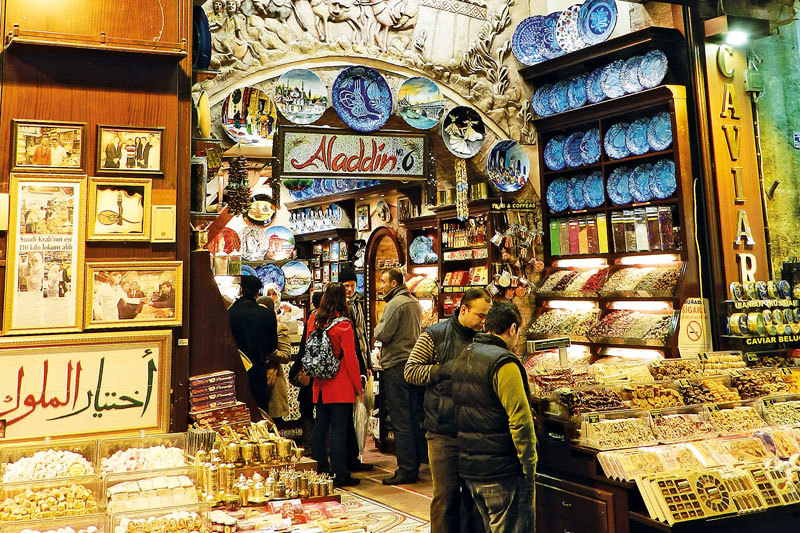 Then it was time for the great shopping experience: The Grand Bazaar! In retrospect this is like a cross between the Paris Metro and a cathedral. It consists of kilometers of covered streets -some straight, some winding, some colonnaded, some vaulted- all intriguing, all busy, all full of things to buy!
While Spice Market is more "stall" oriented, this has serious shops, selling carpets and silver, lamps and gold, furnishings and fashion. Most are high quality, many are distinctly high class, all are very appealing to the passing shoppers! And of course the charming shop keepers are experts at getting you to "have a look inside!"
We looked long and hard at high fashion carpets, beautiful leather jackets, marvellous silverware, but came away with ceramics, lamps and Turkish delight. A great shopping experience though, and one that many parts of Asia (especially Jakarta!) could learn from.
The main shopping street in Istanbul however is Istiklal Caddesi, which is right in the middle of town and stretches a good one and a half kilometers of pedestrian, hassle-free, good walking. Both sides are jammed with high quality shops, interrupted by cute little alleys, churches, cafes, markets, side streets and historical monuments. It's a shoppers dream with western brands jostling for space with great Turkish local goods.
There are a large number of really wonderful antique and carpet shops dotted around the old city. Enter if you dare, for it is difficult to resist a purchase. Unfortunately, credit cards are accepted everywhere. You'll need them!
Getting there: Turkish Airlines flies daily from Jakarta to Istanbul. Visit the official website www.turkishairlines.com