The 2018 Winter Olympics are coming! Expect to witness world-class athletes competing for gold and glory, surrounded by breathtaking landscapes as the quadrennial sport event is taking place in Pyeongchang, South Korea on 9-25 February 2018.
As the name implies, the Winter Olympics feature sports practiced on ice and snow. Since its first event in 1924, the Winter Olympics games have been evolving. This year, fifteen sports will be featured in the Olympics, involving hundreds of athletes from 79 nations. Although Indonesia is not on the list, it doesn't mean that we cannot take part and enjoy the beauty of winter games, especially since its host country, South Korea, promises to deliver a unique experience for both sport enthusiasts and holiday makers during the 17-days game.
The Mascots
If you are visiting South Korea sometime between now and next year, expect to stumble across the two adorable 2018 Winter Olympics mascots- a white tiger named Sooharang and an Asian black bear named Bandabi- almost everywhere, from the introduction video on the country's official airline and Incheon International Airport to big shopping malls and other tourism sites across the country.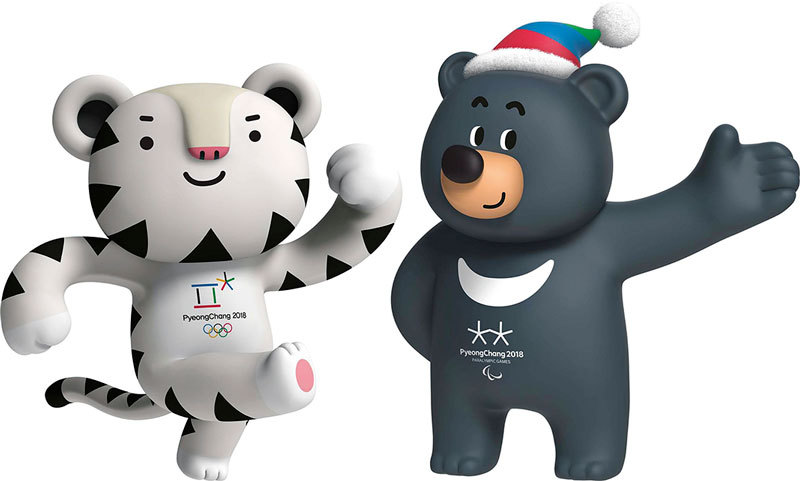 Both the white tiger and the Asian black bear are important icons in Korean mythology. The name Sooharang is derived from two terms: 'sooho' symbolizes the protection of athletes, spectators and other participants while 'rang' comes from a traditional folk music performance, Jeongseon Arirang. On the other hand, Bandabi the bear personifies strong will and courage. The word 'Banda' means half moon and 'Bi' refers to a celebration of the games.The Asian black bear, also known as the moon bear, is native Korea and a symbol of the province where the Olympics and Paralympic Winter Games will be held. With their friendly personas, Sooharang and Bandabi quickly catch visitors' attention - wherever these cuddly icons emerge, there surely will be a long line of people who want to take a picture with them.
The 2018 Winter Olympics' motto is "Passion.Connected"- meaning that everyone is connected through a shared passion for winter sports and in favour of a world that opens new horizons in the continuing growth of winter sports.
The Venue
Pyeongchang is a county in Gangwon Province, a mountainous north-eastern region of South Korea. Although it is home to a large number of tourism attractions, Pyeongchang has always remained under the radar - at least, before it was appointed as the host of 2018 Winter Olympics. The town is located 700 meters above the sea, hence its slogan 'Happy700 Peyongchang' describes the living condition of Pyeongchang's people.
Relatively quiet compared to South Korea's big cities like Seoul, Busan or Daegu, Pyeongchang is touted to provide the best place for leisure and sport as the county has a long history of staging sport events for athletes with disabilities. Pyeongchang successfully won the bid to host this prestigious event against two other cities, Munich in Germany and Annecy in France.
The Olympics will take place in 13 stadiums, namely PyeongChang Olympic Stadium, Alpensia Ski Jumping Centre, Alpensia Biathlon Centre, Alpensia Cross-Country Skiing Centre, Alpensia Sliding Centre, Yongpyang alpine Centre, Jeongseon Alpine Centre and Bokwang Snow Park, all located in PyeongChang Mountain Cluster. Other five venues; Gangneung Hockey Centre, Gangneung Oval, Gangneung Ice Arena, Gangneung Curling Centre and Kwandong Hockey Centre are situated in Gangneung Coastal Cluster of Gangneung City.
The South Korean government prepares a series of transportation options for the Olympics that consists of railways, expressways, national highways and the traffic network circulating the venues. a new high-speed railroad service will be operated so athletes and tourists who arrive at Incheon International Airport will be able to reach any venue within two hours. From within the Mountain Cluster, where snow and sliding sports events will be held, and the Coastal Cluster, where ice sports events will be held, any venues can be reached within 30 minutes.
"We have had held numerous international sport events in South Korea before, but this will be our first time to host the Winter Olympics," said Hee-Beom Lee, the President and CEO of the PyeongChang Organising Committee for the 2018 Olympic and Paralympic Winter Games (POCOG) during the press conference at Seamarq Hotel, Gangneung. NOW! Jakarta was among international media representatives who were invited on a 2018 Winter Olympics Familiarization Trip organized by the Korean Tourism Organisation (KTO) in April.
"We call PyeongChang a 'new horizon' as with this very important event, we would like to popularize winter sports in Asian countries. The city has so much potential; our mountains have a distinctive characteristic that is very different from the mountains in Europe and America. Visitors can exercise and practice winter sports while relaxing and enjoying PyeongChang's beauty afterwards," Lee continued.
He also stressed the importance of safety forlarge-scale international events, something that is generally guaranteed in South Korea, especially in PyeongChang.
"We aim to break down any language and physical barriers at the 2018 Winter Olympics," Lee explained. "We will use a simultaneous interpretation device of a free mobile application called Genie Talk that provides interpretation in eight foreign languages, namely English, French, Spanish, Chinese, Japanese, Germany, Russian and Arabic. In term of safety, I am confident to tell you that South Korea is safe and you can walk comfortably anywhere, be it on the streets or in the alleys, even after dark. For the Winter Olympics, we are collaborating with different parties to ensure the safety for athletes, organizers as well as visitors. The 2018 Winter Olympics will be the safest game ever."
The PyeongChang 2018 Olympics and Paralympic Games are expected to be attended by more than 100 National Olympic and Paralympic Committees, around 80,000 participants coming from the IOC, IPC, athletes, officials, plus the world's media and approximately 1.5 million tourists from around the world.
Tickets
The tickets for the 2018 Winter Olympics are already on sale until April next year. Using a lottery system, applicants need to fill out an application form first. The tickets have specific quota: 70 percent for locals and 30 percent for foreign visitors, so book your seat as soon as possible if you wish to attend the PyeongChang Winter Olympics!
For more updates and ticket information, go to www.pyeongchang2018.com