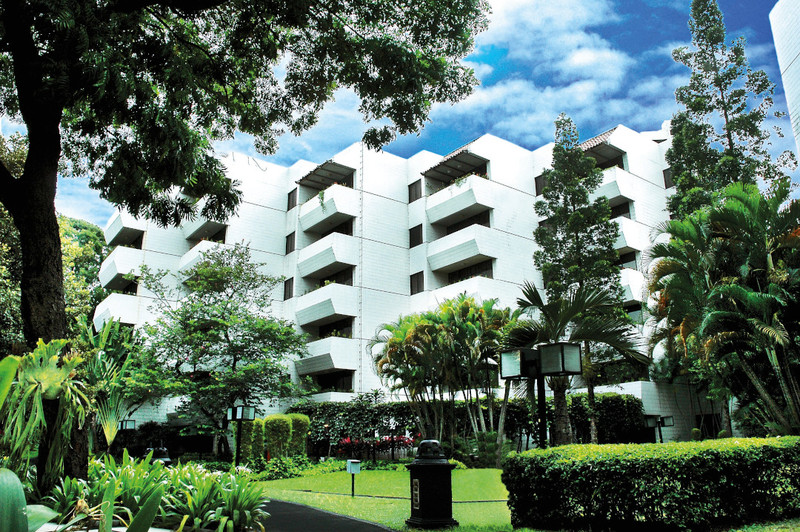 Apartment Type Garden Wing Accommodation at Hotel Borobudur Jakarta is where bespoke luxury and world-class service comes together to create an unforgettable staying experience.
Hotel Borobudur Jakarta, one of the most iconic luxury hotels in town, offers a serene sanctuary in which you can escape your daily metropolitan toils. The hotel is strategically located just by the city centre, within minutes away from the Presidential Palace and close to many major travelling points of interests, including Istiqlal Mosque and Cathedral Church, as well as the National Monument, the National Museum of Indonesia, Museum Sumpah Pemuda, Fatahillah Museum Old Town, and other noteworthy spots. Major business centres, government offices and shopping and entertainment areas are also located conveniently nearby.
Among the 695 elegantly designed rooms and suites guaranteed to offer a most comfortable staying experience, the Apartment Type Garden Wing Accommodation is a family-oriented dwelling surrounded by 23 acres of tropical gardens, 830 metres jogging tracks and Olympic-sized swimming pool.
Designed with hints of modern sophistication without compromising the hotel's iconic luxury, the up to 183sqm Apartment Type Garden Wing features a spacious living room, dining room, fully equipped kitchen, en-suite bathroom and private terrace. It also offers access to the wide range of facilities and dining outlets at Hotel Borobudur Jakarta, meaning it is the perfect choice for both traveling businessmen and families.
In addition to an impeccable service, Hotel Borobudur Jakarta complements its staying experience further with all-encompassing facilities. Among others, Klub & Spa Borobudur is a wellness centre designed to put your mind, body and soul at ease with a wide variety of treatments to choose from, while the gym, Olympic-size swimming pool, scenic jogging track, tennis and basketball court and soccer field are built to ensure every guest remains in tip-top shape for the duration of their stay. Both long-term and daily guests staying at Apartment Type Garden Wing Accommodation can easily take full advantage of these facilities as well.
Bogor Cafe also offers a lovely Sunday Brunch programme, where brunch guests are free to enjoy a number of indoor activities for kids.
Hotel Borobudur Jakarta
Jalan Lapangan Banteng Selatan
T: +62 21 380 5555
IG: @hotelborobudurjakarta
FB: @hotelborobudurjkt
www.hotelborobudur.com