Located on a private two-hectare plot of land on the northern part of the GiliTrawangan, one of the famous Gili Islands, east of Bali, The Jambuluwuk Oceano Resort Gili Trawangan offers a perfect beach getaway.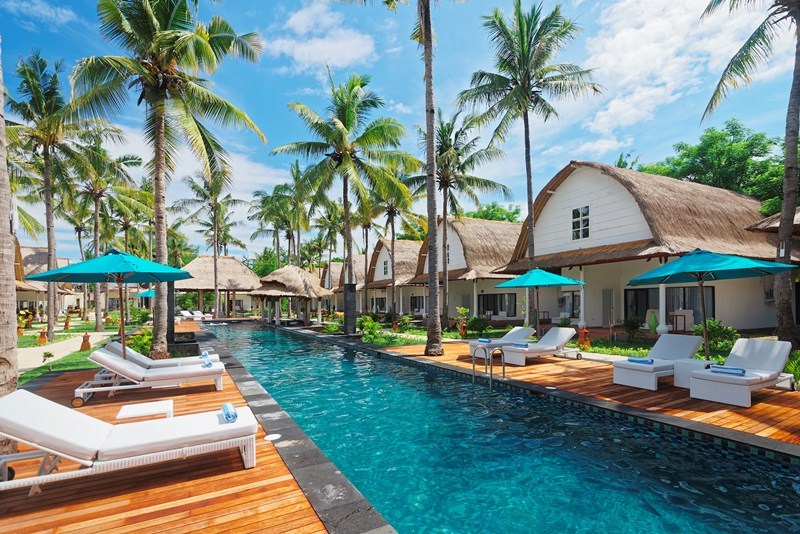 Lush coconut gardens, sparkling blue seas, the golden sands of the Gili Trawangan beaches speak of an intimate atmosphere. The Jambuluwuk Oceano Resort Lombok Village truly fits all the criteria for an idyllic resort hideaway.
Tucked away among tropical gardens, the 95-room hotel took inspiration from the traditional Lombok Village houses, with individual shaded terrace overlooking the beach or gardens. Each room is equipped with Wifi and all modern comfort facilities. Guests have free access to the bicycles, perfect to explore GiliTrawangan, an island where no motorised vehicles are allowed.
Enjoy the laid back setting of the island at The Clubhouse, a beachfront dining offering selection of tapas, local and international cuisine, savor the tranquil moment with the selection of refreshments while listening to the soothing sound of the waves.
It is indeed the perfect getaway from the hustle and bustle of city life.
Jambuluwuk Oceano Resort Gili Trawangan
North Gili Trawangan
+62-370 6194854 +62877 65888332
www.jambuluwuk.co