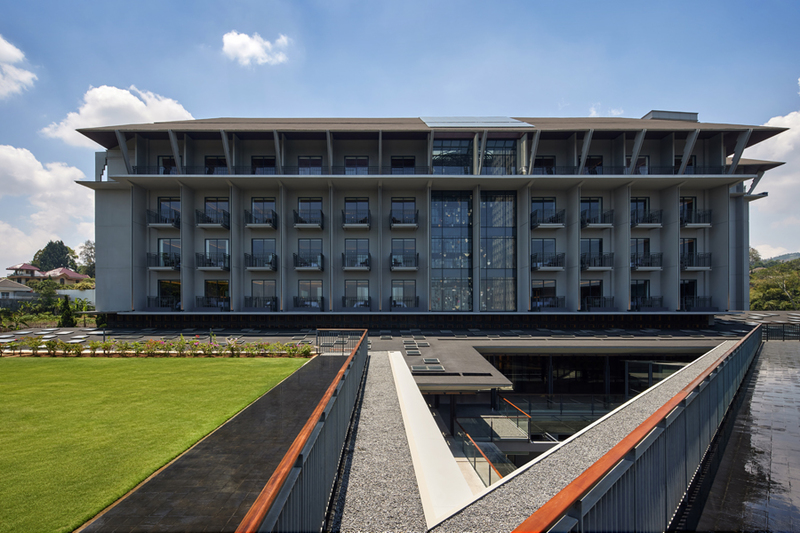 The Gaia Hotel Bandung is a brand-new establishment that is perched 16 levels above the mountain valleys of Bandung, featuring impressive architecture that promises to present five-star hospitality services and so much more.
Encompassing over 2.3 hectares of land, The Gaia Hotel Bandung aims to provide guests with the space and time to discover the different aspects of rest and recovery. With a concept of Active/Rest that comprises eclectic options, opportunities and activities that guests can partake in at their own pace and comfort during their entire stay. Incorporating its lush natural surroundings and cool weather into its design, the hotel showcases plenty of open-air and alfresco spaces for relaxation, exploration, activities, events or dining as guests enjoy the verdant surroundings and fresh air.
Guests can soak in the stunning natural surroundings from every room. Featuring 280 rooms, each is equipped with a balcony, where guests can breathe in the fresh mountain air and revel in the mesmerising views of the city or mountain. There are a variety of simple creative activities, exercises and entertainment that guests can enjoy on the IPTVs outfitted in each room. Take advantage of the free minibar filled with snacks and hot and cold beverages. The rooms range from a comfortable 35sqm to spacious 105sqm accommodations, where single, family or group travellers can find their idyllic choice of rooms for their business or leisure purposes.
Staying at the hotel is like going on a vacation in a cosy contemporary village with flexible options suitable for adults and children. Through their Active/Rest concept, guests staying at the hotel can expect to feel completely rejuvenated. The hotel provides facilities like the infinity swimming pool, the comprehensive Sepik Massage Therapy and Spa, a gym with indoor and outdoor facilities, and the KidsCADS play studio. Moreover, there are several activities guests can enjoy such as movie night, cultural performances, art appreciation nights, jamming sessions, workshops and classes, physical adventures such as bouldering, bush hiking, biking, kid's rafting and so much more.
The hotel also caters to meetings, events and banquets, where there are 26 distinct selections of indoor and outdoor meetings and event spaces, from formal to casual and intimate to large groups of up to 500 people. It also features a wedding chapel raised 6 levels above the ground, fittingly named The Altitude, where guests can take in the stunning city and garden views. For a scenic event venue, The Rooftop Garden or the Amphitheatre provides the perfect choice during the current pandemic restrictions, while the swimming pool can be an option for a fashion show venue.
When it comes to wining and dining, the hotel offers a variety of dining venues, from a laidback sharing experience, easy bites or something with a bit more privacy and luxe, there's something for any occasion. Gaia Semeja Asian Kitchen presents a hearty family-style dining venue, while Monomono offers an exquisite fusion of Latin American and Japanese flavours and textures. For your daily caffeine fix, Inspira Roasters provides fantastic coffee selections at the in-house coffee roastery and café.
Showcasing an abundance of activities, innovative pathways and unique possibilities, there's plenty of options for guests to indulge at The Gaia Hotel Bandung, whether they seek an active stay or a more relaxing and revitalising stay. It doesn't matter which journey you take, a brand new day might always have something exciting in store for you at The Gaia Hotel Bandung's contemporary environment, where they propel the notable hospitality and beauty of Indonesia into the future.
For more information or reservations, please call +62 22 2028 0777 or email [email protected]
The Gaia Hotel Bandung
Jl. Dr. Setiabudi No. 430, Bandung
+62 22 2028 0777
[email protected]
thegaiabandung.com