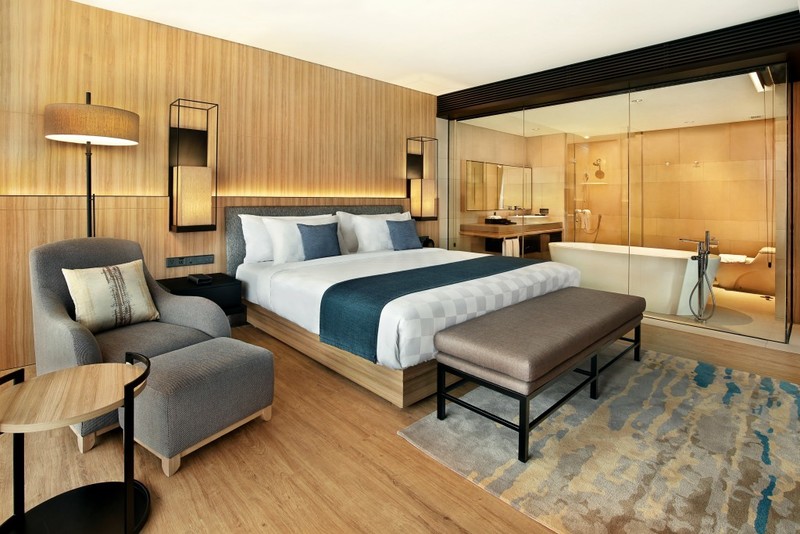 "Wild Wild West", this year's theme for the New Year 2021 celebration at Royal Tulip Gunung Geulis Resort & Golf is not as extreme as it sounds. However, the property located in the mountain resort area of Puncak, West Java invites guests to spend a quiet moment on New Year's Eve celebrating the transition from 2020 to 2021 in a secluded destination where access to nature is only a short distance away.
For those planning a festive vacation to Bogor, West Java, Royal Tulip Gunung Geulis Resort & Golf has everything you need to find serenity and peace. Stop by at the resort's culinary destination LL One Restaurant & Wine Bar to enjoy an all-you-can-eat dinner. Royal Tulip Gunung Geulis's culinary team has prepared a delectable menu ranging from appetizer, main course, and dessert as well as an array of dishes available at food stations.
Starting from 6 PM until countdown, spend the moment with friends and family until the very last moment of 2020 enjoying live music performances that will accompany the guest during dinner.
It's the best deal for anyone to book a room at the resort as Royal Tulip Gunung Geulis offers 2 days one night stay at Deluxe Room where the guests also get the additional benefit including breakfast, NYE dinner for two. Only for IDR 4.500.000 nett. For those booking from 17 to 19 December, there is a special deal from the resort as guests can get a luxurious vacation for only IDR 3.500.000 nett by booking directly through the hotel official reservation.
During the stay, guests can also participate in many family activities from 18 December 2020 to 3 January 2021 where kids can join handicraft and colouring activities and become little chefs. They also can safely have fun in the kid's playground and watch a holiday movie at Royal Amphitheatre. The fun activities include a flying fox, trampoline, wall climbing, and balance bridge as well as cycling, riding ATV. And not to be missed, wellness activities such as yoga and Zumba are also available for guests during their stay at Royal Tulip.
On Christmas Day, the resort has also prepared special room packages. For those coming to the resort for Christmas, guests will be greeted by a choir from Benih Iman Orphanages in Ciawi that will accompany guests during Christmas' Eve dinner on 24 December 2020 and Christmas Day on 25 December 2020 morning time at LL One Restaurant & Wine Bar.
As a part of assuring the safety for every guest, Royal Tulip Gunung Geulis Resort & Golf is already certified NSF audit for Covid-19 protocol with a score of 100%. NSF is a global, independent organisation that facilitates the development of public health standards with test, audit and certify products and services. The resort is also 100 % certified CHSE (Clean, Healthy, Safety, and Environment) from the Ministry of Tourism and Creative Economy.
So, the guests will feel safer if they stay at the property but most importantly, everyone must keep taking strict precautions and practicing health protocols for everyone's safety.
For more information and reservations, call +62 251 7563800 or email to [email protected]. Visit royaltulipgununggeulis.com