Bandung is often seen as a destination for those looking for a romantic location for wedding celebrations. At Crowne Plaza Bandung, couples are offered a romantic poolside venue overlooking the sparkling lights of the city for their special day.
For those looking to have their wedding ceremonies by a pool, the hotel offers a charming and elegant concept which matches Bandung's romantic ambiance.
The Crown Plaza Bandung strategic location become the irresistible preference for wedding as the five star hotel also has been consistent in providing standard of facilities, service, and products.
With the best value deal at IDR 335,000 net per person for a minimum of 300 persons, a romantic wedding celebration here is certainly a dream come true. The wedding package at Crowne Plaza Bandung is inclusive of a pre-wedding photo shoot and one Bridal Suite in the Junior Suite Room as well as a sumptuous gourmet breakfast in bed or breakfast buffet at Mosaic All Day Dining Restaurant for the couple.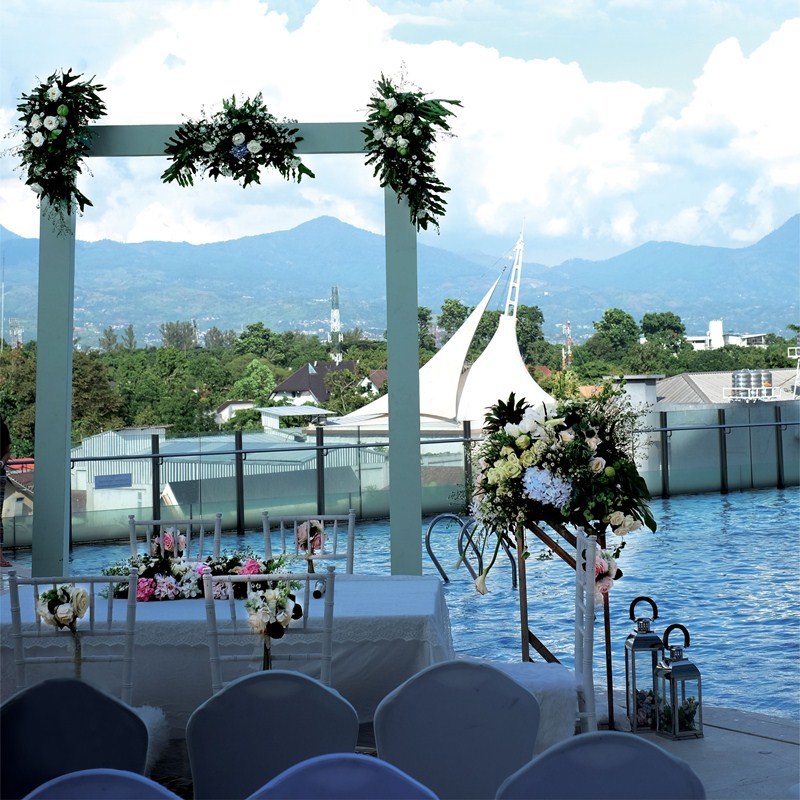 The package includes contemporary decorations in the bridal room, a private changing room on the wedding day and a Tea Ceremony.
For the family, two Deluxe Rooms are available for one night and a complimentary breakfast..
During the celebrations, the couple also gets a bottle of sparkling wine for the toast. The couple can choose the menu - the customised buffet or food stalls. They will also receive parking vouchers for up to 10 cars.
A dedicated Crowne Meeting Director will handle the logistics throughout the event. An intimate ceremony, poolside wedding, or a royal wedding celebration can be handled by the Crowne Plaza Bandung.
For more information contact (022) 3000 2500 or email [email protected]. Crowne Meeting Director +62 815 7207 7944 (Yadhi), or visit www.bandung.crowneplaza.com