This time of the year, we find ourselves with two major holidays combined into one. For parents of schoolchildren, it could be both a boon and a problem. While there's the efficiency of planning and budgeting, it comes with a side effect of (what feels like) shortened vacation time.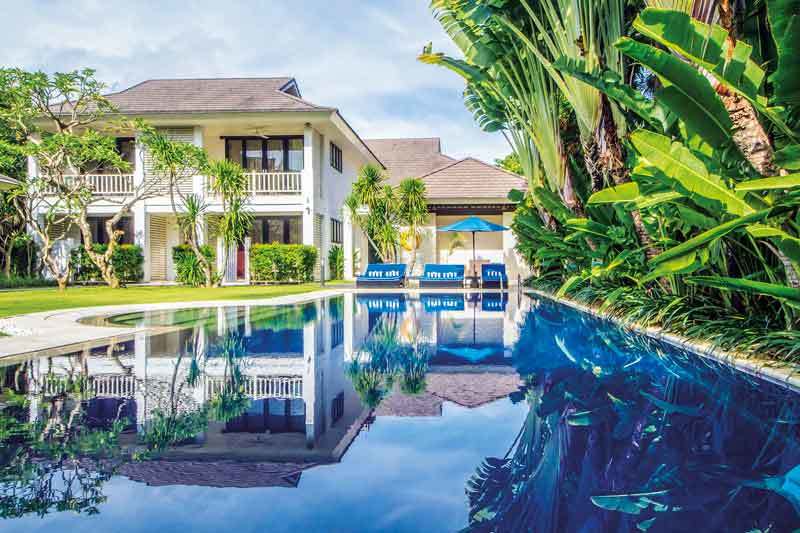 As ever, Bali is a favourite destination for holidaymakers, of which families make no exception. In case you haven't heard, the hip area of Seminyak – home to many cool restaurants and little boutiques – has been a top choice for many young families. In this neighbourhood, there's always something new to discover.
Naturally, the first thing to do would be to find the right sanctuary for the family to stay. Although resorts and villas are literally everywhere in this area, it isn't always easy to find the perfect one for families with young kids.
Enter Montigo Resorts. Nestled among cool hangouts such as Potato Head Bali and La Luciola, this hip resort has a nautical ambiance in blue and white, and it is a picture-perfect combination where tropical island idyll meets modern comforts.
Guests get to choose from 120 stylish and contemporary rooms and suites (including two honeymoon suites) that are spacious and well designed. A sombre timber-and-turquoise wall creates that soothing ambiance, and some suites come decorated with a terrace garden. For an urban resort, Montigo surprisingly has three swimming pools in various sizes, including a smaller, hidden adults-only pool.
The name Montigo was inspired by Bobby Bloom's '70s hit song Montego Bay. The coolest thing about this resort is the fact that it owns the biggest and most comprehensive kids club in the area. At Tilo Kids Club, named after its cute yellow Prince Chick mascot, children from 6 to 12 years old are welcome everyday, from morning until evening. Led by a team of qualified mentors, Tilo Kids Club provides a wide range of artistic, educational and fun activities. From music, exercise, Balinese traditional arts and crafts, to baking, and not to mention a mini cinema, the latest PS3 and Wii games, there's enough on offer to keep the little ones occupied.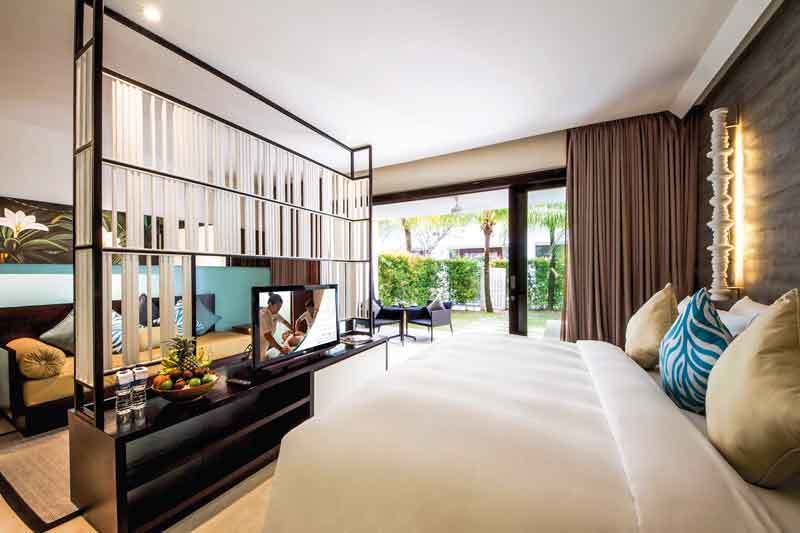 As for adult fun, there's a traditional Balinese market that sells various food produce and spices, flowers and a bit of local craftsmanship, located only five minutes away. Here, you can buy fresh seafood and freshly ground Balinese mixed spices, and have them sent back to the hotel where the chefs at Tiigo Restaurant would happily prepare customised dishes for you.
For those interested in venturing outside of Seminyak, there's the new Samasta entertainment complex in Jimbaran. This family-friendly alfresco space comes with a beautiful design and a great selection of nice boutiques, swanky restaurants and unique gaming experience at the House of Trap. One of the highlights here is Above Eleven, a place where you can sample the latest global culinary sensation otherwise known as Japanese-Peruvian food.
Thanks to the new highway that goes above the sea, it's always a smooth drive between Seminyak and Jimbaran, leaving you ample time to make it to your spa appointment at Montigo.
As parents with young children would attest to, sometimes it's nice to just have the time to relax and do nothing. With a great kids club in tow, that's very much doable.