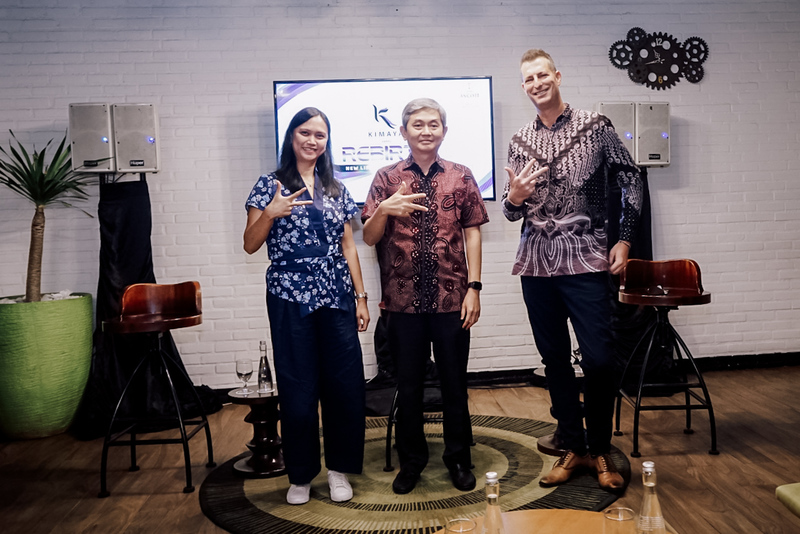 The Ascott Limited (Ascott), CapitaLand Investment's fully-owned lodging business sector, has expanded its collection of properties with the simultaneous openings of Kimaya Hotel at three different locations: Jakarta, Bandung and Yogyakarta. Affiliated with the HARRIS brand, the establishment of the three new properties further solidifies Ascott's status as one of the largest international owners and operators of hotels and serviced residences in Indonesia. Ascott expects these new properties will be a popular choice for both business and leisure travellers.
The name 'Kimaya' is derived from the Sanskrit word meaning "divine", while the logo itself is inspired by the phoenix bird, representing a symbol of strength, transformation and renewal with the hopes that, just like the phoenix, Kimaya will soar high and achieve success.
"Indonesia is Ascott's largest market in Southeast Asia. We are very pleased to welcome Kimaya Hotel to be a part of Ascott. This new opening is the latest milestone in our expansion plans for Ascott in Indonesia. Jakarta, Bandung and Yogyakarta are key areas of development for the Group in Indonesia. We currently have more than 12,800 operating units in Indonesia, we plan to further add over 4,700 new units for hotels and serviced residences across Indonesia in the next two years," stated Patrick Vaysse, Ascott's Chief Operating Officer for Hotels in Indonesia.
Held simultaneously in the three cities, the opening ceremony was attended by media partners, local officials, corporate guests and business colleagues. The event was opened with a welcome dance, followed by opening speeches from Ascott Indonesia and Hotel management, and finally, a ceremonial tumpeng cutting by the Director of Kimaya Group.
"The presence of Kimaya Hotel in each city will be a fresh alternative accommodation for corporate or leisure guests by offering a variety of modern facilities and friendly services from our staff. We are confident that our new properties will appeal to both corporate and leisure travellers to tech-savvy travellers, families, or single travellers, as well as value-conscious travellers. Kimaya Hotels also offers excellent locations surrounded by cultural, leisure, retail attractions, and commercial buildings. The properties are also ideal for MICE business as they come with meetings and convention facilities, and food & beverage outlets," said Pierrick Gautier, Kimaya Hotel's Area General Manager for Jakarta, Bandung and Yogyakarta.
Kimaya Slipi Jakarta

Graciously located in the business district of Slipi, the hotel is conveniently situated in close vicinity to the bustling business and shopping areas of SCBD, Sudirman, Gatot Subroto, Senayan and Grogol. The hotel is easily accessed via Jakarta's integrated public transportation and is a short commute away from Soekarno Hatta International Airport.
Kimaya Slipi Jakarta features 340 comfortable rooms and is designed with fully-equipped facilities, including a variety of restaurants serving local and international cuisine, 11 meeting rooms, an outdoor swimming pool, spa, fitness centre and indoor parking area. For more information, click here!
Kimaya Braga Bandung

For travellers looking for comfortable accommodation close to Bandung's tourist attractions, Kimaya Braga Bandung is the ideal choice. Conveniently located in the historical Braga Street, this hotel presents premium economy accommodation at enticing rates. The hotel is within walking distance of several historical sites in the city including Gedung Merdeka, Asian-African Conference Museum, Alun-Alun Bandung, as well as Bandung's culinary hotspots and shopping centres.
Designed with fully-equipped facilities, the hotel features five room types and a total of 193 rooms. The hotel's Coconut Club Restaurant presents guests with Indonesian and Western cuisine, while an outdoor swimming pool can be found on the 16th floor. The hotel has 6 meeting rooms that can be transformed into a ballroom that can accommodate 160 people. For more information, click here!
"With this ceremony event, I hope the brand Kimaya by Harris can be well-known by the public, especially in big cities so that the Kimaya by Harris hotel's chain could be a perfect choice to the main destination for vacations, including Bandung, which is rich in history and culinary delights," said Alto Reza as General Manager of Kimaya Braga Bandung by Harris.
Kimaya Sudirman Yogyakarta

Nestled in the heart of Yogyakarta, Kimaya Sudirman Yogyakarta is a short commute away from the Yogyakarta train station and is approximately an hour away from the new Yogyakarta International Airport. The hotel's location provides easy access to the surrounding business district, hospitals and shopping centres. The iconic Tugu Yogyakarta and Malioboro street is a close walk from the hotel, while Prambanan and Borobudur temples are a short drive away.
An idyllic choice for leisure and business travel, the hotel features several restaurants serving local and international delicacies, 5 meeting rooms and an open-air garden are available for business and special occasions of up to 200 persons. For more information, click here!
"We hope that through this opening ceremony, Kimaya Sudirman Yogyakarta by Harris can be better known to the wider community and become one of the residential choices for tourists who want to visit Yogyakarta either for holidays as well as business trips. Considering our location which is very close to the city centre and has complete facilities ranging from various types of rooms, Tropical Pool, Garden, Ballroom, Fitness & Spa," said Diah Anggraini, General Manager of Kimaya Sudirman Yogyakarta by Harris.
Kimaya Slipi Jakarta
Jl. Letjen. S. Parman Kav. 59, Slipi, Jakarta Barat
+62 21 533 1560 / 70
[email protected]