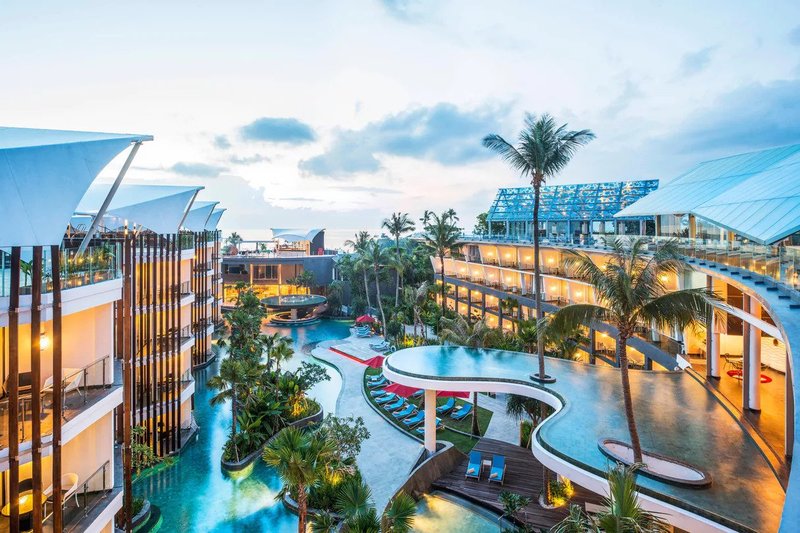 Since its establishment 9 years ago, the stunning Le Méridien Bali Jimbaran has continued redefining luxury through its tasteful and modern design and architectural concepts to inspire guests to discover a fresh perspective.
Inaugurated in May 2013, Le Méridien Bali Jimbaran is a family-friendly resort that boasts unique architectural innovation featuring modern-yet-understated elements that can be seen in the resort's interior and exterior design. Graciously sitting on an expansive 1.5-hectare land, the water-themed resort presents an idyllic holiday destination with 117 rooms and its signature 1,300 sqm lagoon pool that winds throughout the resort's centre space. The design was the result of a collaboration between the talented architects from Studio TonTon and prominent interior design firm, FBEye, who were assigned by PT Tiara Raya Bali International, the owning company of the resort, to create the perfect holiday destination for travellers to relax and unwind.
Le Méridien Bali Jimbaran showcases a diverse aesthetic that distinguishes it from other luxury resorts through its chic and contemporary style. To further boost the appeal of Le Méridien Bali Jimbaran, the resort features an eclectic collection of art installations that are exhibited throughout the resort, including the vibrant photography works of German artist, Markus Reugels, entitled 'Liquid Art'; a masterpiece installation by South Korean artist, Sang Sik Hong, that resembles a face covered by hands that are constructed using drinking straws; as well as exquisite paintings by Indonesian artists that decorated the walls that feature shades of grey, white, light blue and other natural colours.
Located near the famous seafood restaurants of Jimbaran Bay, guests will be welcomed by the captivating industrial-coloured accents of the resort's building the moment they arrive. The contemporary wooden décor is also in line with the resort's Aqua Marine architectural theme. The resort provides a spacious parking area near the drop-off area that can accommodate approximately 30 vehicles.
Featuring a total of five floors, the resort was designed to be environmentally friendly. Any type of vehicle is prohibited from going up to the lobby area on the third floor, which is why the resort provides guests with buggies that can accommodate four guests and their luggage. This is implemented to reduce noise pollution from vehicle engines and air pollution from vehicle exhaust fumes. Open-air spaces and LED lights are featured throughout the resort premises in an effort to reduce energy consumption. The resort also implements one of Marriot Hotels & Resorts' green initiatives by recycling and efficiently using water heaters.
The resort's lobby area, dubbed The Hub, is adorned with inspired ornaments that complement the décor. The Hub acts not only as a reception area where guests can check-in and check out but as a comfortable space where guests can unwind with a cup of coffee or tea or refreshing cocktails concocted by the innovative baristas at the bar. Displayed front and centre in the lobby is a pair of a black and white statuettes with golden accents that embodies the Yin and Yang philosophy. Studio TonTon decorated the lobby with bright-coloured sofas and couches, flower-shaped wooden fans and walls with water ripples to accentuate the water theme. The open-air concept grants guests a view that overlooks the resort's lagoon pool.
Le Méridien Bali Jimbaran offers spacious rooms and suites, Sky penthouses with a private rooftop deck with pool and dedicated dining area, and up to four well-appointed villas designed with Balinese architectural elements, set on an elevated location which offers undisturbed views of Jimbaran Bay. Each room has been meticulously designed by FBEye with a modern feel, displaying bright blue colours to reflect the resort's coastal setting. Additionally, the rooms feature traditional Indonesian elements including the Batik-patterned headboard and bedside hanging lamps that take inspiration from fishing nets, while the lavish bathrooms are furnished with the finest Turkish marbles. Each room is equipped with a private balcony with views overlooking the lagoon pool, while the first-floor rooms have direct access to it from the balcony.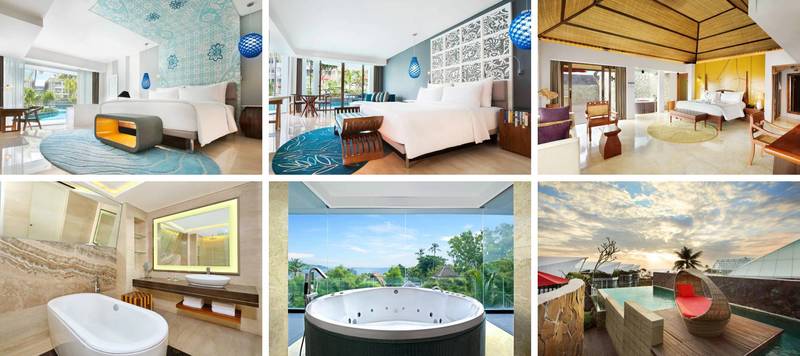 One of the main facilities of the resort can be found on the top floor, namely Bale Banjar, a unique ballroom with a capacity of up to 150 guests, as well as the Celebration Pavilion, a stunning event space surrounded by water features overlooking Jimbaran Bay, this all-glass pavilion is a beautiful venue for weddings and celebrations with a capacity of up to 50 guests.
The three-storey building nestled between the main building and the Aqua Suites Towers is where guests will find the resort's dining destinations including Pan-Asian restaurant Bamboo Chic, the stylish Smoqee Lounge, and picturesque rooftop bar Smoqee Sky bar, and gelato and coffee bar WaLa.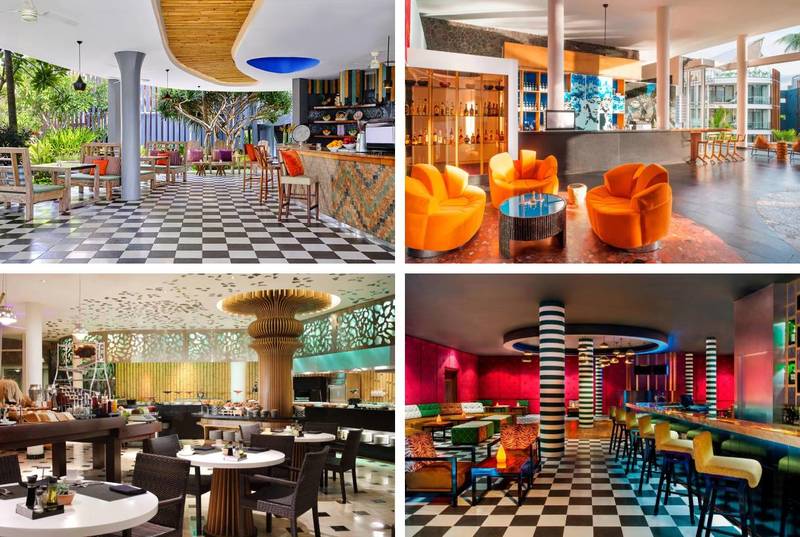 ---
Current Promotions
This is Bali

Le Méridien Bali Jimbaran is currently offering an exclusive 'This is Bali' stay package valid for stays until 31 August 2022, using promo code 'ZX0'. Benefits include:
• Daily breakfast for 2 adults and 2 children below 12 years old
• IDR 100.000 daily resort credit
• Complimentary late check-out up to 2pm.
• Wi-Fi throughout the resort
• In-room hygiene kit
• Unlimited access to Kids Club
The 5Gs of Human Connection

Le Méridien Bali Jimbaran is also offering a special gathering package called 'The 5Gs of Human Connection' – Gather, Global, Gratitude, Giving, and Gourmet. This package presents guests with bespoke and inspiring experiences at their next gathering. This package is valid for a booking period from now until 30 September 2022, for gatherings from now until 31 December 2022. Book your gathering now and enjoy prizes including:
• Complimentary 2-night stay for bookings of 20 nights (valid for group bookings only)
• 2x bonus Marriott Bonvoy points
For more information, click here!
For more information or reservations, please visit www.lemeridienjimbaran.com
Le Méridien Bali Jimbaran
Jl. Bukit Permai, Jimbaran, Bali
+62 361 8466 888 | +62 853 3933 5252
[email protected]
lemeridienjimbaran.com