In accordance with fast-paced urban living, Jakarta hardly shows signs of slowing down as more people come here every year from all across the country and abroad hoping to make a better living, leading to an increasing demand of proper housing, capable of soothing body and soul after the usual hustle and bustle of a tough workday in the capital.
Many have dreamt of owning a house right in the heart of Jakarta but due to the sky-high costs of property and adding the city's flooding issues, this dream rarely becomes a reality. People then often look to staying in apartments – it's easy, hassle-free and practical, and Jakarta has its fair share of exclusive serviced apartments that will make a for wonderful home.
Ascott Kuningan Jakarta
Located in the middle of the capital's central business district Kuningan, the Ascott Kuningan Jakarta shares space with Ciputra World 1, one of the largest integrated shopping, business, and cultural centres in Jakarta. The 185 luxurios rooms ranging from One-Bedroom Deluxe, One-Bedroom Executive, One-Bedroom Premier, Two-Bedroom Executive, Two-Bedroom Premier, and Three-Bedroom Premier are perfect for corporate travellers, smart executives, or tourists opting for a longer stay in the capital.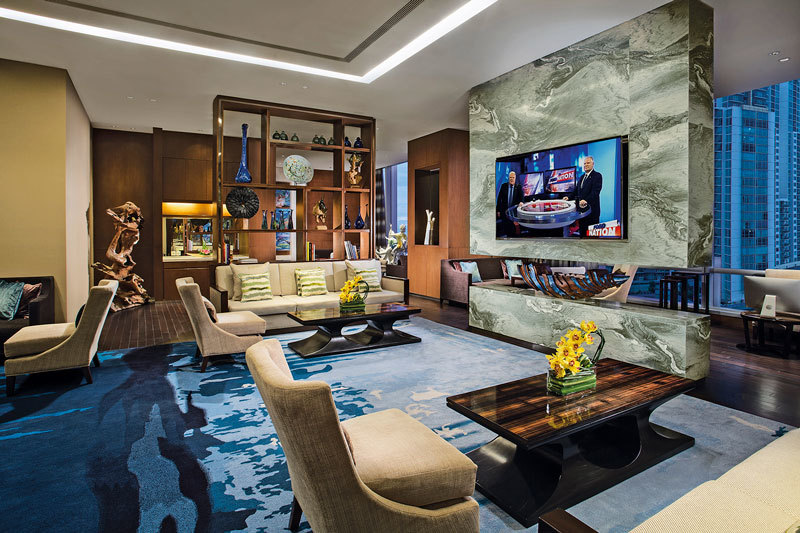 Imagine having a delightful breakfast to start your day at On Eleven Restaurant before exercising at the gym and taking a refreshing dip at the rooftop swimming pool. Or do you maybe you for badminton, basketball, even tennis? The Ascott Kuningan has it all, including a couple of meeting rooms ready to cater to your business needs.
An indoor children's playroom is also available on the 11th floor. If the little ones want to breathe some fresh air while playing under the sun, they can easily go to the outdoor children's playground on the 10th floor.
Finally, close your day with a family barbeque at the designated area right next to the swimming pool, and it will indeed be another great day to remember at the Ascott. Find out more at www.the-ascott.com/indonesia/jakarta/ascott-kuningan-jakarta/index.html.
Pondok Indah Golf Apartment
If you are a huge golf fan and have been wishing to indulge in your hobby without leaving the comfort of your home for too long, this fully-furnished apartment must be on top of your list. Artistically designed by the internationally-acclaimed architects Sandy and Babcock from San Fransisco, US, this establishment is blessed with spacious balconies directly facing the velvety green Pondok Indah Golf Course.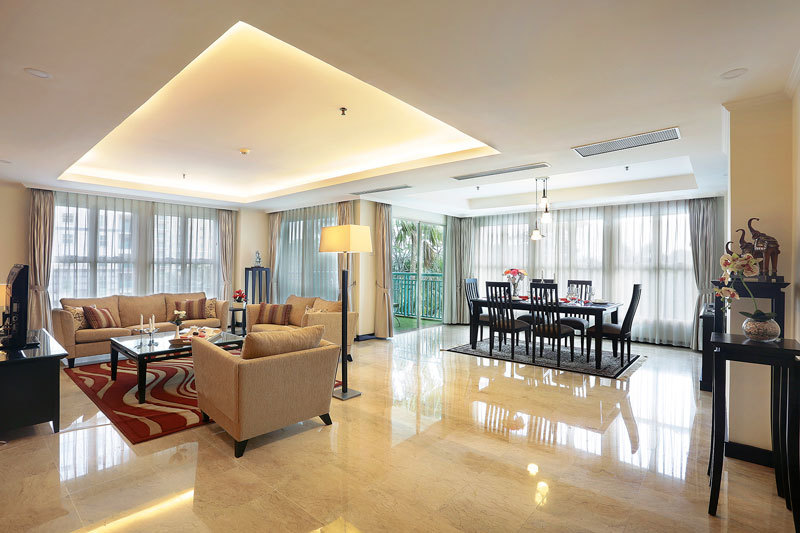 Consisting of three towers, namely the Jasmine Tower, Orchid Tower, and Lavender Tower, Pondok Indah Golf Apartment offers one to three bedrooms suites along with top-notch facilities including swimming pools, jogging and sprint running tracks, a mini soccer field, convenience stores, restaurants, massage and reflexology and children's playgrounds, to name just a few, ensuring a comfortable living experience.
If you happen to be a foreigner, and this is your first time being in Jakarta, this apartment complex will surely suit you given its strategic location nearby Pondok Indah Hospital, Pondok Indah Mall 1 and 2, the Pondok Indah Water Park, and a number of international schools. Visit www.piga.co.id for more details.
Executive Menteng
Located in the capital's upscale area of Menteng, Central Jakarta, this apartment provides hundreds of posh units consisting of one to four bedrooms and even presidential penthouses. All units have their own living room, dining room, kitchen, maid room, drying room, storage, bathrooms, and a balcony whereas the penthouses feature a private jacuzzi, barbeque area, and a master bedroom with a walk-in closet. How does that sound for living in comfort?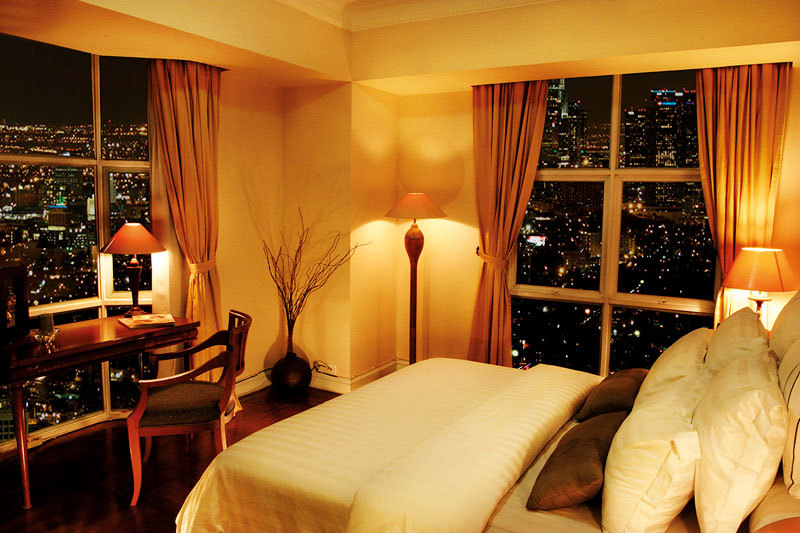 With an experienced staff ready to serve you 24 hours a day along with pampering facilities including among others a semi-outdoor swimming pool, outdoor jacuzzi, massage and sauna, beauty and hair salon, mini market, money changer and other recreation facilities, Executive Menteng knows exactly how attract and maintain the tenants' loyalty.
Living here resembles residing in a five-star hotel given the apartment's high-quality interior, such as the teak-made parquet flooring in the bedrooms and master bedrooms as well as imported marble flooring in the living room and dining room. But Executive Menteng offers more than just luxurious accommodation – it is an oasis of tranquility and peace. Visit www.executivementeng.com for more information.
Fraser
Known as Fraser Residence in Sudirman and Menteng and as Fraser Place in Setiabudi, these apartment buildings offer just about everything. Each complex features more than 100 spacious one to three bedroom units at its branches in Sudirman and Setiabudi, and a maximum of four bedrooms (penthouse) as well as studio apartments in Menteng.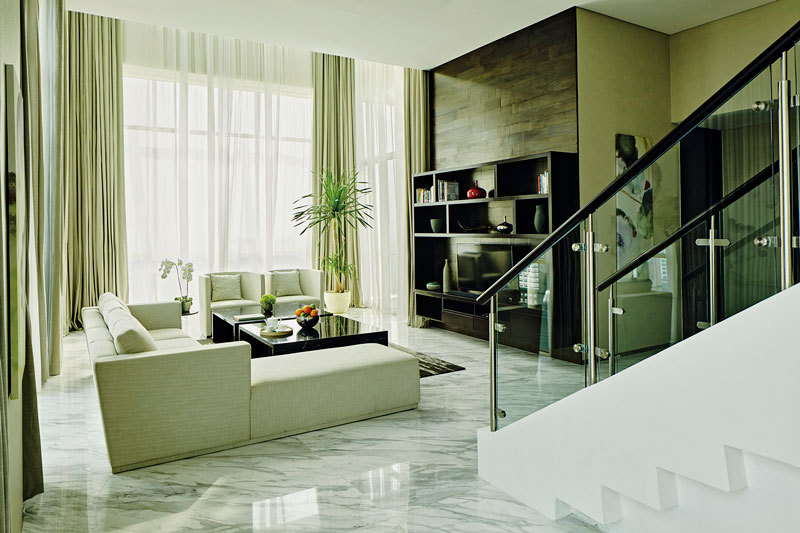 Boasting a fully equipped fitness centre, a large and picturesque swimming pool, a steam room and sauna, daily breakfast, a children's play area and other facilities, each one of the Fraser properties has attracted long-term tenants since opening. In contrast to many other apartment buildings in Jakarta, Fraser Residence in Menteng is one of only a handful of the city's high-class apartments where pets are also welcome.
Join Fraser World Member Exclusives to enjoy arrays of privileges such as up to 20 percent off for the best available room rate, up to 20 percent off for in-house food and beverage items, early check-ins and late check-outs, complimentary airport transfers, and more.
Go to jakarta.frasershospitality.com/en, setiabudi-jakarta.frasershospitality.com/en or menteng-jakarta.frasershospitality.com/en for more details.