In this city that never sleeps, for many of its residents, life evolves around busy traffic during the day and the ever-vibrant nightlife. It's easy to believe that Jakarta offers nothing more than grey, concrete existence for its ten million inhabitants.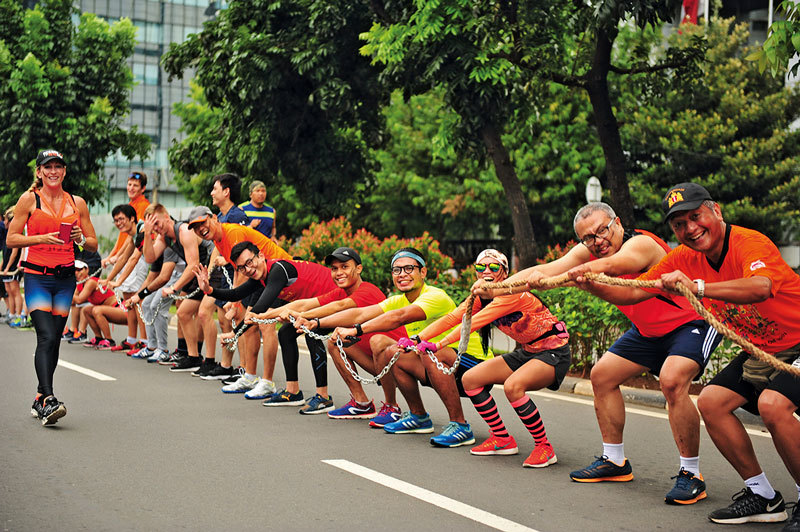 When it comes to getting their fitness fix, as custom in most metropolitan areas without solid options for outdoor activities and with maddening traffic, Jakartans rely on cold and unnatural commercial gyms.
Determined to make a difference, a new movement that promotes outdoor fitness-based communities is now gaining momentum. Thanks to the ingenuity of fitness industry professional Mike Brumby and his manager Pipit Djatma, the brains behind Mighty Warriors Bootcamp, more Jakartans are now benefiting from their interval training style that combines homemade equipment with body weight movements as their main exercises.
Previously known as Mike's Wellness Bootcamp, the community has grown bigger in size and more rigorous in training. It has also expanded in terms of locations. Its new name, Mighty Warriors Bootcamp, was intended to reflect the characters of its members.
"A warrior embodies qualities of strength, courage and determination", said Brumby, a certified Master Personal Training Specialist, Children's Fitness Specialist, Sports Conditioning Specialist and Nutritionist through AFPA (American Fitness Professionals & Associates) and Precision Nutrition who has also spent almost a decade teaching physical education in England, China and Indonesia. His goal as a wellness coach, Brumby said, is to be the best and to provide the best possible programs to suit each of his clients.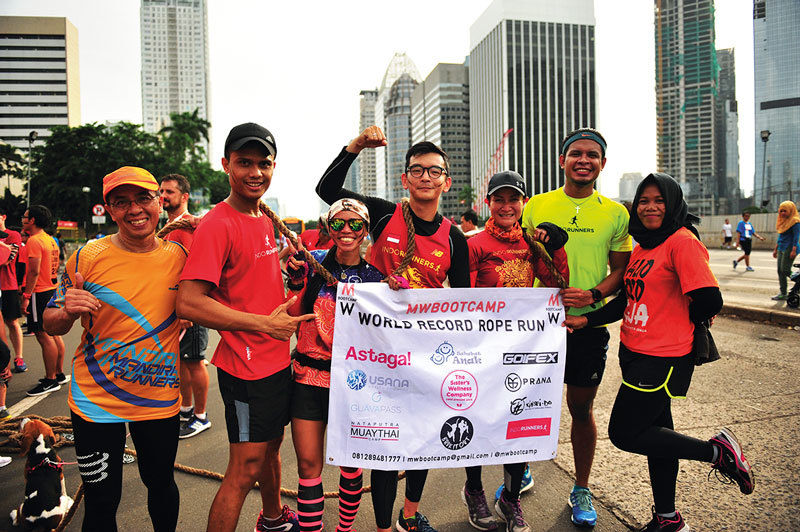 At Mighty Warriors, a team of certified coaches ensures proper execution and safety while progressively making the exercises more challenging, and every session different. Locations are carefully selected, and each session always involves fun games, as well as occasional BBQs and retreats. New members are warmly embraced, as the community strives to make everyone feel comfortable. The coaches also make it a point to create a sense of camaraderie among the participants.
From a single coach just over a year ago to a total of nine coaches now – Jacopo, Reza, Anna, Jill, Aaron, LJ, Annissa, Jen and Mike himself – the growth of Mighty Warrior Bootcamp is a reflection of the founders' visionary brilliance. The coaches come from different backgrounds – teachers, gym instructors, CrossFit coaches and general fitness enthusiasts – but share the same passion for rigorous training. Thanks to this eclectic mix of dynamic skill sets, no training is ever the same.
Beginning with a session at Ragunan Zoo in South Jakarta, the message has since spread rapidly by word of mouth. In no time, people began flocking to the bootcamp, and by now, the number of people attending its Sunday morning classes has averaged more than 40. From then on, schedules and locations have consistently expanded.
Despite his upcoming plan to relocate to Surabaya in August 2017 to take on the role of physical education teacher and Athletic Director at an international school there, Brumby maintains his commanding presence as founder. Mighty Warrior Bootcamp will continue to run under the guidance of Head Coach Jacopo, as Brumby plans to make regular trips back to Jakarta to assist in the coaching.
MW BOOTCAMP Class Schedule
Tuesday: Taman Suropati 7 PM
Wednesday: Bintaro Xchange 7 PM
Wednesday: Sekolah Global Jaya, Bintaro 5-6 PM
Saturday: Monas 6:30 AM
Sunday: Ragunan 7 AM (+Mini Warriors)
www.mwbootcamp.com
Text by Nineth Rachma; Photos courtesy of mighty warriors