As we drove away from Batam airport, it was hard not to remark—appreciatively—at the quiet surroundings of the city. The short drive to Montigo Resorts was along an undulating road, flanked by trees under a relatively cloudy sky. There was a certain freshness in the air and one can't help but inhale it deeply when driving along. My lungs were deeply grateful.
Pulling into the hotel one is greeted by that distinctly Indonesian hospitality that we've all come to love. We're driven to our very private, recently constructed studio. Montigo Resorts has recently opened its studio rooms which are perfect for singles, couples or very small families.
Just 30 minutes away from Singapore, the sprawling resort's architectural expanse of white overlooks the wondrous deep blue of Nongsa waters. There is an air of exclusivity about the place, and one feels it immediately.
The spacious studio rooms have plenty of space to spread out and relax. Equipped with a personal swimming pool and a lounge area these rooms provide the perfect space to unwind and just cocoon oneself when on holiday. Take in spectacular views of sunrise over breakfast tea or a beverage of choice from the comfort of the lounge chairs or the small infinity pool.
The blue waters of the Nongsa during the day time are specked with ships moored off the Singapore coast, and against the backdrop of the resort, with its swooping white walls and modern European design with specs of blue, gives it an almost Greek appearance. At night, these ships, with their gleaming lights appear like little jewels on the sea.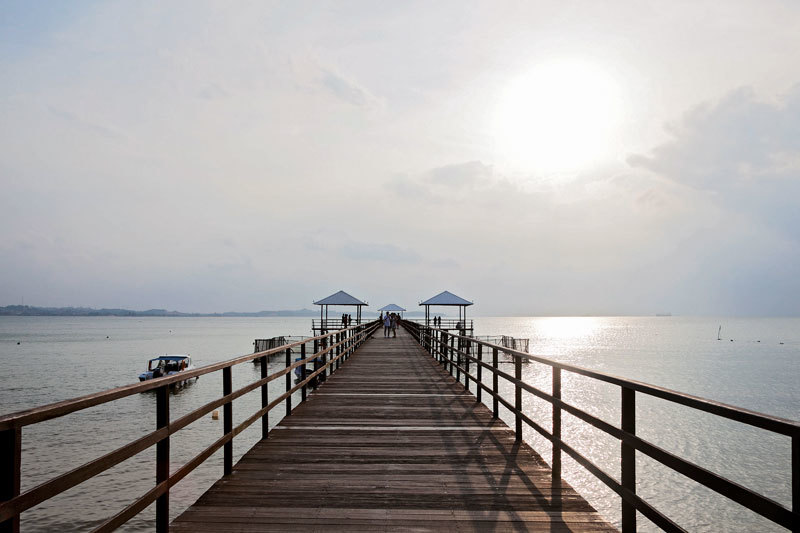 Most of the resort is fitted out with villas that are perfect for larger groups or families. Fully equipped with kitchenettes and multiple rooms, these are the ideal home from home. And some even have furnished rooftops from which to look out at the vast ocean - and perhaps enjoy a bit of evening entertainment too.
Montigo Resorts is the sort of place you can go into and park yourself for the duration of your visit without needing to leave its plush confines.

Buggies, driven by incredibly friendly and very professional, liveried staff, ferry guests around the vast area. You could, of course, walk, but the distances and the maze of the layout take a little getting used to. Besides, it's fun to have a conversation with the buggy drivers, all of whom speak fluent English, albeit with a Singaporean accent.
You'll be ferried to breakfast, which is served in the main restaurant, Tadd's. After a bit of an indulgence from the vast selection of western and Indonesian staples, take a walk back to your villa or suite. There are also a range of activities including sea sports, fishing on the pier or archery. These are all guided and some of these activities are quite a bit of fun.
What is particularly stunning is the resort's pier area. Extending a bit into the sea, it's best explored at high tide in the late afternoon when one can walk up the entire length and take in spectacular views of the sea or, from the other side, the resort in all its magnificence. They're both equally a sight to behold, and of course are the perfect backdrop for your well-curated Instagram photographs.
There's always something going on at Montigo and guests are certainly spoiled for choice. Among the dining options at night is Tiigo. Located at the mezzanine level between the beach and the upper reaches of the main dining area, this is a hip space with BBQ facilities where, every weekend, guests can enjoy an array of treats right off the grill complete with pizza and a host of drinks, too.
All this gastronomic indulgence calls for a bit of exercise and with a 24-hour gym there isn't much excuse. And if your muscles tighten up too much, why not indulge in a bit of a spa treatment - which offers a range of scented oils that you choose for your therapist to use.
Depart when you must, but, as a member of staff told me on departure, "There's something about the water here. Drink it and it's believed you'll return." I cannot wait!