The brand new property from AccorHotels, Pullman Ciawi Vimala Hills Resort, Spa, and Convention is a five star property offering a holistic experience for those looking for a relaxing and soothing excursion outside the capital.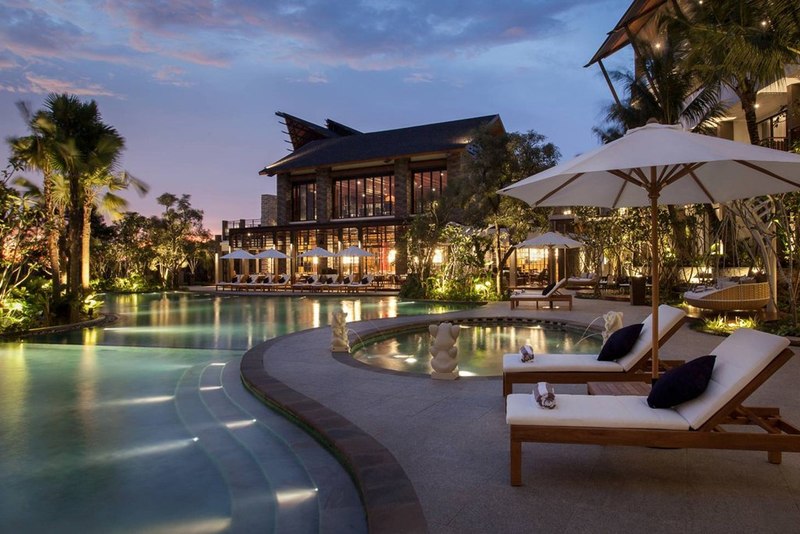 Located at Jalan Raya Puncak, Bogor, the first-class nature-friendly resort is within easy reach from the capital as well as accessible from other vacation spots around Puncak and Bogor, West Java. The resort offers stunning natural landscape surrounded by three majestic mountains: Pangrango, Salak and Geulis. Inspired by the wealth of nature, Pullman Ciawi Vimala Hills Resort, Spa and Convention is the perfect getaway form the hustle and bustle of the capital city with amenities that promise to bring the guest ever closer to the harmonious mountain atmosphere.
The property is built in stylish and modern design, perched at an altitude of 600 meters within a 10-hectare land fully integrated from Vimala Hills Villa & Resort, a residential area popularly known as a soothing haven of lush garden & flower hills, mini zoo & horse ride, fishing pond, and outbound retreat, just to name a few.
Designed by Wimberly Allison Tong & Goo (WATG), Pullman Ciawi Vimala Hills Resort, Spa and Convention introduces guests with an endless view of the entire surrounding panorama. With personalized services and innovative technologies, the partially-opened 208 rooms and soon-to-open 21 villas are dedicated with the perfect setting for quality time enjoyment with the loved ones.
As the guest arrive at the resort, they could be pampered with world-class amenities including restaurants, stylish bars, ballrooms, meeting rooms, gym centre, spa treatment and jogging track with fit trail equipment. For those looking for family retreat during the stay at the resort, the tranquil swimming pool with Kids Playground is available at the resort.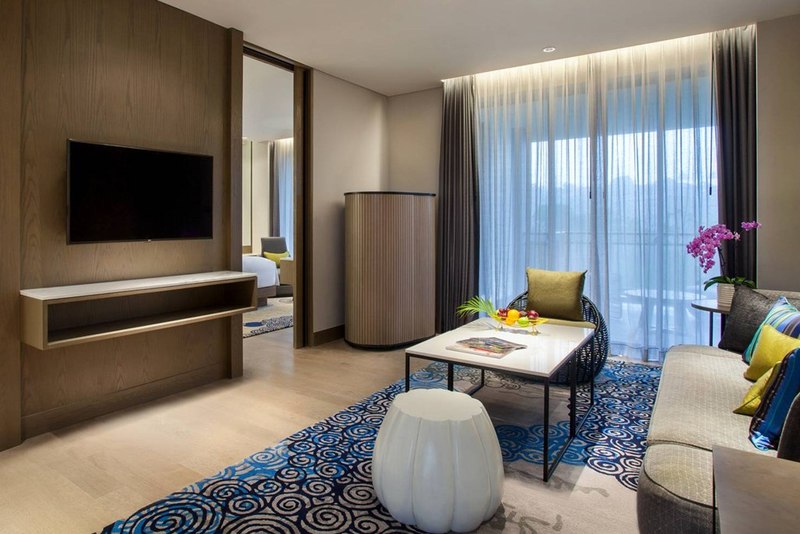 The 42-meter square rooms and villas have an elegant design with the touch of Indonesian artistry, ornamented with a furniture and artwork from Indonesian artists. The guests have direct access to spacious balcony with the magnificent view of the mountains, paddy field, herb gardens, comfy beds, bathroom with rain shower, up to 60-inch LED Interactive Technology TV, and Wi-Fi.
The culinary department at Pullman Ciawi Vimala Hills offers menu selections of a vibrant all-day dining, a convivial steakhouse, two casual lounges, a pool bar and a 24-hour In-Room Dining service for breakfast, lunch, and dinner. The hotel's culinary team also serve thoughtfully created organic menu of local delicacies to international favourites, all prepared with a constant quality and freshness of the locally ground ingredients.
In addition to a leisure experience, Pullman Ciawi Vimala Hills Resort, Spa and Convention also caters to any MICE needs, including various event and activities. The resort provides two ballrooms and five meeting rooms, accommodating up to 1,300 people. The ballrooms and meeting rooms are equipped with the latest audio-visual system with natural lighting and direct views of Mount Salak.
Lovebirds could celebrate their love here as Pullman Ciawi Vimala Hills Resort, Spa and Convention provide endless possibilities and uncompromising sophistication of fairy tale setting for a dream destination wedding. Whether indoor or outdoor, the resort is in the business of providing an elegant and intimate exchange of vows, an exquisite ceremony, as well as a beautiful reception.
On its opening buzz, Pullman Ciawi Vimala Hills offers staycation experience at its Deluxe room, start from IDR 1,210,000 nett per night (room only). In the upcoming instant getaway, Pullman Ciawi Vimala Hills Resort, Spa, and Convention may be your the next choice for vacation without having to worry about anything else.
Pullman Ciawi Vimala Hills Resort, Spa and Convention
Jalan Raya Puncak, Gadog, Megamendung
Bogor, West Java
T: +62 251 830 6888
E: [email protected]
IG: pullmanciawivimalahills
FB: pullmanciawivimalahills
www.pullman-ciawi-vimalahills.com