The smallest and least developed of the Gili Islands, Gili Meno is known for its idyllic beaches, protected coral reefs and as a safe haven for the island's growing turtle population. BASK, a new villa resort development set to open in 2018 on Gili Meno, aims to elevate the standard of luxury island living to the next level.
At the recent groundbreaking ceremony, guests and potential investors were introduced to the unique concept of BASK that promises a one-of-a-kind experience, be it art, culture or dining.
"We are going to be a luxury accommodation, and there is nothing like this on the island yet. Sometimes we crave for some extra quality, and this is what BASK is all about," said Mariusz Mierzejewski, General Manager Sales and Marketing.
The award-winning design of this new resort stems from a collaboration between BASK's creative director George Gorrow and Gary Fell from Gfab Architects.
"The design is very environmentally-friendly," said CEO and founder Greg Meyer. "We will also be doing some coral reef rejuvenation around the area here, because we want to be very sensitive in regard to the environment whilst creating something unique - we want to create original, authentic and good things."
He added that environmental consciousness was one of the most important factors in terms of the resort's design.
"A ground tank will capture the water to reduce consumption from the mainland and other external sources," Mariusz explained.
Additionally, a zero waste policy will be implemented, and the resort also aims to establish the Keep Gili Clean committee, which aims to monitor and maintain ecological integrity by collaborating with local authorities.
BASK will comprise of 87 villas, outfitted with furnishings crafted by local artisans. Available in studio, loft, two and three-bedroom arrangements, the open-plan accommodations benefit from the natural beauty of the island, as the villas are located beachfront, lakeside or nestled amid the lush grounds of the resort.
The Beach Club will feature a 43-metres long infinity pool, a cocktail lounge and beach bar. Here, guests will be able to enjoy a variety of organic dishes that also include Indonesian cuisine.
"It's also part of us creating an offering for Asian and Indonesian customers who come here for holiday," Greg said. "I realize that they want to have some Indonesian food as well. My vision is to have some classic Indonesian dishes and more modern fusion food, all done exceptionally well."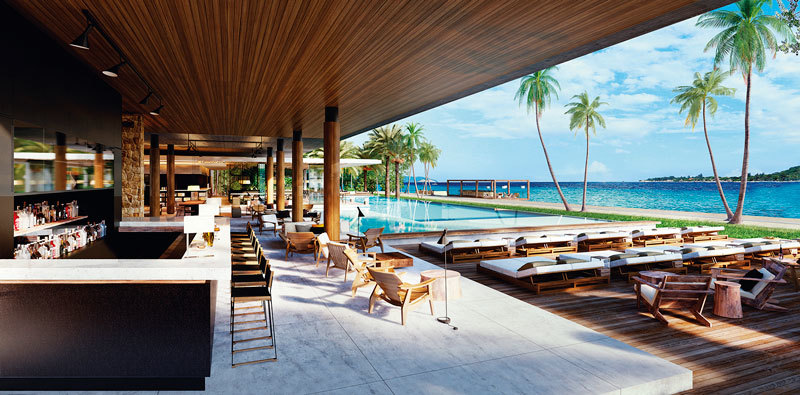 Meanwhile, those looking for the ultimate wellness experience can retreat to the resort's spa.
But there are many more activities on offer: from diving at one of the dozens of world-class dive sites which are easily reachable from the resort to snorkelling in the warm crystal clear waters and surfing.
Guests can also glide across the island's turquoise waters in a canoe or kayak, hopping from one uncrowded and untouched beach to the next, or experience BASK's custom-made paddle boards that gives them the opportunity to explore the island on their own pace while getting in a workout for arms, legs and core at the same time. Fishing charters operate in and around Gili Meno, catering to fishers of all kinds, from beginners to veterans.
While Gili Meno is heavy on water sport activities, one can always hop on a boat to visit the neighbouring islands when looking for something else to do. Lombok, for instance, is home to two world-class golf courses, while it also offers hiking treks up and around the stunning Mount Rinjani.
Back on Gili Meno, BASK also houses "Nest", a stunning piece of underwater art by globally renowned artist Jason deCaires Taylor, that can be found 40 metres from the resort's beach club.
"The underwater sculpture I've created exclusively for BASK features a ring of interlocking figures designed to nurture native marine life," the artist said in a statement. "Promoting fertility and the genesis of natural beauty, its shapes and colours evolve through the seasons as it attracts a wealth of coral, sponges and diverse sea creatures to the waters just off the BASK Gili Meno beachfront."
BASK Gili Meno is now available for ownership. For more information, visit www.baskgilimeno.com
HOW TO GET THERE
By airplane: From Lombok's airport, it takes approximately 1 to 1.5 hours to reach BASK. Lombok's international airports provides local and international flights with the following airlines: Garuda Indonesia, Citilink, Lion Air, Batik Air, Wings Air, Air Asia, Singapore Airlines and Silk Air.
BASK Boat: BASK is building their own fast luxury boat to service the resort, which will decrease travel time. The boat is air conditioned, and guests can enjoy entertainment and an array of food and beverage options on board.
By helicopter: There is a 40-minute helicopter route offering regular service from Bali to Gili Trawangan and, in the future, Gili Meno.