Officially opened in 2012, Pandawa Beach was once considered one of Bali's "secret beaches." With the opening of an access road, facilities have been developed in this beach hidden behind limestone cliffs in South Bali. Roosterfish, the first beach club in the area, offers plenty of ways to enjoy this pristine piece of shoreline.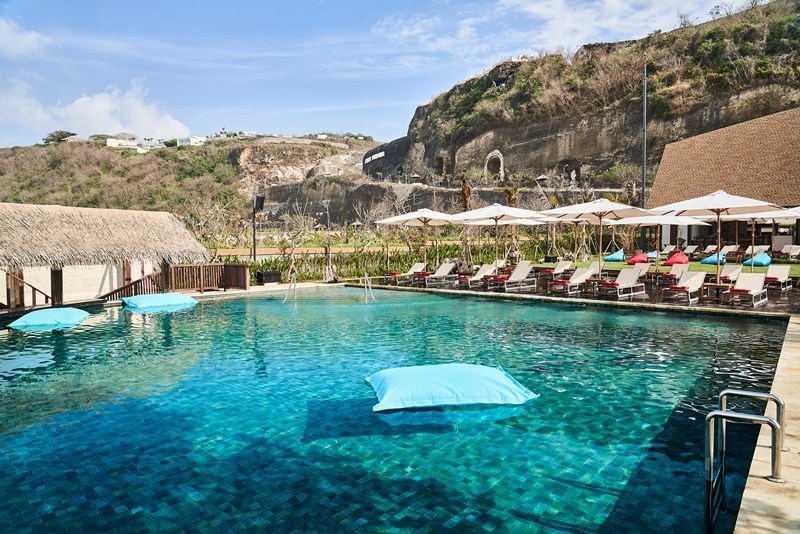 Officially opened in November 2018, Roosterfish Beach is a chic resort featuring icy drinks, buckets of beers, and a spot to relax in Bali's sunny climes. Soak in the rays or swim up to the pool bar and enjoy a relaxing time here.
The opening weekend involved a Bohemian Sundown Party where Roosterfish (whose name was chosen to showcase how the club has fused land and sea elements through its location, fresh ingredients and ambience) brought in of public figures such as Georgina Wilson, former Asia's Next Top Model judge, as well as Indonesian celebrities such as Nana Mirdad, Andrew White, Richard Kyle, Indah Kalalo, Nina Kozok, and Chef Priscilla. Performances by Sandrayati Fay, local punk band The Hydrant and house music by Sunset People Project were indicative of the kind of entertainment guests can enjoy here.
With its direct access to the beach and free entrance, guests can stop in after a canoeing expedition or taking photographs at the Panca Pandawa statue. Located within a 10-minute drive from Renaissance Bali Uluwatu Resort and Spa Bali, resort guests can visit the beach via a free shuttle service.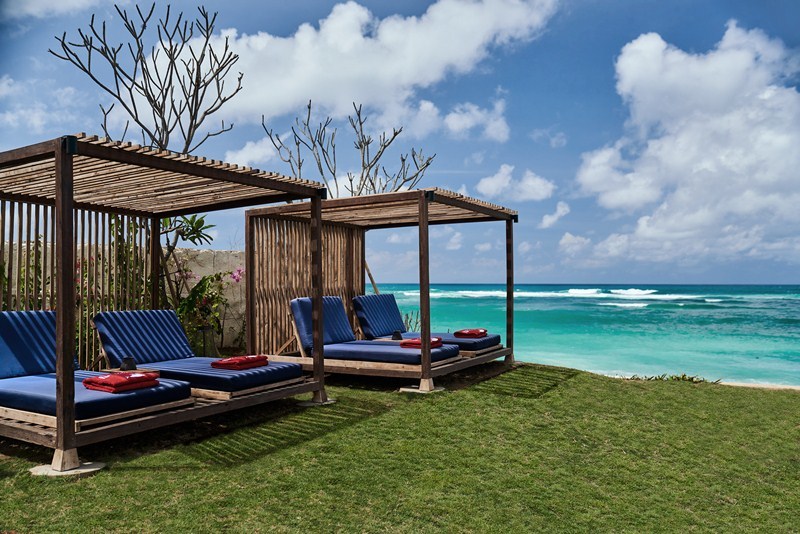 Brad Edman, General Manager of Renaissance Bali Uluwatu Resort and Spa said that Roosterfish is created for everyone who wants to have fun and make new connections. Inspired by the same concept of Renaissance Bali Uluwatu Resort and Spa, Roosterfish offers guests friendly service in a space that is aesthetically appealing and enjoyable.

"It's the first beach club located here and it has been a favourite beach club in Pandawa Bali. Roosterfish is all about playful experiences. It's fun. It's not pretentious. We're not trying to be luxurious," Edman said.
Entering the beach club, guests are welcomed by breathtaking views of the sea, white sand, blue sky and cliffs—all facing the Indian Ocean. Natural wooden architecture design with high ceiling creates relaxing atmosphere as the sea breeze directly exposed semi outdoor area. Private cabanas and an infinity pool are also on offer, with views of the ocean.
Roosterfish is more than just prime location and magnificent Indian ocean view. Its wide array of scrumptious food and beverages is one of reason to stay and hang out at the beach club. One can hang out in the open dining area or sit in the bar table and enjoy some friendly banter with the chefs and bartenders.
Led by Chef Danang Wijanarka, who has more than 18 years experience in food production, Roosterfish serves cocktails, signature oversized drinks, big buckets of Bali's coldest beers and refreshing homemade juices.
A variety of snacks, fresh salads, Balinese favourites and grilled seafood cooked in an outdoor barbeque pit are available. Diners can also enjoy pizza cooked in a wood fired oven and indulge in delectable beach style cuisine at prices starting from IDR 55,000. There are no minimum charges.
For those looking for a more tropical meal, the Ceviche is the best choice. The signature mix of avocado, tomato, cilantro, jicama, onion, chilli, fresh lemon & lime is a burst of flavour. The Roosterfish Platter features proteins from both land and sea and includes Betutu spiced rooster, banana leaf baked baby snapper, thick cut chips, and roosterfish sambal. One can choose the chef's crafted pizzas where toppings include spiced lamb, Italian meatball, chili crab and prosciutto. Roosterfish Nasi Goreng, is also a recommended option.
At the bar, one can enjoy spirits and cocktails such as Bloody Scary Mary, pepper infused Absolut vodka, lemon juice, Tabasco, red chili sambal, tomato juice, with Balinese sambal spiced salt along the rim. There's the Espresso Martini, an infusion of caffeine and alcohol. A mix of Vodka, Kahlua, and Espresso created by Dick Brassal, this is a version of the drink created at Soho Brasserie in 1993.
Local ingredients go into the 5-Spiced Mojito, a cocktail made of Myers Rum, freshly squeezed lime juice, fresh mint leaves, dashes of Angostura bitters, and 5 spice mojito water. For those looking for light, daytime beverages, there's Glory Fizz, a refreshing blend of apple juice, basil, cucumber syrup, citrus and 7up.
The beach club can also host gatherings, private parties and wedding receptions for up to 1,500 guests (standing) or 300 guests (seated).
Roosterfish Beach Club
Jl. Pantai Pandawa, Kutuh,
South Kuta, Badung, Bali
Open from 10 a.m. to 7 p.m.
+62-361 2003588
www.roosterfishbeachclub.com