Le Meridien Jimbaran Bali is tucked away halfway down the beach right next to the amazingly popular seafood restaurants, and is ideally located for access to the South: Uluwatu, Nusa Dua and Garuda Wisnu Kencana, and the North to Kuta, Legian, Seminyak, as well as being very convenient for the airport.One of the best, safest and most popular beaches in Bali, Jimbaran Bay, is home to a gem of a hotel, and a hidden secret.
Of course Le Meridien cuisine and service are as always impeccable, but it's up on the skyline that there are a few surprises! Villas! Yes, the designers and architects had a burst of inspiration during their planning and decided that rather than penthouses or duplexes, they would place villa structures on the rooftop, giving a whole new concept of luxury living to the hotel industry, the Sky Pool Villas.
Opening from the rooftop in their own dedicated doorways, the villas comprise spacious living and sleeping areas, beautifully laid out and furnished. They have ensuite bathrooms of significant proportions plus a great Jacuzzi right in your room! Great idea for those on honeymoon or a romantic getaway.
Outside on your private terrace is a private plunge pool, a bit small for swimming but still a pleasure to drop into and a great place to relax.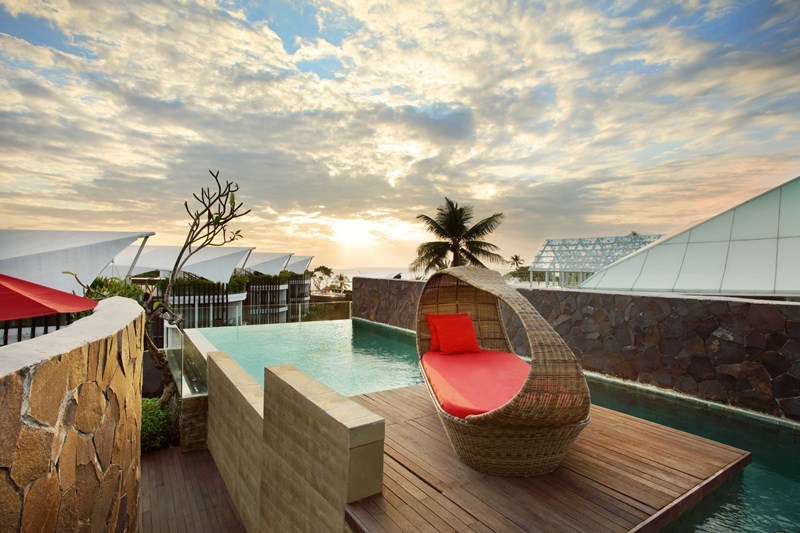 It's a marvelous feeling to be in your own villa, away from the crowds, but still right in the hotel. Try a Sky Pool Villa next visit, it may be the answer to your privacy and relaxation.
For more information please log on to: www.marriott.com/Le_Meridien/Jimbaran