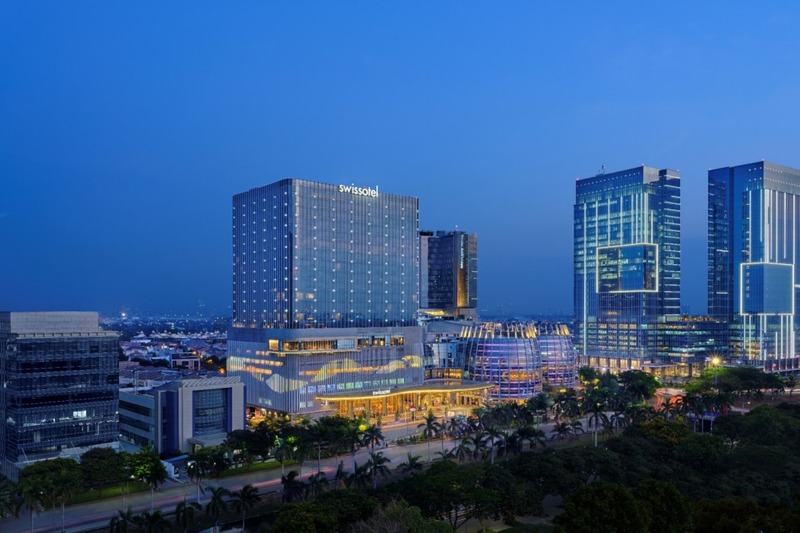 It's the first Swissôtel brand situated in the capital with an exclusive access to five-star quality service and the finest personal experience for the vitality of well-living. Inspired by Swiss design, the hotel is established with a sleek interior and a list of amenities that raises one's quality of life.
First opened its doors in October, the Accor-operated hotel is located within only 15 minutes from Soekarno-Hatta International Airport and has direct access to Jakarta Toll Road that makes one business at ease.
Entering the hotel, hoteliers will welcome guests with warm greetings showing personal service at the highest level. Stop by at Brownmilk, the only culinary destination in the area that serves freshly baked pastries, crips salam, deli-style sandwiches, and beverages including coffee and the with 24-hours service. The hotel's lobby lounge is a comfortable spot for those waiting for their business meetings or asking for privileged service.
The Swiss service is reflected in the room specifically designed in custom. The modern amenities complete the personal experience with a warm atmosphere from the wooden wall finish and glass mirror that accentuate the interior in the room. Built with high technology room facilities, each corner will carry one's attention to a sleek design that people could ask for from the Swiss signatory properties. Inside, guests could find cosy bedding, coffee machine, IPTV, and high-speed internet access that is very useful one executive who have to stay connected.
Swissôtel invites guests to enjoy a semi-outdoor establishment, Summer at the Pool, an urban oasis restaurant and bar that provides an array of the creative menu ranging for light bites to entree for one sun-kissed lunch and casual dinner by the pool. At the helm of Chef Edi Pancamala, the restaurant bar serves a curated menu with vitality in mind that considers the value of good eating.
Stop by at The Chinese National, a one-stop culinary establishment at the hotel that provides an option for patrons to taste a fine Asian and Chinese-inspired cuisine including its speakeasy bar for guests to have a private time enjoying creative cocktails.
The hotel's Convention Centre is taken to another level with comprehensive facilities including dining, a ballroom that accommodates up to 3,000 guests, nine meeting rooms, an amphitheatre, two lounges, all inside the modern vibrant spacious area for multifunctional purposes. Pürovel Spa & Sport is the wellness destination that invites guests to recharge the body and mind. Next to it, one could workout using top quality gear or host yoga class overlooking the urban oasis.
Adorning every corner with stained artwork, the hotel is designed with a functional matter that could raise the quality of living for anyone who comes by.

Swissôtel Jakarta PIK Avenue
Jalan Pantai Indah Utara 1, Kapuk Muara
Penjaringan, North Jakarta
T: +62 21 2257 1188
IG: @swissoteljkt
FB: @swissoteljkt
www.swissotel.com