Bali is famous for its rich culture and rituals, with Nyepi - the New Year for Balinese - being one of the most important festivals of the year. However, Nyepi is not only for Hindus or Balinese as it involves an island-wide purification, meaning that all islanders are in this together, with no exception. They go into silence for 24 hours straight while reflecting the 'Four Nyepi Prohibitions', which include 'no fire, no travel, no entertainment, and no noise'. From 6 AM to 6 PM, life on Bali will come to a complete halt.
Some visitors tend to avoid travelling to Bali during Nyepi, mostly due to the restrictions during the 24 hours of silence. But the magic of Nyepi is so hauntingly blissful that it must be experienced at least once in a lifetime. For those who are keen to spend Nyepi in Bali, there are more than enough hotels and resorts that cater to guests during this important period.
Nusa Dua Beach Hotel & Spa
This 5-star hotel is infused with the culture and traditions of Bali, as well as the graceful hospitality of its people - a perfect getaway for Nyepi. Unfolding elegantly over a spacious ground, with beautifully manicured gardens, exclusive enclaves and tropical grandeur, Nusa Dua Beach Hotel & Spa can be an alternative if you decide to stay in Nusa Dua area.
The Nyepi package is only IDR 1,650,000, including daily international buffet breakfast, one time buffet dinner, free access to the kids club, gym, steam, sauna, other spa facilities and in-house facilities.
Sofitel Bali Nusa Dua Beach Resort
You can experience the serenity of Nyepi in a sumptuous indulgence of Sofitel Hotels & Resorts. Pamper yourself in a fine blend of French elegance and unique Balinese culture at this lavish 5-star beachfront resort with gorgeously-landscaped pools and gardens against an immaculate stretch of white sand bordering the Indian Ocean.
The resort's Peaceful Nyepi Escape package includes the daily buffet breakfast, one time lunch and dinner for two.
Ayana Resort and Spa Bali and Rimba Jimbaran Bali
On Nyepi Eve, guests are invited to participate in the Ogoh Ogoh ceremony. Afterwards, the celebrations will continue with a delicious buffet feast at Kampoeng Bali accompanied by a traditional Balinese dance performance.
On the 28thof March, as Silent Day commences, guests can enjoy their day relaxing by the pool or indulging in a luxury spa treatment. Included in the package is a 2-hour Aquatonic Seawater Therapy Pool Treatment. Later in the evening, guests will be invited to enjoy a "star grazing & gazing" dessert style picnic on one of the resorts' magnificent grassy lawns. Breakfast on both mornings, plus a two-way airport transfer is also included.
http://www.ayana.com
http://www.ayana.com/bali/rimba-jimbaran
Four Seasons Resort Bali
As the world's leading operator of luxury hotels, Four Seasons Hotels and Resorts invites its guests to experience Nyepi with the Limited Time Offer, available at both Four Seasons Jimbaran Bay and Four Seasons Sayan in the highlands of Ubud.
Guest can enjoy 30% off the already best available rates as well as a bonus of 1 million Rupiah resort credit per villa per day, and return airport transfers. Both resorts in Jimbaran and Ubud offer an extensive range of complimentary on-site activities. This offer is valid until 4 April.
The Anvaya Beach Resort Bali
Owned and managed by Santika Indonesia Hotels and Resorts, The Anvaya Beach Resort offers the latest in luxury, with world-class facilities and service, a variety of accommodation choices as well as authentic architecture and interior design.
Their Nyepi package is inclusive of a stay in a Deluxe Room, one time lunch and dinner of Asian and Western dishes for IDR 1,700,000 per room per night. Their recreation team has prepared a host of uplifting activities, from water polo games and football to Balinese uniform competitions and traditional Balinese 'canang sari' making.
www.santika.com/indonesia/kuta/anvaya-beach-resorts-bali
Hard Rock Hotel Bali
Be mesmerized during the Day of Silence at Hard Rock Hotel Bali. Witness the famous Ogoh-Ogoh Parade, Melasti Ceremony and Kuta Beach's festivities. Ring in the Saka New Year 1939 with a range of exciting activities specially prepared for Hard Rock Hotel Bali guests.
The package includes daily breakfast and one time Nyepi Set Lunch for 2 adults and 2 children under 12 years old. You can also enjoy other complimentary features, such as in-room blockbuster movies, the all you can read digital newsstand and free access to Body Rock Fitness Center. Further discounts are available in all outlets of Hard Rock Bali Cafe & Hotel and at Jamie's Italian Restaurant.
Jambuluwuk Oceano Seminyak Bali
Located within walking distance from the trendy shopping, food, leisure and nightlife hub of Seminyak, this hotel offers its guests its special Nyepi The Night Package at Jambuluwuk Oceano. At IDR 2,500,000 per night.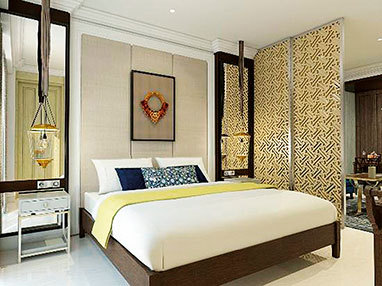 You can enjoy daily breakfast and lunch at The Clubhouse in the rooftop and dinner at Ayung Pool Terrace. Further discounts of 20% awaits at Melah Spa, the health club and all food and beverages.
W Retreat & Spa Bali – Seminyak
If you want to spend Nyepi in style, W Bali Seminyak might be the place for you. Before the silence begins, you can dive into the landscape tropical WET pool which sets the scene for a stay in paradise. Balance your soul at the 24-hour fitness center. Cool down after the beach and treat yourself with a visit to AWAY Spa. Dine at the world-class restaurants before socializing the night away in the lounge.
Observe, reflect, and stargaze within a landscaped paradise at W Bali – Seminyak. Enjoy a special rate of IDR 3,500,000 available from 27-29 March 2017, inclusive of unlimited access to FIT fitness center and access to Hamam, Hot & Cold Plunge, and Detox Chamber at AWAY Spa.
Alila Seminyak, Bali
Combining innovative design and luxury in unique locations, Alila Seminyak has reached an unprecedented level of private space, crafted artisanship, personalised hospitality and bespoke learning journeys.
Their Nyepi package starts from USD 590++ per night including daily breakfast at The Restaurant, a free upgrade to the next room category, one time 60-minute spa treatment, one time lunch and dinner on the Nyepi Day, and daily yoga class. This package is exclusive for Indonesian residents and KITAS holders, valid for check-in on 27 March 2017 for a two-night stay.
Padma Resort Legian
Encompassed within a tropical landscape overlooking Bali's legendary sunset Legian Beach, Padma Resort Legian offers a 2-night stay package in their classic Deluxe Room at IDR 3,490,000 nett. Guests can expect to join Ogoh-ogoh parades around the resort or participate in daily activities such as Vinyasa Yoga, zen water aerobics, bowling games, volleyball, and the Hotel Temple Hour.
As for its sister hotel, Padma Resort Ubud offers a 2-night stay package in their Premier Room at IDR 3.999.000 nett. In this resort, guests may join yoga classes, Balinese conversation class, animal feeding or cookies decoration. During Nyepi, guests are still allowed at the dining venues and other facilities in the resort while keeping the light and noise to a minimum level. Both packages are only valid for a stay period of 27-29 March 2017, inclusive of daily breakfast, one time lunch and dinner for 2 adults, valid only for Indonesians and KIMS/KITAS holders.
The Royal Purnama
Situated oceanfront on the southeast coast of Bali, The Royal Purnama Art Suites and Villas offer a beautiful and tranquil setting between lush plantations and the glittering black crystal sands.
For Nyepi, guests can enjoy a Silent Day package starting from IDR 6,955,000, including a return airport transfer, daily a la carte breakfast, one time set lunch and dinner for two at Standing Stone Restaurant, a 45-minute Balinese massage at Black Sand Spa, a free shuttle tour to Sanur and Ubud area as well as other property benefits.
Elephants Safari Park Lodge
Surrounded by the well-preserved tropical forest ecosystem in the ancient Village of Taro, Elephant Safari Park & Lodge features six types of safari-style accommodations with twenty-seven elephant-inspired luxury lodges. Celebrating Nyepi,
The Elephants package costs IDR 4,250,000 for couples or IDR 4,950,000 for families with 2 adults and 2 kids under 12-year-old. The package includes Garden View, entrance fee to Elephant Safari Park, museum & gallery, tickets to the elephant talent show, daily breakfast at Mammots Head Bar &Lounge, one time Elephant Safari day ride, one time lunch and dinner, one time afternoon tea and many more.
http://www.elephantsafariparklodge.com
Maya Ubud & Sanur Resorts
Maya celebrates Nyepi by offering a special rate of IDR 2,950,000 in the Superior Room of Maya Ubud Resort & Spa or the Deluxe Garden View Room of Maya Sanur Resort & Spa.
Maya's design is a combination of new and traditional concepts, making it a perfect place to stay. Both resorts' Nyepi packages are inclusive of breakfast and one time lunch for two, a discount of up to 20% on F&B in all outlets and free access to the fitness centre in Sanur and yoga class in Ubud.