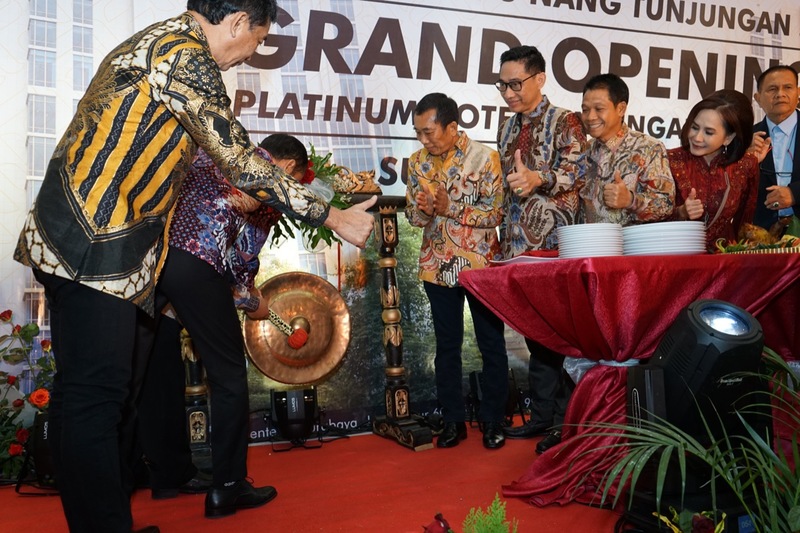 Surabaya, the 'City of Heroes', welcomes a fine new addition to its collection of hotels as the Platinum Hotel Surabaya officially opened its doors on 29 May 2022. Operated by PT. MIL Platinum Bersaudara in partnership with SES Hospitality, the new hotel offers guests a fresh ambience and unique stay experience, becoming a new MICE landmark in the city.
Nestled on the historical golden triangle of Surabaya, the opening of this new property aims to help the government's attempts to revive Indonesia's tourism industry. The hotel boasts an impressive 292 rooms of various sizes and types, including 83 Business Rooms, 130 Deluxe Rooms, 36 Junior Suites, 33 Executive Suites, 9 Family Suites, and 1 Penthouse.
Additional facilities include the Infinity Sky Bar perched up on the 14th floor, 18 Meeting Rooms, the Palladium Ballroom with two Videotrons (sized 4,2m x 2,7m), and the Barium Karaoke Lounge with a Videotron (sized 3,1m x 1,9m). The hotel also provides guests celebrating weddings at the Platinum Hotel Surabaya with Alphard car service, as well as pick-up and drop-off services for guests visiting Tunjungan Plaza Mall.
The hotel presents itself as an idyllic choice for accommodation in Surabaya as guests will be catered to an exceptional stay experience. Its strategic location is only a 45-minute drive to Juanda International Airport, a 30-minute drive to the bus terminal, a 5-minute drive to Gubeng Train Station, a 10-minute drive to RSUD Dr. Soetomo and Siloam Hospital, a 10-minute drive to historical monuments, a 15-minute walk to Tunjungan Plaza Mall, and a 2-minute walk to Genteng Market. The hotel is also in close vicinity to tourist attractions including Submarine Monument, Alun-Alun Surabaya, Surabaya North Quay and more.
As a MICE hotel, the Platinum Hotel Surabaya strongly supports all Regional and National Government programmes that aim to revitalise and boost Indonesia's tourism sector. "We are pleased to announce the opening of the newest MICE hotel and facilities in Surabaya. With this brand-new property, Surabaya will be positioned as one of the most exciting and dynamic MICE destinations in Indonesia. This opening is also a great opportunity to broadcast the know-how and products of small and medium businesses by having modern amenities with a touch of East Javanese art," said Sri Nurhamsa, General Manager of Platinum Hotel Surabaya.
SES Hospitality is a white label hotel management company that aims to establish and fulfil clients' operational and financial goals. SES Hospitality's Executive has over 20 years of experience in the region at an international level and implements excellent governance principles and operational ideals, which are key to achieving successful hospitality management. The company strives to be an owner and guest-focused hospitality management company.
For more information please contact:
Devi Pujayanti – Marketing Communication of Platinum Hotel Surabaya
[email protected]
Fabrice Mini – Founder and Managing Director of SES Hospitality
[email protected]