The British Women's Association (BWA) Jakarta recently organized its annual charity golf tournament, where participants came together to swing their clubs and compete against each other for a good cause, with the proceeds going to BWA's Social Welfare programmes.
The Matoa Nasional Golf & Country Club was filled with excitement and laughter as the group of ladies (and a few gentlemen) made their way to the course for Tee Off to engage in friendly competition. As the theme of the day was the 1980s - to recognize the organization's work over the last couple of decades - quite a few participants dressed up in tutu skirts and leggings, sporting wigs and other glitzy accessories reminiscent of the colourful era.
Long-time BWA member and passionate golfer Debbie Manderson coordinated the golf tournament for the third time, and according to BWA Chairwoman Heather Powell, she has done a wonderful job of spreading the word beyond the members of the association.
"Debbie put a new spin on our golf tournaments," Heather said. "She always thinks about fun games to play on different tees and holes, the raffle prizes and how to get the sponsors in."
Debbie said she tried a different, more hands-on approach when she was asked to become coordinator for the BWA golf events.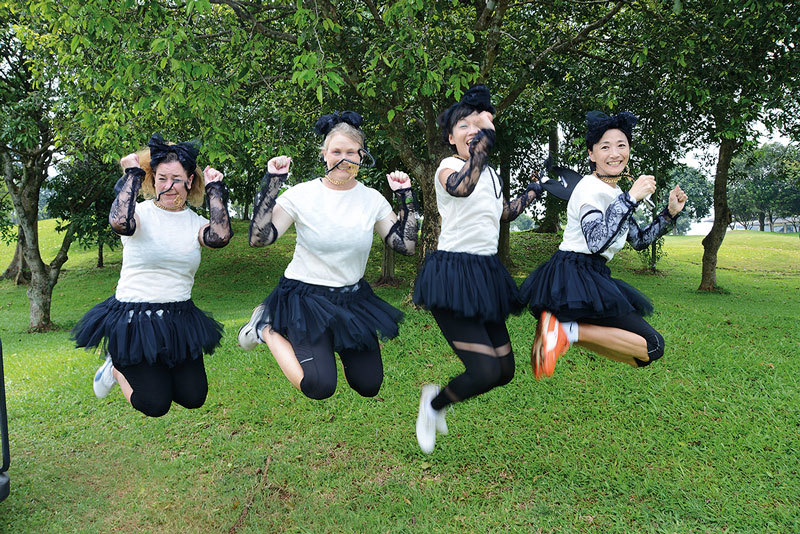 "The most important thing is to maintain personal contact, and not just sending out emails," she explained. "Almost all of the golfers you see here, they know me personally. Some of them are not members of the BWA, so it is a great opportunity for them to see what a great organization it is, and hopefully someday they will become members."
Olivia Marzuki, one of the participants who was dressed up as Sandy from Grease, said that she enjoyed coming out early in the morning for a good cause.
"I love playing golf, and it is also in line with what I do at work where I am hosting the CNN Sports golf segment, so it's a good learning ground and perfect to network with the BWA," she said. "It's a great day of fun, and most of all, it's for charity."
The golf tournament was sponsored by Asian Tigers Mobility Indonesia, Padang Golf Matoa Nasional, RS Premier Bintaro, ALILA, Vie for Living, Eastern Promise, Leadbetter Golf, Tukuaz, Lief Java Hand Fan, Accel Golf Academy Jakarta, The American Club Jakarta, L'Cell, Feliz Boutique Salon and Day Spa, Mil & Mat and especially Bogor Golf Tours, bringing donations and wonderful prizes from Sentul Highlands, Palm Hill, Permata Sentul, Riverside, Bogor Raya, Rancamaya, Harris Hotel Sentul, Royal Padjadjaran, NEO + Green Savana.
BWA organizes two golf tournaments every year. The second one will be held in October and is a fundraiser for breast cancer charities.