Adiwana Monkey Forest is the sixth property in the Adiwana collection. Nestled in the heart of Ubud, Adiwana Monkey Forest captures the charm of the iconic sacred Monkey Forest Ubud and indigenous Ubud culture which is well-known as the centre of art in Bali. Locally designed, it showcases both traditional and contemporary Balinese flair. Equipped with modern and natural materials, the furniture's details lend a charm to each room.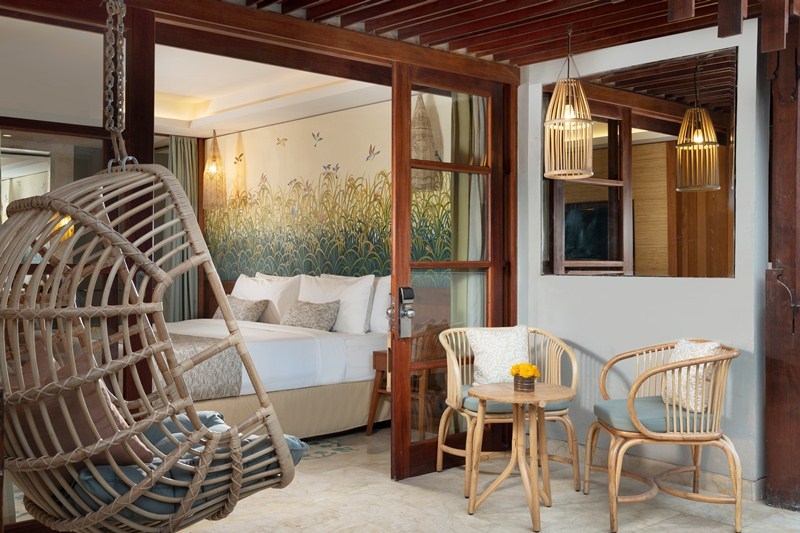 The Adiwana Room includes all of the amenities of the deluxe rooms with the luxurious additions of stylish bathtub as well as a balcony equipped to meet guest's needs. As the resort signature category, Adiwana room provides maximum comfort where guests can relax.
The suite boasts a truly comfortable space. An elegantly appointed living area with its exclusive décor as well as spacious bathroom reflects an ideal holiday accommodation for discerning guests, who appreciate to experience relaxation, comfort and privacy.
There is also a lagoon-style pool within beautifully landscaped environs. With dramatic curves, the pool creates the look and feel of an exotic tropical oasis. Comfort daybeds as well as cosy ambience provide a relaxing environment, while a pool bar offers a wide selection of tropical cocktails, refreshing chilled juices and light snacks.
In corporation with Watercress Café, Adiwana Monkey Forest offers guests a delightful dining experience. From Indonesian to international dishes, the chef ensures every dish is created with fresh and healthy ingredients. All day dining with delicious options promises to tantalise your taste buds. With the cosy space and location, it offers a great place for a snack and coffee specially created by expert baristas. The Tejas Spa offers an escape from the bustle of central Ubud.
Adiwana Monkey Forest is located a five-minute walk away from Ubud Sacred Monkey Forest as well as to Ubud Royal Palace, one of the region's prominent highlights. Various handicrafts shops and boutiques are also easy to be found in every corner, indeed a centre for Balinese culture and art.
For more information, visit www.adiwanahotels.com