The current, and fully understandable, trend of wanting to stay in isolation " has brought about a whole new range of holiday solutions, but few can match the absolute beauty and peace of Villa Melati in Ubud,Bali, except perhaps a private island! So says Now! Publisher Alistair Speirs who has made this classic villa his family retreat for many happy years .
Villa Melati is a 100% stand alone villa in true Balinese style situated on the Sayan River ridge which defines the western border of Ubud. The ridge is home to the Four Seasons, the Ritz Carlton and Alila hotels so is obviously of exceptional beauty, but what makes VM a perfect choice for a covid free holiday is that it is situated 100m down a narrow access road, then a marvellous 100 stone steps down into the river valley far from the traffic-and everything else!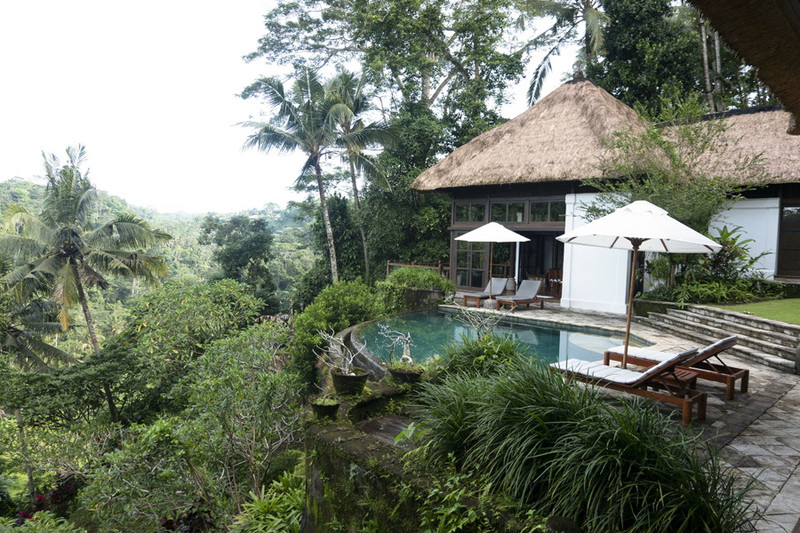 Now please don't take fright, there is a travelator which smoothly traverses the slope should you prefer not to do the exercise, but to those that dare, the descent through the thick wooded path is a kind of magical escape, which then crosses a wooden bridge over a small stream and on to the back of the villa and through an arch to the magnificent view across the valley.
The villa itself comprises two wings : each with a large comfortable king double bedroom and an en-suite bathroom, with the dining room on one wing next to the kitchen and the living area on the other, all furnished with natural wood tables and chairs.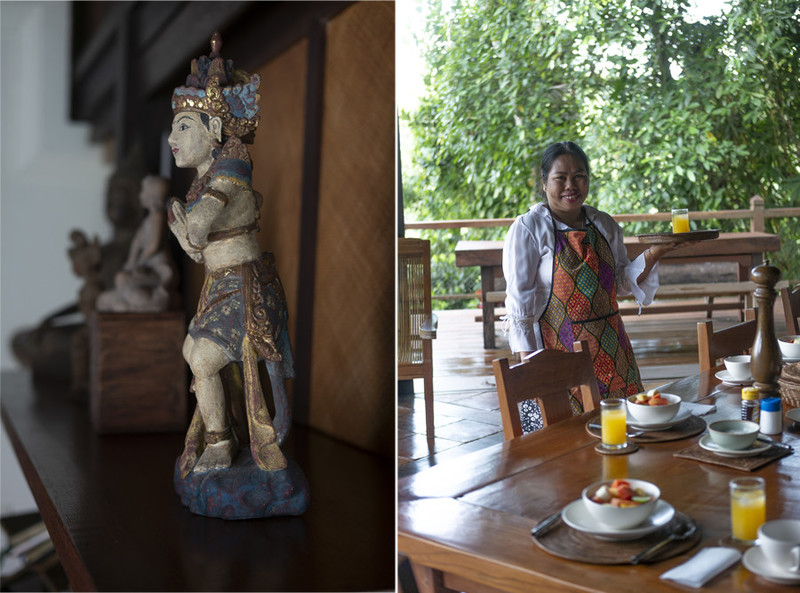 But it doesn't end there, each wing is also extended on a balcony which allows you to have breakfast overlooking the river, or dinner on the other side. Below the infinity pool is a 'bale bengong' which is even more secluded for reading, meditation or massage at any time of day, in peace and tranquility.
The last piece of magic lies hidden behind the living room wing and is a converted rice barn which conceals a two storey double platform with bed on top and tv room below, perfect for kids - or romantic couples - and has a real cave below it as the bathroom cut deep into the rock, but fully functional and comfortable!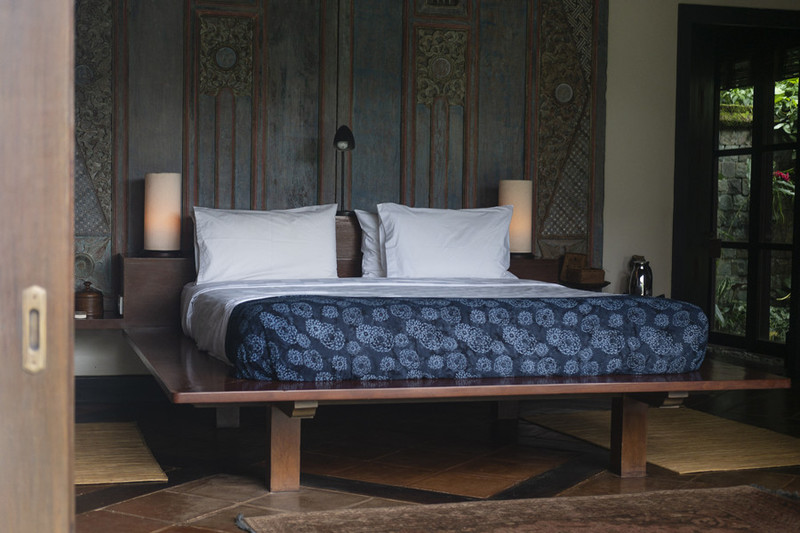 Making the whole place come alive are the long time loyal staff comprising the irrepressible Ibu Dayu, who presides over the kitchen and produces excellent meals and is assisted by Gus, Kadek and Dewa who ensure the whole place is clean, safe and secure. They are a real delight and make any holiday come alive with their humour, their smiles and their genuine attention.
Now is this a modern, up-market glamorous venue? No, it's a beautiful, warm, comfortable, classic villa of the old school. It has Wi-Fi of course and a good music system, great showers and all the amenities, but it is simply a magical retreat from the world where you can rest, revive, regenerate, refresh and return a better person. Well worth a visit.